For those of us still working or attending school, video conferencing calls have become a normal part of our lives. However, video conferencing can be more work than it needs to be if your laptop isn't up to the task. To attend online classes and business meetings smoothly, you need a machine with strong computing power, a modern CPU, and enough RAM to handle all types of multitasking.
It's common to have the video conferencing program open in addition to a few documents relevant to your meeting. This is enough to overload older laptops that aren't equipped to handle remote work. Without enough computing power, your laptop may run loudly and slowly during your online meetings.
As video conferencing becomes more popular, you need the best laptops for online work or learning environments. The laptops in this list have quality cameras, speakers and enough computing power to create a smooth experience while video conferencing.
ASUS VivoBook 15
Image by ASUS
The ASUS VivoBook is a great laptop for video conferencing. With its impressive 15.6-inch full-HD NanoEdge display, you can enjoy the gorgeous visuals with bright, vivid, and accurate colors. This is also a fast, reliable laptop that can handle up to 16GB of RAM and uses the Intel Core i7 processor. It offers a high level of connectivity with multiple USB C, A, 2.0, and HDMI ports.
The VivoBook 15 has a built-in fingerprint sensor, allowing you to log in conveniently with just a single touch. It also has an efficient dual-fan cooling system with two heat pipes. Even during high performance, the cooling design helps your laptop to stay quiet without sacrificing any performance.
Microsoft Surface Book 2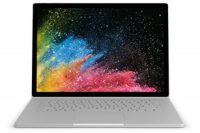 Image by Microsoft
Microsoft's 2nd release of the Surface Book is an excellent machine for students or people with creative needs. The Surface Book 2 enhances portability by featuring a detachable screen that turns your laptop into a tablet. You can get this laptop with either a 13.5 or 15-inch display. Creative people will enjoy switching to tablet mode and using the stunning PixelSense display, which is compatible with the Surface Pen.
The Microsoft Surface Book 2 uses the Intel i7 4.2 GHz CPU and can accommodate up to 16GB of LPDDR3 RAM. This laptop makes accessing your files quick by using a 1TB SSD. The Surface Book 2 is also highly portable, with the official Microsoft website claiming up to 17 hours of battery life from this machine.
ASUS ExpertBook B9
Image by ASUS
The ASUS ExpertBook B9 is a powerful laptop great for those working at home. During your video conference calls, the ExpertBook B9 will activate AI noise-canceling technology that eliminates background noises from your audio inputs. This unique software uses machine learning to isolate unwanted noises from the sound of your voice. The ExpertBook B9 also has the ClearVoice speaker feature, which filters out incoming ambient noise from other participants in your video call.
The ExpertBook B9 features the 11th Generation Intel CPU and the Intel Iris Xe GPU. It supports up to 32GB of RAM and has room for two solid-state drives. Weighing just 1.9 pounds, you can carry this ultrathin laptop with ease and take meetings nearly anywhere. The ExpertBookB9 also features fast charging capabilities, allowing you to get 60% battery in just 39 minutes.
Acer Aspire 5
Image by Acer
The Aspire 5 from Acer is a highly portable laptop and an excellent tool for distance learning. This laptop uses the AMD Ryzen 3 32000U processor in addition to 8GB of DDR4 RAM. The Acer Aspire 5 is a great option for people on a budget. You can expect long battery life with this machine's 65w battery.
In this laptop, the sound quality is enhanced through Acer True Harmony, which is useful for video conferencing. The 720p camera will perform well in most settings. The Acer Aspire 5 also comes equipped with two USB 2.0 ports, one USB 3.0, and a USB-C port, giving this laptop plenty of abilities to accommodate your favorite accessories.
LG Gram
Image by LG
The LG Gram is an ultralightweight, easily portable laptop great for video conferencing. It features a 72Wh lithium battery, which boasts up to 18.5 hours of battery life. This laptop can easily handle multiple programs running at once, thanks to the 8th Generation i7 Intel CPU along with 16GB of RAM. The computing power in the LG Gram makes video conferencing a breeze. This laptop uses an HD webcam and is super thin, contributing to its portability.
Apple MacBook Pro
Image by Apple
Apple Macbooks get a mixed reception for their inability to interact with some Windows programs. However, your investment in a MacBook gets you a machine that maintains the same level of quality for years to come. The newest MacBook Pro uses a 720p FaceTime HD camera, a six-speaker sound system, and a studio-quality microphone, making this laptop great for video conferencing.
The MacBook Pro also comes with plenty of computing power, using a 3.3 GHz i7 CPU and up to 16GB of RAM. The 16-inch display is rated for 500nits of brightness, making it a flexible choice for working in any environment.
Dell Inspiron 15 5000
Image by Dell
Back in 2018, Dell introduced the Inspiron 15, which is still a powerful laptop for multimedia use. This laptop features a high-resolution 1080p screen along with a full-HD widescreen webcam. The Inspiron 15 uses a touchscreen display, which is convenient for multitasking during video conferences.
This laptop is powered by an 8th Generation Intel i5-8250U processor, 8GB of DDR4 RAM, and a 1TB SATA hard drive. The speakers on the Inspiron 15 provide good volume and have high-quality mid-range sounds, which allows vocals to come out clearly. Along with multiple ports of connectivity, the Inspiron 15 is a solid choice if video conferencing is important to your work.
---
Interesting Related Article: "What is a conference? Definition and examples"