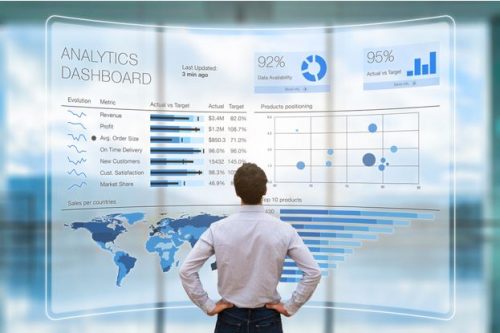 In any organization, it has been seen that around 52% of the salespeople use the power of Salesforce. 31% of the under-performance salespeople do not use CRM. The CRM improves the performance of Salespeople and they become able to:
The use of CRM helps the Salespeople in understanding whether they have sufficient resources to fulfill their sales target or not
Salespeople can quickly identify the critical deals that can help in attaining the target quickly
Can effectively close the opportunity by timely planned actions
Salespeople can collaborate more efficiently with their colleagues and teammates
It has been seen that even after successful implementation the companies still struggle with the actual adoption of CRM by their employees. As a result, the benefits of CRM get reduced and sales lower down. However, the organizations can increase user adoption in their organizations through some tips.
Here, we are going to enlist some of the practical and proven tips that are adopted by the organizations. These tips have increased user adoption successfully by them:
1. Show the Power of CRM to Your Employees
Salespeople should know the difference when they work with and without CRM. Organizations should show them how easily they can complete their job if they will use CRM. For example:
Align the CRM configuration and functionality with the current business process
Show the efficiency of CRM for this you can also use third-party applications
Design and configure the CRM as per business process and client's requirement
The chatter tool of Salesforce can help them in collaborating with their colleagues efficiently
If the Salespeople will know the real advantage of Salesforce then they will adopt it comfortably.
 2. Highlight Disadvantages of Not Using Salesforce
Even after knowing its advantages the Salespeople still may not use it effectively. So, the organizations must show the disadvantages as well of not using the Salesforce CRM. The disadvantages can be communicated in the following manner:
Manage the process of discount approval only via Salesforce CRM
Share messages and communications only through Chatter
Use Salesforce dashboards to inform about meetings and performance reviews
In this way, you can show the benefits of Salesforce to the sales team.
If you wish to enhance your career and become a professional in Salesforce, then enroll in "Salesforce Training" – This course will aid you to achieve excellence in this domain.
3. Use Insightful Metrics to Know and Measure Salesforce Adoption
Measuring login rates may not be sufficient to know the real user adoption. There are many other powerful metrics to determine the exact level of CRM adoption by the team and individual employees. Some of such metrics are:
Number of new contacts created
Number of closed leads in past few days
Number of activities like telephone calls, notes, or recorded meetings
Number of chatter posts
These are some of the indirect measures that can help to know the level of engagement or adoption of Salesforce.
4. Planned and Managed Salesforce User Adoption
Depending on the user adoption levels, the organizations can segment the users. They can then manage each segment appropriately with the help of user adoption metrics. Let us see now how you can create the user categories or segments:
The Salesforce adoption can be categorized as:
Willing and Able: The people already using Salesforce successfully can lie under this category
Need to Get Trained: Some people who want to use Salesforce but are not able to do so due to lack of understanding can lie under this category. Just make sure that when they are those people who may need more training.
Can Use but Need Some Motivation: From a managerial perspective just try to focus on such a group of team members. Just highlight whatever is expected by them and publish adoption metrics and success stories. Make some processes difficult to do for the Salespeople if they don't use Salesforce.
Can't Use and Not Able: Are the employees not technically sound? Do they need some guidance in Salesforce adoption? Or is there another reason? Identify the real reason and resolve it timely.
In this way, you can easily find out the real problem in user adoption and resolve it to increase the adoption.
5. Use Dashboard and Reports to Measure Sales Performance
Well-organized and formatted reports and dashboards give sales managers and people clear visibility to the salespeople. They can quickly know the flaws in the process and improve performance. For this you can adopt the following steps:
Achieve full visibility of salespeople by creating appropriate dashboards and reports
Make it easy for people to locate important information quickly
Some features of Salesforce like "Run as logged-in User" can make the process easier of seeing the information that may be directly required by them.
6. For Newly Implemented Functionalities Create Short Explainer Videos
Sometimes it is found difficult to train the staff face-to-face as staff may not be available timely or you may have a busy schedule. For this, you can create short videos and demonstrate the new functionality through those small videos. For this you can follow below steps:
Use an open-source screen recording tool to make the explainer video for new functionalities
The videos need to be professionally edited. You only have to communicate the value through these videos so make point to point clips and upload them on the portal.
Use professional hosting to track who has watched the training videos
Take a small survey to resolve questions and answers or user queries related to this new tool or functionality.
7. Track and Compare Sales Revenue with Target
Take dashboards and reports a step further. Measure the salesperson's performance against the individual sales person. You can perform the following step to achieve this:
Use a dashboard gauge to communicate the performance to members against their assigned target
To measure target monitoring and sophisticated forecasting you can use the Forecast tab
Build a custom solution that can be directly linked with opportunities and generate appropriate sales.
Final Words
Lack of complete user adoption may stop companies' benefits and their investment may fail. So if you will apply the best practices for user adoption then this can boost up your sales. To fulfill the purpose of Salesforce implementation you should always try to increase the adoption at all levels of the organization. In this way, the sales and performance of the organization can improve quickly.
---
Interesting Related Article: "What to Look For in a CRM for Your Business"