Feel like getting stuck with your SMM efforts? Get inspired by our choice of recommendations on how to make your social media strategy more effective.  
Elaborate Your Images 
We know that Instagram is all about pictures, and YouTube roots in videos, but Twitter and Facebook want us to text only. Wrong! Actually, you can get a 35% increase in engagement for Twitter posts by adding photos to them. The figures are even higher for Facebook, and the same "visuals-are-a-must" trend is observed everywhere. So, you need to rethink your social media image strategy if you have one and make sure that you at least have awesome covers for each platform you use. The best thing you can do is to develop your own style for retaining visual consistency across all your social media accounts. And don't panic – use online design templates, find photos for posts or graphics for pins, and even add videos to your content.    
Go Live
Videos and live streams are on-trend, with 80% of users giving preference to watching a video rather than reading a blog. Live streaming is the new black, and all major social media platforms prioritize this type of content in their newsfeeds. You can capitalize on the trend and get instant feedback from your audience, create a more personal connection, and stir up much excitement with live videos. When coupled with the user's demand for honesty, live streaming doesn't require any staging, professional equipment, and props, so you can keep it really simple.     
Get UGC on Board
User-generated content should top the list of your SMM tools since H2H (human to human) marketing outshines all other formats nowadays. UGC boasts quite a bunch of advantages over brand-generated content, which include:
higher credibility  

lower production costs

best virality 

great engagement
Your followers are unlikely to get tired of content if you allow them to shape it. Want some proof of how powerful UGC is? Well, 6 out of 10 customers decide on a purchase based on photos and videos made by other consumers. However, UGC you can leverage goes beyond photos – think of questions from your followers, jokes, reviews, and so on.
Be an Influencer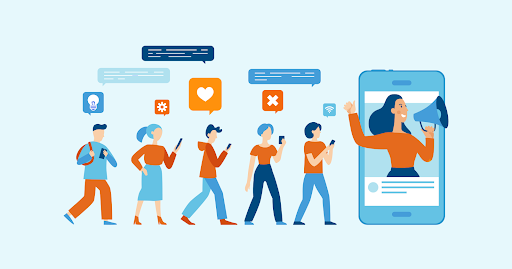 Like it or not, but today the user is more likely to believe "that popular guy on Facebook" than a heap of experts. That's why it is especially important to become a brand that leads the audience. It is no longer enough just to tell about the value of your product or service – you have to convince customers that your words matter more than thousands of similar voices. Try to become an influencer in your niche, at least in the eyes of your followers. Here are some ideas you can include in your brand strategy:
Be the first to tell niche news.

Add comments of famous speakers in your field to your posts.

Post only reliable information and do thorough fact-checking when trying to show your expertise.

Engage your audience in discussions on topics important in your industry.
Turn To an Influencer
By incorporating influencer marketing into your existing strategy, you can achieve many of your business goals faster and on a budget. The key here is finding the right person to collaborate with (luckily, we have helpful services like BuzzSumo or GroupHigh, not to mention good old searching by hashtags). Depending on the objectives and money you are ready to spend, you can consider various forms of cooperation:    
reviews

ambassador programs

mutual promotion

collaborative content

contests 
Yet, don't rely on an influencer only since it is you who should decide what message to deliver to the target audience. 
Take a Customized Multichannel Approach
Social networks give you a nice chance to reach a massive customer base through various types of content – paid, user-generated, shared, and created on your own. But to get the most out of these opportunities, you need to know who your customers are and how to locate them across the channels. Moreover, it is also important to understand how the platforms differ from each other to generate relevant content and deliver it right to the target audience at the appropriate times. For example, you can promote B2B services on both Facebook and LinkedIn, but you don't need to post like crazy on the latter. 
Embrace Data
A data-driven approach is the future of any SMM strategy, as users' interests change so quickly that it is impossible to keep track of them manually. And there are so many metrics to be assessed (unique views, engagement, number of mentions, and more) for getting a new angle on your marketing efforts. All this data has to be collected for high-quality analysis, which will allow you to build an effective strategy ahead of your competitors. In addition, modern technologies help extend the data-driven approach – from analyzing the audience's interests and showing content based on them to automating content creation and distribution. 
Wrapping It Up
Keeping up with current trends and relying on fresh statistics can help you greatly on your way to improving SMM. So, grab our tips and try to integrate them into your existing strategy for the better.  
---
Interesting Related Article:"Does Brand Marketing Lead to Law Changes?"