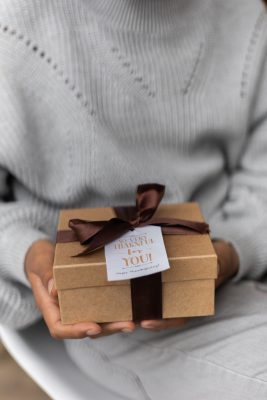 Growing a customer base is all-important for any business. Retaining those clients perhaps is even more so. One way that companies try to attract clients is to send them gifts.
You could consider branding gifts with your company's logo or leaving them unadulterated. There are many considerations to how you choose a gift for a client. Cultural differences must be taken into account for instance. As should the interests and perhaps needs of the client.
For instance, Netflix subscriptions surged during the pandemic. Even though Statista points out that the streaming channel's take-up is slowing down, hundreds of millions of people already have a subscription. Therefore, gifting a year's Netflix to someone might be unwanted, and unnecessary.
You may have to think a little more creatively when selecting a gift for a client. There are also budgetary issues to think of, and whether the client is even allowed to receive gifts. 
Ideally, the gift you send will be used by the client, appreciated, and make them think of your business whenever they see it or use it.
Find a specialist gift company
If you are unsure of how to select a gift, you can always turn to the trusty web. Unlike the old days when Yellow Pages was the go-to for everything, now you have Google.
Searching for a local or worldwide gift shop will bring up examples such as Molly Bartlett (giftexperts.com). This way you can simply browse through selections of gift ideas and order online.
However, here are some ideas you may find interesting right away. 
7 gift ideas could you consider for your prospective clients
Below are seven different ideas for gifts that may suit your clients. Some are practical, and some have the wow factor. You may need to check whether the client is allowed to receive expensive gifts, or whether they are capped at a certain value.
For those into gaming
You may wonder what is virtual reality? Well, it has been around for a while, but it's something that is definitely going to grow bigger very soon.
If your client is known to you as a gamer, then an Oculus VR headset will certainly bring the wow factor. They won't forget you in a hurry either.
Something stylish
If you are unsure what to give your client but want it to have some style, then how about a Mont Blanc pen? This is a classy gift that your client can make use of in their working life.
Not only is it practical, but it can be engraved or branded. You can add engraving to the pen to give it a personalized touch, or you could simply put your company logo on it. 
For the tech lover
There is an abundance of choices here. If you look at what a robot is today you would be surprised. There are many choices in this area alone.
The Vector Robot Companion is a toy, a gadget, and an aid. It can answer questions and tell the weather. It takes photos, and it also has Alexa installed.
Something practical
A Victorinox multi-tool or a Leatherman is a very practical and useful gift. To make it more personal, add a written note to the gift. 
For the movie buff
This chart from Statista shows how the box office revenue was affected by Covid. Now though, movie-loving audiences are flocking back.
A year's cinema pass can make a great gift. Add in a note to say that you remember the client saying how much they enjoyed movies will add a real touch of personalization to the gift. 
For the sporty type
Combining a bit of tech with a useful gift could be perfect for anyone who loves getting to the gym, or hitting the track.
The Amazfit Band does many useful things such as measuring heart rate, and it also has Alexa built-in. It helps with breathing exercises and can monitor stress too.
For the indoor gardener
Air plants and succulents are very on point these days. One of the better things about these types of plants is that they are very low maintenance. They are easy to source and will make a great gift.
This is the type of gift that will remind the client daily of you. If this is situated in their office it will come up in conversation, and be a reminder of the connection with your company.
Summary
Some companies like to send branded gifts, and this certainly works for many. The Mont Blanc pen for instance can be branded so that there is that everyday reminder of your company.
Whether you brand or personalize gifts is entirely up to you, but there are two other things to consider. 
Firstly, think about who you are gifting. Think about what they have told you in the past about their likes and hobbies. Secondly, always put in a handwritten note with the gift. This will make the gift far more personal and meaningful.
After all, you are trying to establish a connection between your company and this prospective client.
---
Interesting Related Article: "9 Unique Gifts For Clients"