Getting a new customer isn't as exciting as it used to be. 
There's a nagging feeling that makes you wonder how much it cost to acquire them and whether they will stay long enough to spend three times as much as it cost to acquire them. 
Deep down, you know that without an effective way of acquiring new customers at a low cost, you run the risk of closing shop, ending up like 70% of startups in their first 2-5 years.
And so you're wondering, is there an effective way through which my ecommerce business can lower its customer acquisition costs?
Absolutely. But there's one thing you also need to understand: Acquiring customers at a lower cost doesn't just happen—it is ingrained in your marketing strategy and throughout your value chain. 
Here are seven ways to lower your cost of customer acquisition through marketing.
1. Map Out Your Customer's Journey  
72% of retail customers start their buying journey on Amazon. However, 64% of these customers feel like retailers don't understand their needs.
Throughout their buying journey, customers switch between devices and channels and expect you to keep up with them alongside a great buying experience.
Unfortunately, few retailers have managed to do this. Being away when they need you or sharing the wrong piece of content at the wrong time makes them feel like you don't care enough to understand what they need at specific stages of their journey. 
Mapping out your customer's journey allows you to know when and where to show up, and what you need to say to solve their problems or answer their questions. 
For example, given that most retail customers start their buying journey on Amazon, you want your products to show up on top of other product listings to increase their likelihood of clicking on your product to check it out.
In this case, you'll be running highly targeted marketing campaigns and acquiring your customers at a lower cost.  
Your marketing campaigns will focus on two things: improving your Amazon rankings and paying for Amazon ads. 
While this is a hypothetical example, you can't rely on guesswork to know precisely how your buyers behave on their journey. You need both qualitative and quantitative data to help you map out their journey.
Sources of quantitative data are such as analytics reports from tools such as Google Analytics, HotJar, and Kissmetrics. 
Your qualitative data will come from your buyer personas, customer surveys, customer reviews, blog comments, customer forum discussions, and support emails. 
Combine this data to help you understand the following:
Steps they take from initial research up to the post-purchase stage

Critical events on their buying journey, e.g., learning how to solve a specific problem they have

Their thoughts, feelings, and actions through each step

Where they get stuck and drop off from their journey

Brand touchpoints and their favorite channels
Once you map out this journey, you need to keep testing and refining it to know if you're showing up on the right channel at the right time with the right message for your potential customers. 
To stay on top of the process and avoid missing milestones for testing, use a project management tool like Monday or Frevvo, where you can set reminders to follow up on certain tasks in X days, or automate forms and tedious processes. 
2. Publish In-Depth Content
Publishing content consistently helps you lower acquisition costs by educating customers who aren't ready to buy and don't know where to get the information they are looking for.
For example, this post by Earlybird focuses on educating searchers on the benefits of investing for kids and the value of their app.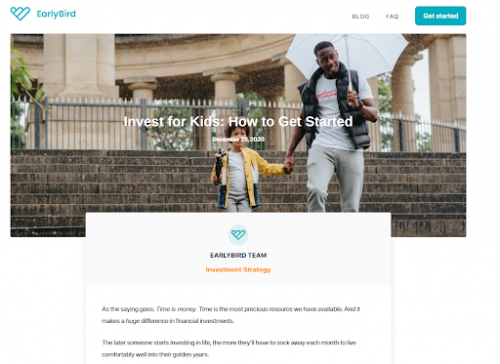 (source)
Rather than just focusing on the bottom of the funnel keywords with brand names in them, they show up earlier in the buyer's journey, meaning they will spend less on ads aimed at converting these readers to their customers later.
The kind of content you decide to create should be informed by the information your potential customers are looking for and the problems they're looking to solve. 
Take for example this blog post by Reply. It provides a detailed comparison on all the best email finders out there. Even though this means discussing their competitors, they answer a commonly asked question by potential customers.
(source)
Look at this blog post from RealFX, a real estate company in Austin. They are not promoting their services but instead, explaining to readers what's a private mortgage insurance. By doing so, they are showing themselves as a reference in their market, and putting themselves as the best partner for your projects. 
And if you're wondering if this has ever worked for other e-commerce businesses, Frankbody used content to bring in $20 million in annual sales — proof that a well-executed content campaign works. 
Make your content work even harder for you, and lower your customer acquisition costs further by analyzing blog posts that aren't performing well. 
Old blog posts still have some credibility on Google. You can either rewrite, update, or repurpose content with relevant facts, data, and relevant images. 
Brands do this all the time. For example, check out those different reviews of best bedding by Savvy Sleeper. All reviews have been updated when moving to 2021:
(source)
Now that you've got your content game plan in place, it's time to level up your search engine rankings. 
3. Optimize Your Store For Search Engines
Search results at the top of search engines receive a 31.75% clickthrough rate from desktop users and a 23.9% clickthrough rate from searchers on mobile devices. 
Improving your search engine rankings means you're going to have more organic traffic visiting your store and convert them to leads and customers at a lower cost. 
However, optimizing your store for better search engine rankings isn't a walk in the park. Big brands have dominated top search results for the most popular keywords leaving you with paying Google ads as your way out.
But since we're looking to acquire customers at a lower cost, trying to outrank these big brands is a waste of time and resources. Focus on optimizing your product and category pages using relevant long-tail terms because they give you a better chance of showing up on top search results.
Searchers using these terms are aware of the specific product they are looking for, a sign that they are further down the sales funnel. They're likely to click on specific search results that match what they are looking for. 
Assuming that your product pages have relevant images and product descriptions, you're going to convert these searchers to your customers with ease.  
High-quality links are also an important ranking factor on Google. Create specific pages on your store with exclusive deals or sales going on, optimize them with relevant keywords.
Reach out to blogs where your potential customers visit to read content with guest post ideas. The links you're allowed to post within the content and in your author's bio will help boost rankings of such pages helping you get consistent traffic and sales over time. 
However, you can't rely on written content alone to reduce your customer acquisition costs. You need to diversify and use new channels to deliver content.   
4. Start An Epic Podcast
Podcasts allow listeners to consume content at their convenience, explaining why more than 32% of Americans have tuned in to listen to a podcast in the past month.  
Starting a podcast helps you reduce your cost of customer acquisition through exposing your store to a bigger audience once you list it on popular directories — people who wouldn't read your blog content but prefer listening to podcasts. 
Besides, with podcasting, you're going to increase the number of brand interactions with your customers who already read your blog content, increasing brand intimacy, trust and, ultimately, conversions. 
That explains why 54% of listeners will buy from a brand they hear being advertised on a podcast show.
(source)
On your podcast, answer common questions that customers have about your products, share your best blog content, such as the product reviews you've written. 
Use a tool like Woven (which seamlessly integrates with Google Calendar) to schedule customer interviews on your podcast. During the interview, ask them to explain how your product has transformed their lives, helping you build credibility.
5. Use Customer Reviews To Boost Conversions
Customer reviews help reduce your customer acquisition costs by making it easier to earn your customers' trust. 
Customers want to work with brands that understand their needs. Before making a purchase, 30% of your potential customers will read through your reviews to see if there's someone else who had a similar problem and your product helped them solve it. 
Without reviews, you'll have to spend more money trying to convince your potential customers that your product works as you say it does, and you're never sure whether they will believe your claims. 
Use these reviews strategically on your landing pages, product pages, and checkout pages to overcome specific objections.
Take a look at how True Blue Life Insurance, does it on their website:
(source)
Using customer reviews is great, but you need to turbocharge them with copywriting to further reduce your cost of acquiring customers. 
You can also use videos to illustrate customer reviews. Look at how this rehabilitation center in Baltimore is doing it. They added written testimonials but also videos. Doing it this way, they can prove that their services are working, and for people still hesitating, this brings a physical proof. Adding a face to a review will always help you grow your sales, your potential customers will trust you, even more, when real testimonials are available. 
(Source)
6. Write Copy That Packs A Punch
People buy with emotions and justify their actions with logic. Copywriting helps you appeal to your potential customers' emotions, making it easier for you to convince them to buy. 
Copy that talks about both your product's features and benefits appeal to your customers' fears, frustrations, desires, and goals, triggering them to take action and buy from you. 
So, hire an SEO copywriting service to better market your product and improve conversions on your landing pages on existing traffic – this means you don't have to spend more to acquire more traffic, but rather, optimize for the traffic you already get!
And after you start getting these leads, focus on driving them into recurring email campaigns, to nurture them till they're ready to buy from you. 
Once you convert these leads to your customers, your next goal is to make sure that you earn their loyalty.
7. Deliver Excellent Customer Service
A recent study by Nextiva revealed that excellent customer service is the number one ranking factor used by consumers to base their level of trust with a company. Excellent customer service helps you retain the customers you have, and happy customers are likely to spread the word about your products to their friends. 
More importantly, however, it's easier for you to convince your customers to buy from you over and over again, ensuring that you achieve a 3:1 ratio of customer lifetime value to the cost of customer acquisition. 
Customers want personalized service at their convenience, and this requires you to invest in tools like live chat and chatbots to help you deliver timely support whenever they need it. Look at Florin & Roebig for example, their live chat is available 24/7 for any questions you might have. They are also precising that you will be talking to a real person, which will convince potential customers to reach out. Giving personalized advice is definitely helping them grow their revenue. 
(Source)
43.18% of shoppers prefer using live chat and chat bots when making purchases on e-commerce sites. 
Without live chat or a chatbot to provide a smooth checkout process, all the money and effort spent on getting the customer to this point goes down the drain. 
Conclusion
If you spend your mornings and the better part of your nights wondering how to reduce the cost of customer acquisition, I understand your frustration. 
Reducing your cost of customer acquisition is no mean feat. The different ways we've discussed above will help you know where to start and what you need to do to start acquiring customers at a lower cost. 
When it comes down to it, it's all about experimenting to see what works and what doesn't. And yes, during testing, you're going to fail and lose some money along the way.
But that's a small price to pay for the valuable lessons you're going to learn about acquiring customers at a lower cost. 
Author Bio
Ray Hein is the CEO and founder of Propel, a cloud-based product success platform. He is a SaaS veteran with 20+ years of PLM, development and product launch experience in both hardware and enterprise software organizations. Ray has held multiple executive positions at companies such as Agile Software, Apttus, Vendavo and Centric Software.
---
Interesting Related Article: " How Route Planning Software Can Grow Your Ecommerce Business"