Women's Tops are an absolute must-buy for your fashionista closet. From formal to informal and casual, you can wear any print and look up to the mark. But, ladies, please pick the black women's top as we are here going to explore the 7 different ways to style them in unique and elegantly. 
Black tops can pair with almost everything, and the choices are endless. It gives rock n roll off vibes and usually looks smart and modern while its own. It's obvious that you are never undressed in black color women's tops. That's why it's important to find the perfect black top that suits your taste and preferences. 
The Ultimate Buying Guide to Choose the Perfect Black Colored Women Top
#1 Choose the Right Fabric
The fabric of women's tops plays a crucial role in their comfort, appearance, and durability. For instance, cotton fabric is best for breathability. In contrast, chiffon and other lightweight fabrics create a feminine and flowy feel. Thus, consider the weather and the level of comfort while selecting the fabric for your black top. 
#2 Pay Attention to The Style and Fit
Look for the style and fit that determines both your personality and body style. Opt for a solid top or classic for a casual look. If you want a more sophisticated and party look, go ahead with black crop tops to create an effortlessly chic look. Pay attention to the fine details of the tops carefully, and don't limit yourself to experimenting with different styles that make you feel confident and comfortable. 
#3 Consider the Occasion
Ensure the purpose for which you're buying a black top. Like if you need a top for everyday wear, opt for a versatile and comfortable style. For formal events, look for dressier styles with great embellishments.  
#4 Neckline Matters A Lot
The women's top neckline can dramatically impact your overall look. A V-neck can add a touch of feminity and can elongate the look, while the off-shoulder neckline creates a trendy feel. Thus, choose a neckline that complements your face shape and enhances your features. 
#5 Look for Care Instructions
Check the care instructions for your black top very carefully. Some fabrics may require special care, such as delicate washing and dry cleaning, while others can be easily machine-washed. Consider your level of maintenance and lifestyle and select one that aligns with your personality. 
#6 Price and Budget Matters A Lot
 Based on your preferences, choose the women's tops that are value for money. 
Styling Tips for Black-Colored Women's Top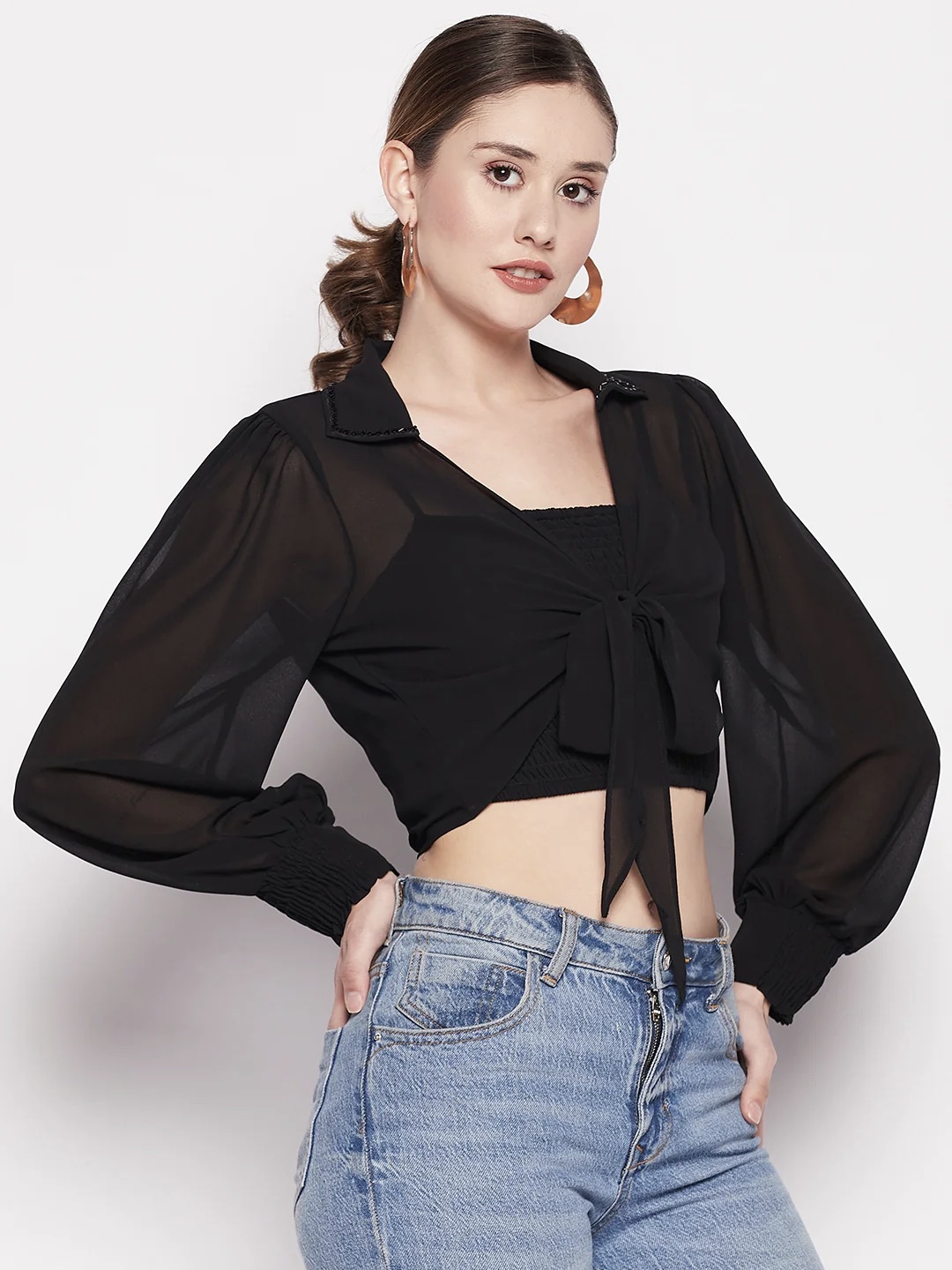 Classic Chic Style 
Yes, Black on Black style can never be wrong! Create a sophisticated and chic look by pairing the black top with black bottoms. You can go ahead with a black blouse with a tailored fit and wear it with black trousers or a black pencil skirt. This sounds monochromatic but creates a streamlined and polished appearance. Complete the outfit with black heels and minimal accessories such as a dainty necklace or stud earrings to maintain the focus on the clean lines. 
For A Casual Cool Look
 For a laid-back and effortless vibe, pair a black top with jeans. Choose a black t-shirt with a relaxed fit and pair it with high-waisted jeans for a classic casual look. To add dimension, layer a denim jacket or a bomber jacket over the black top. Complete the outfit with white sneakers or ankle boots, along with sunglasses and a crossbody bag for a cool and comfortable daytime look. 
For A Glamorous Evening
Opt for a black top with elegant details such as lace, sequins, or sheer panels for a glamorous evening outfit. Choose a black blouse with intricate lacework or a sequin-embellished black camisole. Pair it with a black maxi skirt or a fitted pencil skirt for a sophisticated and chic look. Accessorize with statement jewelry, such as chandelier earrings or a bold cocktail ring, and complete the outfit with high heels or strappy sandals. 
For A Sporty Chic Look
Embrace the athleisure trend by pairing a black crop top with high-waisted leggings or joggers. Layer it with a bomber jacket or a hoodie for a sporty yet stylish look. Opt for a cropped black hoodie with a relaxed fit and pair it with high-waisted leggings or joggers in a complementary color. Complete the outfit with sleek sneakers and a baseball cap for a cool and comfortable street-style-inspired look. 
For Boho Vibes
Achieve a bohemian-inspired outfit by pairing a black peasant top with wide-leg pants or a flowy maxi skirt. Look for a black peasant top with billowy sleeves, embroidery, or lace details. Pair it with flowy wide-leg pants or a printed maxi skirt for a free-spirited boho look. Accessorize with a floppy hat, layered necklaces, and ankle boots or sandals to complete the bohemian vibe. 
Go with Versatile Layering 
Layer a black top under a slip dress or a jumpsuit to create a trendy and versatile look. Layer it under a slip dress in a complementary color or a jumpsuit with a plunging neckline. This layering technique adds depth and dimension to the outfit while allowing you to adapt the look to different occasions or weather conditions. 
Choose the Right Accessorized Elegance
Elevate a black top by accessorizing it with statement pieces. Pair a black blouse with a wide belt to cinch the waist and create a defined silhouette.  
Final Words
This is how you can style, experiment, and have fun. For more such fashion styling tips and an exclusive collection of premium brands, check out the Glamly website today!  
---
Interesting Related Article: "How to Choose the Right Fabrics for Dressmaking"