Choosing the right forex broker is the second most important factor (the first being the trader's skills) that impacts profits or losses. The most crucial factor for a trader in the UK is that the broker is regulated by the FCA (Financial Conduct Authority), so we created a shortlist of FCA brokers so you can find the best forex trading platform UK. These brokers were then compared based on their spreads, execution speed, and the platforms they offer, like MetaTrader 4/5, leading to the following list: 
Which forex brokers are the best in the UK?
All UK traders are different in the way they trade and the quantity of their platform-setting preferences. We named Pepperstone the best overall, but the brokers below may be more suitable for different sub-sets. To better understand each broker's strengths and what types of UK traders they are most suited towards, we have gone more in-depth into each broker.
1. Pepperstone  – Best Overall Forex Trading Platform In UK 
We like Pepperstone, an Australian-based broker created by traders. Since arriving in the UK a decade ago, they have seen many traders move from established providers such as IG and CMC Markets since they offer the following:
Lowest Spread RAW account of any FCA-regulated firm.
Fastest Execution speed of any UK broker.
Best range of trading platforms, including MT4, MT5 and cTrader. 
Easiest account opening experience (as tested by our team).

Best UK-based customer service team, including a dedicated account manager.
Our Proof That Pepperstone Has The Lowest Raw Spreads 
We compared all FCA-regulated brokers offering a RAW/ECN account with a spread + commission. On most of the major forex pairs, we found the broker had the lowest spreads, and you can see how each one compares to the industry average in 2023. For the EUR/USD, Pepperstones raw spreads are 55% than the industry average. 
| | | |
| --- | --- | --- |
| Currency Pair | Pepperstone Average Raw Spread | Industry Average Raw Spread |
| EUR/USD | 0.1 | 0.22 |
| AUD/USD | 0.3 | 0.46 |
| USD/CAD | 0.6 | 0.66 |
| EUR/GBP | 0.4 | 0.57 |
We also wanted to know how often Pepperstone's spreads are actually zero over 24 hours. Again, the broker came out as the winner. During the two Wednesdays, we monitored the brokers, we found they remained zero spread the whole duration.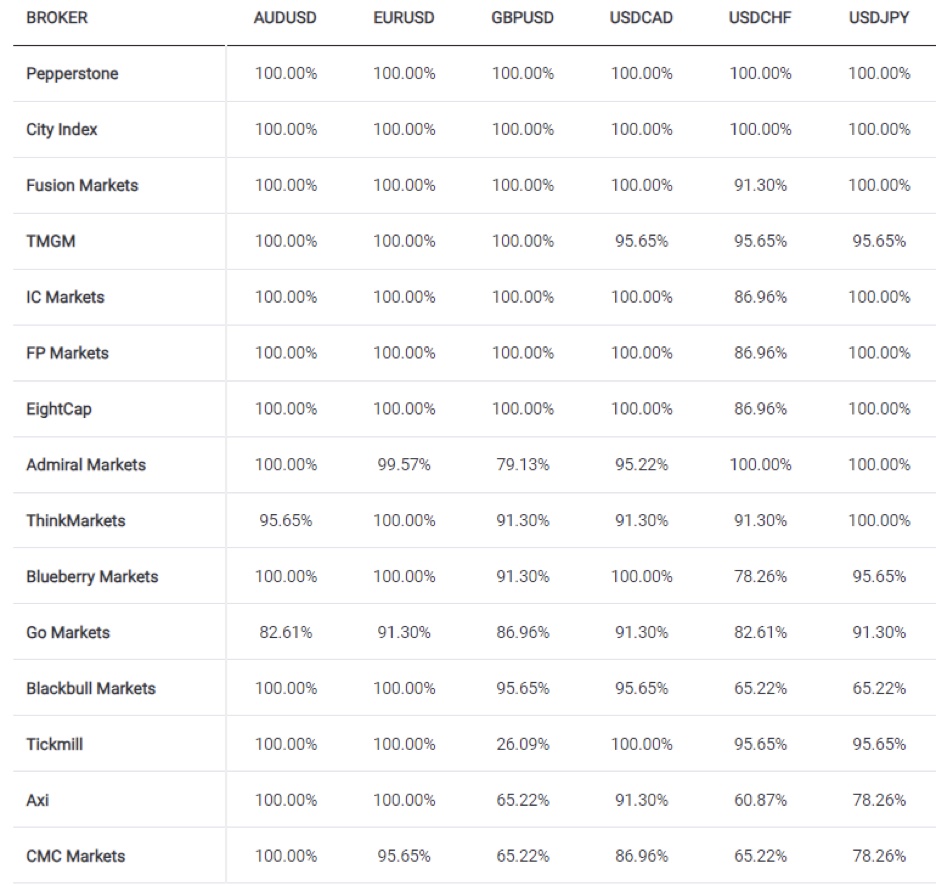 How Pepperstone Tested The Fastest Broker
Using MetaTrader 4, we used forex robots known as Expert Advisors (EAs) to measure how fast two types of trades were over a Wednesday. The first was limit order executions, and Pepperstone was estimated to be 77ms, while for Market order executions, the speed was 100ms. This was significantly faster than any other FCA-regulated broker, with a few example brokers shown below.
| | | |
| --- | --- | --- |
| Broker Execution Speeds (ms) | Limit Order Execution Speed | Market Order Execution Speed |
| Pepperstone | 77 | 100 |
| City Index | 95 | 131 |
| CMC Markets | 138 | 180 |
| XM  | 148 | 184 |
| FxPro | 151 | 138 |
| Markets.com | 150 | 141 |
This makes Pepperstone's limit order execution approximately 19% faster than the City Index and 44% faster than CMC Markets, while their market order execution is 24% and 44% faster, respectively. This superior execution speed ensures traders can capitalise on market opportunities quickly and efficiently, further enhancing the value of Pepperstone's tight spreads.  
Pepperstone achieves the fastest speeds through a superior technology stack that includes the Equinix data centres located in London and New York and the deepest liquidity pools from banks to financial institutions.
Justin Grossbard, an industry expert from CompareForexBrokers, confirms the importance of execution speeds. "The second biggest pain point for traders (behind brokerage) is slippage when the price they receive is different from what was quoted. This is becoming a bigger issue recently as many traders are using Machine Learning programs to execute trades on their behalf that rely on orders to be filled quickly".
Forex Trading Platforms Available with Pepperstone
Pepperstone offers four platform options to traders, including the most popular forex trading platform (MetaTrader 4) and the most popular CFD trading platform. Here are our recommendations for which trading platform is best suited for different trading types:
MetaTrader 4

  – We recommend this if you're primarily planning to trade forex and want to have a large trading community.

MetaTrader 5

– We recommend this for traders looking to trade CFDs such as shares, indices, and commodities with some currency trading included.

cTrader – We recommend this for traders planning to use automated forex bots 
TradingView

– We recommend this for traders who like to trade on their mobile and want an easy-to-use forex trading app with advanced charting.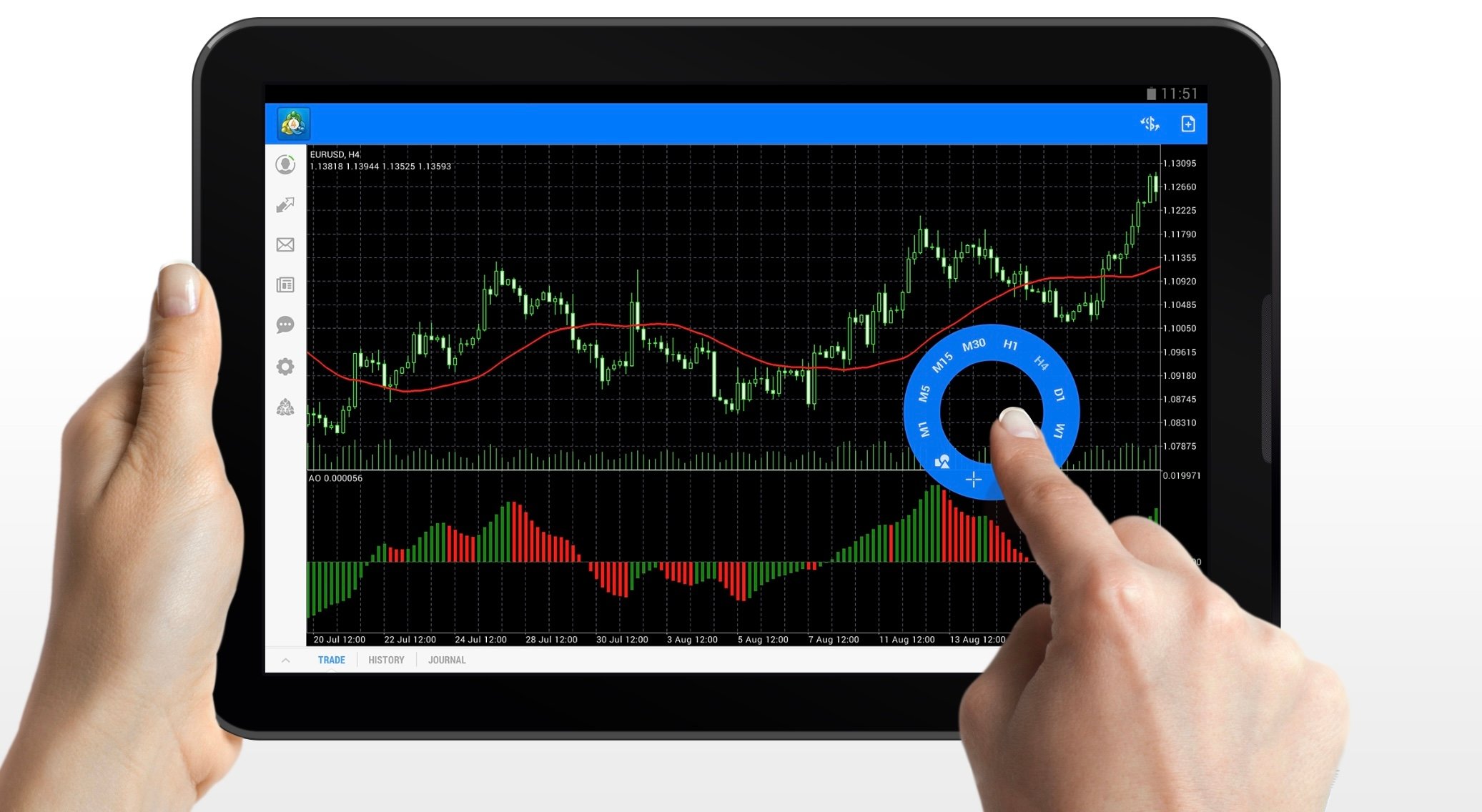 We liked the fact that Pepperstone was one of the only UK brokers offering all the major platforms, giving traders several choices. Pepperstone offers forex demo accounts for free with any platform. Starting trading with a live account with a minimum deposit level of £0 is easy. 
Customer Support
The team gave full marks for Pepperstone's customer service levels. Quite frankly, we found it refreshing to have a locally based customer support team that understood the broker and its software and was quick to answer our enquiries. We expected this as the broker has won several customer service awards in Europe, Australia, and Asia over the past few years.
What truly sets Pepperstone apart is its customer-centric approach. They understand that every trader has unique needs, and they've tailored their services to meet them. Their customer support is responsive, knowledgeable, and always ready to assist.
Final Verdict on Pepperstone 
The combination of low spreads, fast execution speeds, and locally based customer service was why we named Pepperstone the best UK forex trading platform. The broker can be trusted based on their Tier 1 regulation (including the FCA) and strong market share. In summary, this was an easy verdict for the team in 2023.
2. OANDA  – Best No Commission Forex Broker
OANDA stands out for its standard account offering. This is the account type where no commission is charged based on the volume traded, BUT the spreads are considerably higher. We compared the brokers offering a standard account and found that OANDA: 
Had the lowest spreads (for commission-free trading only).
Offered MT4, TradingView, or the OANDA platform, which we actually preferred.

Was the most trusted from regulation to market share and customer service.
What Led to us Finding that OANDA has the Lowest Spreads
OANDA's standard spreads are among the lowest in the industry. For major currency pairs like the EUR/USD and USD/JPY, OANDA offers spreads as low as 0.6 pips. This is significantly lower than the industry average, making it an attractive option for traders seeking to minimise costs.
Here's a table comparing OANDA's standard spreads with City Index, eToro, XTB, Saxo, and the industry average for major currency pairs:
| | | | | | | |
| --- | --- | --- | --- | --- | --- | --- |
| Forex Pair | OANDA | City Index | eToro | XTB | Saxo | Industry Average |
| EUR/USD | 0.6 | 0.7 | 1 | 0.9 | 1.2 | 1.24 |
| USD/JPY | 0.6 | 0.6 | 1 | 1.4 | 1.8 | 1.44 |
| GBP/USD | 0.9 | 1.1 | 2 | 1.4 | 1.8 | 1.57 |
| AUD/USD | 0.7 | 2.2 | 1 | 1.3 | 0.9 | 1.54 |
| USD/CAD | 0.7 | 1.6 | 1.5 | 1.8 | 1.7 | 1.82 |
| EUR/GBP | 0.8 | 1.1 | 1.5 | 1.4 | 1.5 | 1.66 |
| EUR/JPY | 0.9 | 1.6 | 2 | I1.4 | 2.2 | 1.95 |
It is evident that OANDA's standard spreads are among the lowest in the industry. For major currency pairs like EUR/USD, OANDA offers spreads as low as 0.6 pips, which is 51.6% lower than the industry average of 1.24 pips. Similarly, for GBP/USD, OANDA's spreads are 42.7% lower than the industry average of 1.57 pips. 
OANDA consistently offers more competitive spreads than top CFD brokers like City Index, eToro, XTB, and Saxo. For instance, their EUR/USD spread is 14.3% lower than the City Index and 40% lower than eToro.
More About the OANDA Forex Trading Platform
While most of the team is used to MetaTrader 4, we found the OANDA trading platform refreshing. It was easier to use than MT4, had advanced charting tools, and was easier to set up some automated trades. What we found really cool was that the real-time news and risk management features were integrated into the software. Traders can still opt for MT4 or TradingView. Still, we feel that OANDA would be better for any beginner to intermediate trader.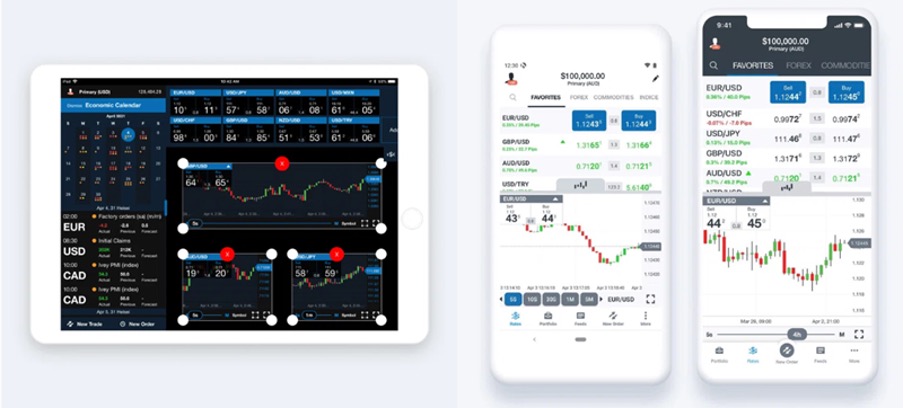 Final Verdict on OANDA 
While our team trades with ECN accounts, we understand that many UK traders prefer standard accounts, as brokerage is baked into the spreads. Due to the lowest fees for this forex account type, we awarded OANDA the winner for this category. The broker also has a platform ideal for novice traders and is one of the largest worldwide, including Canada and the USA. 
3. City Index – Best MT4 Spread Betting Broker
Before jumping into City Index, it's worth explaining first what spread betting is. In simple terms, spread betting is similar to CFD trading. Still, instead of contracts, clients are betting on the price movements of the financial asset. 
The United Kingdom is one of the only regions where spread betting is popular, primarily due to its tax treatment. Any UK resident doesn't need to pay capital gains on spread betting as HM Revenue & Customs ruled that it's gambling and not trading.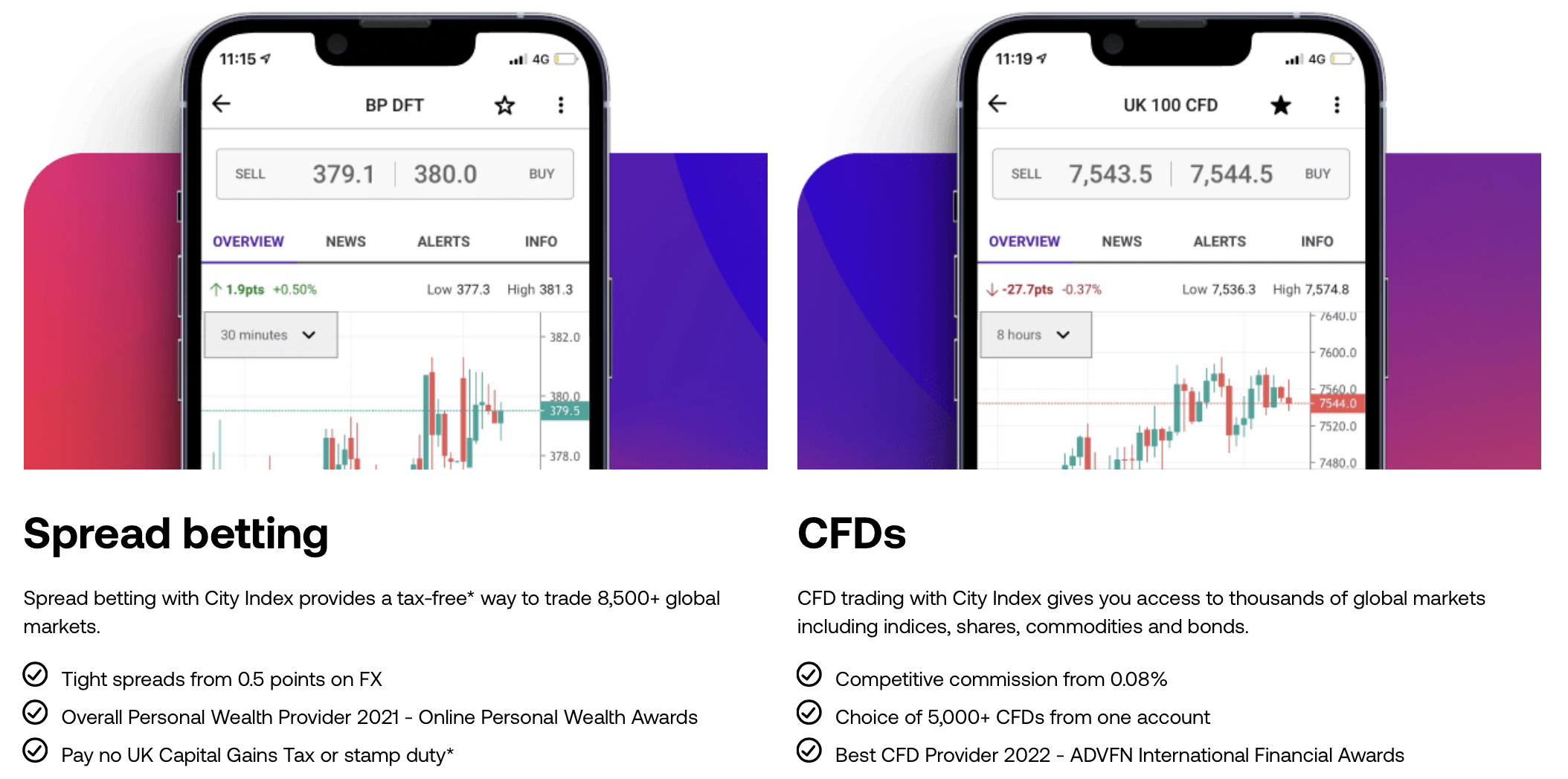 City Index stands out as one of the better spreads betting brokers offering MT4. With a rich history and robust regulatory framework, we felt the broker's key strengths included:
The range of spread betting instruments available for trading,

The safety and transparency offered

Comprehensive guides and education resources for beginners and experts.
City Index's Platform Offering
City Index offers its proprietary trading platform alongside MetaTrader 4. We focused on WebTrader and the mobile trading app using the City Index proprietary trading platform. The Desktop version provided a robust interface, and the Forex Mobile app was easy to use, including features such as stop-loss orders and watch list functionality.
The platform also offers Guaranteed Stop Loss Orders (GSLO) for select instruments and other risk management tools like standard stop-loss orders, limit orders, and trailing stops.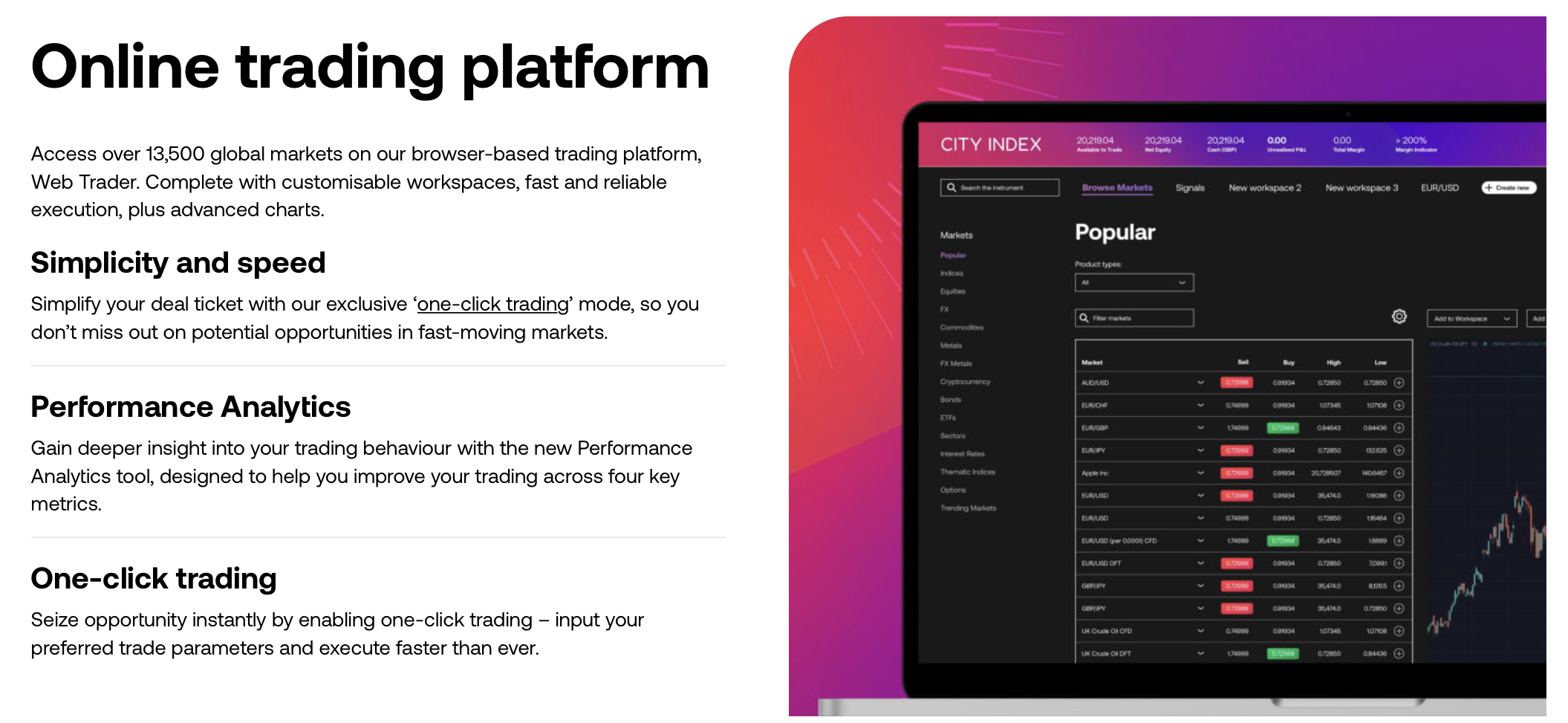 It is worth noting that for those trying out a range of platforms, City Index charges an inactivity fee of £12 if there is no trading activity on your account for 12 months.
Educational Materials
The online broker empowers traders to make well-informed choices by providing access to their Trading Academy. This platform has a wealth of educational materials, ranging from tutorials to webinars. Whether you're new to the game or an experienced trader, the educational section covers all your spread betting needs.
Final Verdict on City Index 
City Index is one of the better spread betting UK brokers. With robust regulation and protection for retail investor accounts, advanced trading platforms, a strong focus on spread betting, and comprehensive educational resources, it offers everything a trader needs to succeed in this unique market. 
4. eToro – Best UK Social Trading Platform
eToro, established in 2007, has become a top CFD broker and social trading platform, offering a unique social trading experience across various markets. With a presence in over 140 countries and users in the millions, eToro has revolutionised the social trading landscape. eToro's key features include:
The social trading platform offers a clean design, easy user interface, and social trading features like CopyTrader and CopyPortfolio.

Available as a Webtrader or desktop version and a mobile app.

Regulated by multiple jurisdictions, including the FCA (UK traders), ASIC (Australian traders), and CySeC (

European traders

).
Social Trading
Social trading is a unique feature that allows traders to find and copy trading strategies from other experienced traders. eToro's trading platform provides tools like CopyTrader and CopyPortfolio, allowing users to reproduce selected trader's strategies. It's a community-driven approach where traders can interact, share information, and learn from each other.

eToro's commitment to social trading and its robust platform and diverse offerings make it a compelling choice for those seeking social trading. The platform's user-friendly interface and innovative features provide a seamless trading experience catering to beginners and seasoned traders.
The broker's approach to CFD trading is undoubtedly unique, offering a community-driven experience. If copying other traders and becoming part of a community appeals to you, eToro may be the right broker. 
Trading Platform Features
eToro's proprietary trading platform is available as a Webtrader or desktop version, offering a clean design, easy user interface, and advanced functionality. The watchlist is customisable, with options for stopping losses and setting leverage. The mobile app is also available for trading on the go.
The platform also offers negative balance protection and other safeguards to manage the high-risk environment of CFD trading.
Verdict on eToro
eToro's innovative approach to social trading, backed by a user-friendly platform and robust regulation, sets it apart as the best social trading platform in the UK. As someone who values community-driven experiences and diverse trading opportunities, I find eToro's unique CopyTrader and CopyPortfolio features compelling for forex traders looking to engage with a vibrant social trading community. 
5. XTB  – Top Forex Broker with Low Trading Fees
XTB has earned its reputation as the best CFD broker in the UK for low trading fees. With a focus on cost-effective solutions, XTB offers a trading experience that maximises profitability. Here's why I consider XTB to be a standout choice:
XTB's trading costs are low, with competitive commission fees on their ECN account and no deposit and withdrawal fees for all account types. 

Robust trading platforms including xStation 5, XTB's platforms offer advanced tools and features.

Regulated by the Financial Conduct Authority (FCA) in the UK. 
Competitive Standard and ECN Spreads
XTB's spreads are among some of the best in the industry. XTB offers average spreads of 0.9 pips for standard accounts with no commission fees, while ECN spreads are as low as 0.3 pips. Whether trading major currency pairs or seeking low spreads for scalping, XTB's pricing remains consistently competitive.
Low Trading Costs
XTB's commitment to low trading costs is evident in its competitive pricing. ECN accounts pay commission fees as low as $4 per lot, allowing traders to move quickly into profit, especially those relying on small profit margins. The commission is also competitive for Shares and ETFs. The online broker charges 0.08% per lot, regardless of whether you are trading CFDs via their standard or ECN account types. 
XTB also offers a hassle-free deposit and withdrawal process with no fees. The available methods include bank transfer, credit card (Visa and Mastercard), and eWallets (Paypal, Skrill, PayU, Paydoo, Ecommpay, Neteller, and SafetyPay).
Robust Trading Platforms and Features
At XTB, traders are offered a choice between two trading platforms: MetaTrader 4 (MT4) and xStation 5. While many experienced traders favour MT4 for its automated trading capabilities and back-testing features, xStation 5 stands out for its unique trading tools for technical analysis and risk management. Both platforms are available in mobile app versions for those who prefer trading on the go, ensuring a seamless trading experience.

Regulation and Trustworthiness
Regulated by the UK Financial Conduct Authority (FCA), XTB adheres to strict regulatory standards. Traders can trust XTB's commitment to transparency, security, and professionalism.
XTB Final Verdict 
XTB's dedication to low trading fees, competitive spreads, robust trading platforms, and strong regulatory oversight makes it the top FX broker in the UK for cost-conscious traders. 
6. Saxo – UK Broker with a Diverse Range of CFDs
Saxo stands out as the best CFD broker in the UK regarding diversity in financial products. With over 35,000 financial instruments, Saxo offers an extensive range of services that cater to various trading needs. Here's why I believe Saxo is a top choice for traders:
From currency trading to share-market CFDs, Saxo offers a wide array of instruments.

Competitive spreads averaging 0.9 pips (AUD/USD).

Award-winning platforms with SaxotraderGO and SaxotraderPRO.
Range of Financial Markets
Saxo's offering is more than just forex trading. The broker provides access to many markets, all matched by low brokerage fees and commissions. Here's a glimpse of what they offer:
| | |
| --- | --- |
| Financial Market | Trading Products  |
| Currency Pairs | Over 182 major, minor, and exotic pairs |
| Stocks | Access to over 19,000 shares across 36 exchanges |
| ETFs | Over 3,000 exchange-traded funds from more than 30 exchanges |
| Commodities | 19 commodity CFDs |
| Futures | Over 200 future contracts |
| Options | 1,200+ listed options from 23 exchanges worldwide |
| Bonds | 5,000 corporate and government bonds  |
| Mutual Funds  | Access to 250 mutual funds |
| Cryptocurrency | Bitcoin and Ethereum (crypto not available in the UK) |
Low Spreads and Fees
Saxo offers three trading accounts: Classic, Platinum, and VIP. With a minimum deposit requirement of $10,000 for their Classic account, Saxo is not accessible to all forex traders. Yet, the more you're willing to deposit, the lower the spreads.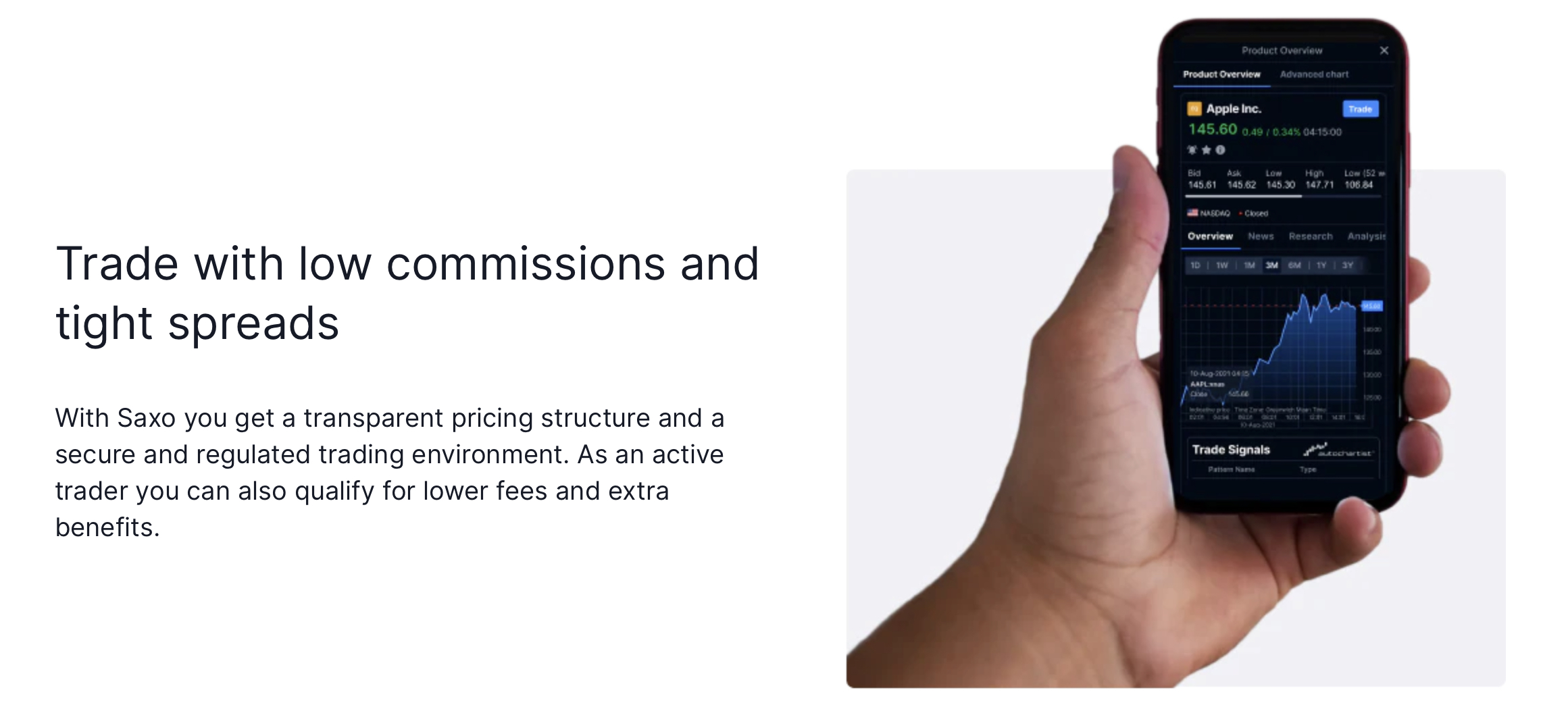 Saxo Forex Trading Platform
Saxo offers two of their proprietary forex trading platforms. SaxotraderGO is designed for mobility across devices, while SaxotraderPRO is built for professionals using multiple screens. Both platforms have won awards for their execution speeds and functionality.
Regulation
Top-tier authorities regulate Saxo, including the FCA, FINMA, and CySEC. This ensures that Saxo complies with the high standards imposed by these regulatory bodies.
Verdict on Saxo
Saxo offers extensive markets, low spreads, and robust trading platforms. The only major disadvantage is the high minimum deposit of $10,000. However, Saxo could be the perfect fit if you're looking for an all-in-one trading solution with low spreads and fees.
7. Swissquote – UK Broker with the Best Proprietary Platform
When it comes to proprietary trading platforms, Swissquote stands out in the UK. Here's why:
CFD traders can choose between Advanced Trader, MT4, and MT5.

Financial instruments include forex, shares, bonds, commodities, indices, and metals.

Worldwide regulations such as UK, Europe, Hong Kong, and Singapore.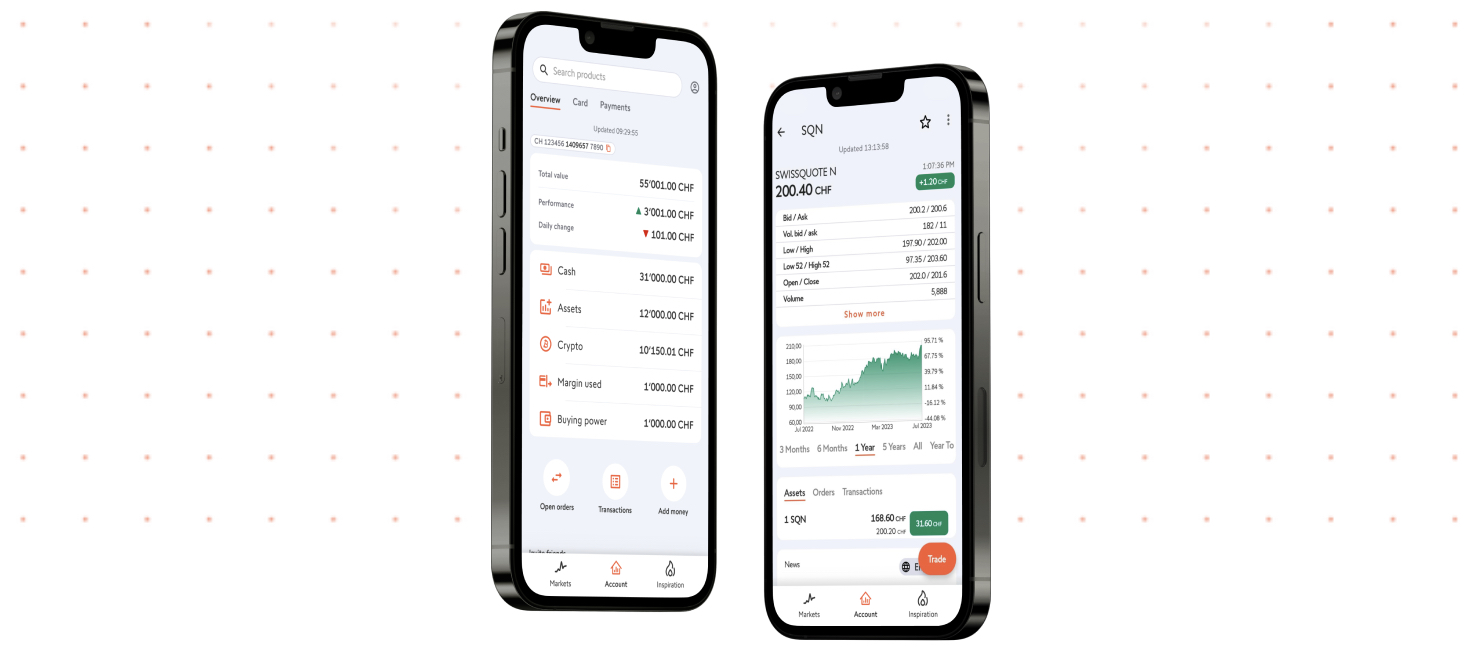 Advanced Trader 
Swissquote's Advanced Trader is a proprietary online trading platform developed with the user in mind. The customisable interface allows traders to tailor the platform to their needs, providing powerful built-in tools and order management features. With exclusive access to news from Bloomberg and Swissquote.eu, it offers full mobility across desktop, web, or mobile trading versions.
Other Trading Platforms
In addition to Advanced Trader, Swissquote offers MetaTrader 4 and MetaTrader 5 platforms. MT4 is famous for its user-friendly interface and fast trade execution, while MT5 comes with additional options and advanced charting capabilities. 
Range of CFDs
Swissquote's range of CFDs includes over 130 forex pairs, precious metals like Gold, Silver, Platinum, and Palladium, and commodities such as oil, gas, and copper. Their trading platform also allows trading CFDs on stock indices, bonds, and more.

Regulation and Trust
Key authorities, including the FCA and FINMA, regulate Swissquote.
Final Verdict on Swissquote
Swissquote's Advanced Trader platform is a game-changer for those seeking a proprietary trading solution. With a user-friendly interface, trading tools, and complex order types, it stands out as a dedicated platform for forex traders. 
8. Interactive Brokers – Best UK Broker for Advanced Traders
Interactive Brokers (IBKR) platform, Trader Workstation (TWS), offers experienced traders a comprehensive suite of tools and features that set them apart. Here's a snapshot of the broker's features:
Advanced proprietary trading platform with sophisticated technical analysis tools.

Over 115 currency pairs to choose from.

FCA-regulated online broker.

Trader Workstation – A Platform for the Pros
Trader Workstation (TWS) is Interactive Brokers' flagship platform, designed with the advanced trader in mind. It offers a highly customisable interface, sophisticated charting tools, risk management features, and direct market access. With over 100 order types and algorithms, TWS provides unparalleled control and precision in executing trades.

Spreads and Commission Fees
Interactive Brokers offers competitive spreads and a tiered commission structure that rewards higher trading volumes. With spreads as low as 0.1 pips for EUR/USD and transparent pricing, it's a cost-effective option for advanced traders. The tiered commission starts at $1 USD per lot and decreases with volume, providing further savings.
Range of CFDs
With access to over 115 currency pairs and a wide array of CFDs, including indices, commodities, and bonds, Interactive Brokers offers a diverse trading portfolio. Their extensive market reach and liquidity providers ensure tight spreads and deep market access.
Regulation and Trust
Regulated by top-tier authorities such as the Financial Conduct Authority in the UK, IBKR adheres to strict compliance standards. 
Verdict on Interactive Brokers 
Interactive Broker's TWS is more than just a trading platform; it's a comprehensive solution for advanced traders. Combining cutting-edge technology, competitive pricing, diverse product offerings, and robust regulation makes IBKR a standout choice for those seeking a sophisticated trading experience.
The UK Forex Markets' Best Brokers and Trading Platforms 
From Pepperstone's commitment to low spreads to Interactive Brokers' sophisticated offerings for advanced traders, the choices are vast and varied. Whether you're a novice seeking a user-friendly platform like eToro or a seasoned trader looking for diverse CFD options with Saxo, the UK's foreign exchange markets have something to suit every trading style and need. 
Which broker is best for forex trading in the UK? 
Choosing the best broker for forex trading in the UK depends on your specific needs and trading style. Pepperstone stands out for its low spreads and fast execution speeds, making it my top pick for the best overall forex trading platform in the UK. However, there are other strong contenders based on different criteria. For instance, OANDA excels in offering no-commission forex trading, while eToro's social trading platform provides a community-driven experience.
Considering these factors is essential in finding a broker that aligns with your trading objectives. Given the high-risk nature of forex and the volatility of exchange rates, it's vital to trade forex with a broker overseen by a financial services regulator such as the FCA in the UK. This regulatory oversight offers an additional layer of security and peace of mind, helping to mitigate some of the inherent risks involved in forex trading.
Which platform is better for forex trading?
The choice of a forex trading platform is highly individual and depends on your specific trading needs and style. MetaTrader 4 (MT4) is popular for its ease of use and extensive features. At the same time, MetaTrader 5 (MT5) offers additional assets like more trading and research tools. Pepperstone provides access to both MT4 and MT5, catering to a broad spectrum of trader preferences.
Ultimately, the "better" platform will align with your trading goals and strategies, so it's crucial to choose wisely.
How do I choose between the best forex brokers in the UK?
Firstly, consider the trading platforms the broker offers, such as MetaTrader 4 or 5, as this will be your main tool for trading. Evaluate the broker's pricing; understand the types of spreads offered and any additional costs like commission fees. For instance, Pepperstone offers raw and standard spreads, which can impact your trading profitability.
Secondly, assess the broker's trading conditions like execution speed, range of financial markets, and available products. Look for additional features like research tools and educational materials for trading. Most crucially, ensure the broker is regulated by a reputable authority, such as the FCA in the UK, to provide you with the necessary protections in your jurisdiction.
Do forex traders pay tax UK?
In the UK, the tax implications for forex trading depend on your individual circumstances. Generally, suppose forex trading is a secondary income or a hobby. In that case, your profits will likely be subject to Capital Gains Tax. On the other hand, if you're a full-time forex trader, your earnings could be taxed as income.
Another option to consider is spread betting, which is tax-free in the UK. Spread betting allows you to speculate on currency movements without owning the underlying asset, and any profits you make are not subject to Capital Gains Tax or income tax. However, it's crucial to stay updated on tax laws and regulations, as they can change and have a significant impact on your financial obligations. Note spread betting is not available in other countries such as Australia or New Zealand. 
---
Interesting Related Article: "What is CFD Trading?"