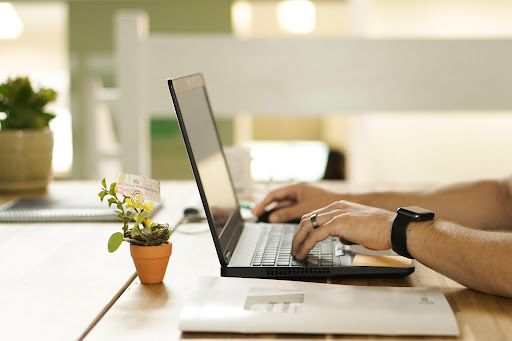 Let's face it: we all find ourselves staring blankly at the screen from time to time. Opening up a laptop, pulling a mobile device from our pockets or sliding into the chair in front of the desktop is second nature to anybody living the modern lifestyle. But it's important to remember that screen time should never be an idle habit. 
With a world of opportunity online there's no reason to be wasteful with your digital activities. So, rather than becoming a screen zombie, let us supply you with some ideas to help you plan out those precious minutes (or hours) surfing the world wide web.
It doesn't have to be a chore and enjoying your free time online should never feel arduous or inflicted – instead, there are a million and one ways to simply fire up a device and find some fun. Given that there are an estimated 200 million active websites out there to choose from, you shouldn't find yourself disappointed.
Get learning with online training courses
Love the idea of learning to code? Want to nurture some photography skills? Feel you could do with some insight on running Google Ads? All this and more can be found with just a few clicks of a button. There's hours and hours of free content available on YouTube, of course. But you can also turn to dedicated platforms like Udemy or Coursera for structured tutorials, short courses or even comprehensive qualifications. 
Here's a top tip: start with the free courses to get a feel for a subject and then, if you decide it's a passion you want to take further, you can always upgrade to some of the paid options at a later date once you've started to refine your skills.
Indulge in a podcast
While many of us love to immerse ourselves in screen time, it's worth remembering that digital technologies can accompany us on the move, hands-free and flexibly. Entertainment and education can all be enjoyed via the medium of Podcasts, filling your ears with everything from art, culture, comedy, nature, history or even crime stories.
If podcasts aren't your bag, don't worry. You can always pivot to music using apps like Spotify or Apple music.
Games and gambling
While games consoles are still incredibly popular, you don't have to stick to Fifa, Call of Duty or Grand Theft Auto for your gaming thrills. There are many online games today that can be enjoyed from your computer or mobile device. Whether it's Snake, Subway Surfers or even Paper Toss, there's loads of free or nearly free games to test your skills, wits and reaction times against. 
If you love numbers why not turn your hand to something like Cookie Clicker or if you like a spin of a game of chance, maybe even opt for one of the many online slots games available. If you're interested in having a bit of a flutter and getting into the gambling world, just make sure you go for a reputable site. Choosing one of the best slot sites that comes recommended by the likes of Fruity Slots is always the way to go here. 
Take up a language
In previous generations, learning languages meant sitting in front of a tutor or listening to hours of a teacher droning on a CD. Today, however, you can utilise a range of apps or YouTube videos to get yourself fluent in a broad range of languages. From Duolingo to Rosetta Stone to LingoDeer beginners needn't fear the embarrassment of having to try out their accent in public. 
Explore the blogosphere
The internet is simply an amazing space for people to share their views, comments and perspectives. Where once newspapers and magazines ruled our attention; today the best content is just a click away. Trawl the internet and you can read blogs on your favourite topics or dive into the news – you can even purchase eBooks and read them on your devices, instead of buying physical copies.
Watch documentaries
If documentaries are your thing, Netflix, Amazon, Apple and YouTube are your best friends. No matter what the niche there are always documentaries on topics that interest you: be it nature, the environment, diet or even outer space. 
With advances in broadband speed, streaming platforms have improved dramatically in recent years and documentaries are right up there amongst our favourite shows to watch. So, broaden your horizons and explore your favourite subscription service for something that tickles your fancy. In fact, why not also try something you aren't so sure about. You never know when you might be surprised by a docu-series on something a little more left-field.
Try a virtual tour
Virtual tours were certainly around before the pandemic kicked in but since 2020 the growth in popularity of virtual tours has been remarkable. During that extended period of isolation when households around the world were locked inside, many of us turned to virtual tours – and for good reason. 
Whether it's exploring Google Arts & Culture's 360-degree museum tours or even Alaskan husky rides, there's no shortage of ways to see and experience the world from the comfort of your own home. In fact, many businesses have embraced the accessibility afforded by digital technologies and have developed entire new business models around this trend. So, if you are at a loose end, don't be afraid to check out a winery, a mountain trail or even an urban cityscape online. 
Of course, virtual tours can also be handy if you're looking to plan out a future trip – whether it's getting a feel for a trip around Disney World or checking out Airbnb's ahead of a holiday, you can make good use of your time online by ensuring that your future accommodation is up to scratch.
Research your family tree
If you're curious to know more about who you are, where you've come from and how your family has fared over the generations, there are many great websites out there today to help you build a picture of your family tree. It could be Ancestry, My Heritage or Findmypast – there are plenty of tools and platforms to help you trace your lineage. 
Perhaps you'll find that you are descended from royalty; perhaps you'll learn that your love of shoes may have something to do with an ancestor who was a cobbler; maybe you'll glean that your forefathers and foremothers were actually from another part of the world and that the history of your genes is a complex thing. 
However your family tree has formed, time spent online piecing it together can be a rewarding and enlightening experience. It's also a great project that can be shared with your relatives – as it can become an initiative that brings relatives together.
So, you see. Staring at a screen with no sense of direction really is a waste of your time – particularly when there are so many productive ways to enjoy your online hours.
---
You may be interested in: Businesses Wanting a Virtual Tour of Their Business