Party; A time of joy and celebration with your friends and colleagues. Like you, everyone wants to make it beat in their minds for a long time. To make it a part of your lifelong memories, you can't forget to use centerpieces. These centerpieces will make your evening more delightful and memorable. 
Here is a point that may be annoying for someone and surely time-consuming for everyone, that is the selection of the appropriate party centerpieces. Here is the cure for your headache. I've brought 9 party centerpiece ideas that will save your research time and glitter your party hours. Stay tuned to learn in depth.
9 Party Centerpieces Decoration Ideas
Here are 9 party centerpiece ideas that will make your day and will beep in the mind of guests for a long time.
Combination of Fire and Flowers
A table with two contrasting objects stand out from the many other centerpiece ideas. The same is there with fire and flowers. You can decorate your party table with flowers that you can find in your backyard garden. Arrange these flowers in a wooden box and put them in the center of the table. Tealight candles suit more than any other type of candle. Collect the crystal clear jars, wrap them with glittering paper, and then put the candles inside them. That will enhance the aesthetic view of your table. 
Floor Candelabra Centerpiece
Most of the time you see the candelabra on the table, but you can also put it on the floor. By putting there, you can make the corner a focal point of the party room. The scenery will become more interesting by hanging some flowers on it. This acts like a catalyst and elevates the entire view. To find the perfect candelabra centerpiece, check out Sziqiqi candelabra.
Candles
If you are looking for a way that requires less money but high impact, then playing with the candles will be one of the best ways. Candles are perfect for filling the venue with intimate vibes. To fill the room with joy, happiness, and romance with candles, focus on the scent, shape, and size. Place these candles in glass jars to find more symmetry in your candles. You can find some exciting candle holders from Nuptio. 
Food Presentation
When someone draws a picture of a party in their mind, it would never be complete without the presence of different food items. This thing goes from a high-end party to a birthday party. Here is the idea that requires nothing extra than your creativity. The presentation will do wonders for you. If you are worried about how I can design, then be out of your worries. Simply arrange the items with their contrasting colors. The rest of what you have to do with the table is enjoyment, with your friends and colleagues. 
Balloons
convert boring arrangements into a classy, rustic, full-of-joy party setting. All you have to do is to visit your nearby store and buy some packs of multi-color balloons. Mix the color according to your party theme. Fill the space as you wish; scatter it on the floor, hang it on the ceiling, walls, or doors, and create a beautiful archway. Moreover, you can pop balloons at the end to honor the occasion.
Floral Vases
The tone setting, freshness, and joy that flowers create in space are unparalleled. Creative usage of flowers in an indoor party will breeze like a garden full of colors. Choose the colors of your heart and fill the table with bouquets. Floral addition will turn any ordinary venue into a loved one. The evening that you will spend in the company of flowers will be a life-long memory for you, your family, friends, and colleagues. The best arrangement is made with the vases. Check the vases of heart on inweder.com. 
Lawn Greenery
When the weather is fair enough, then it will be better to set your venue in your backyard. Setting up the party outside drastically decreases the centerpiece expenses. When you move outside the grass, flowers, and trees will do the job of a centerpiece. Light and warmth will be the responsibilities. You just set the table and spread the table linen over it. If you enjoy being with friends and family, then you can even sit on the ground by spreading a sheet. 
Tealight Candles
The creation of intimidation, mysteries, and romantic ambiance is done with tealight candles. The corners and dark spots are the perfect places to place them at the party. They glitter there like fireflies on nights. They also did a great job when hanging with the ceiling. When your party venue is outdoor, i.e., backyard or garden, you can hang them with the branches of trees. They act like a catalyst when you combine them with other candles, i.e., pillar, votive, and stick.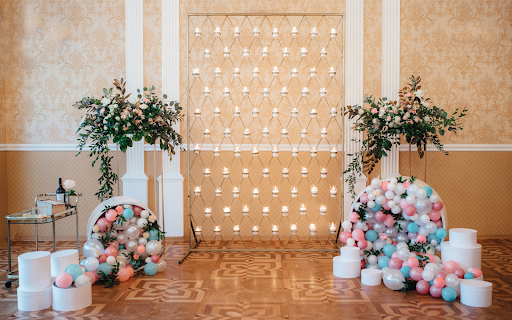 Photo Booth
Parties let you make memories, but they last long when there is some physical evidence in terms of pictures. You can provide your guest an opportunity to shape of photo booth in your party room. If you are on a budget, select a wall and turn it into a photo booth by painting, hanging the chandeliers, balloons, and flowers, and placing the gifts on that wall. It will cover all of the decoration flaws in your party. 
Conclusion 
Decorating the party site sometime becomes a headache, especially when your timing is short. Here centerpieces do their job. They help a lot to make your day with ease and comfort. There are 9 party centerpiece ideas that I've discussed. These ideas will help you decorate your indoor or outdoor venue.  Some of them are so amazing that they require nothing except your creativity, i.e., a buffet table. At the same time, some require bucks in your hand, i.e., creating a photo booth, although you can also make it budget-friendly.
Hope so, you find them helpful. In case of any queries or further ideas, please let's know in the comment section.
---
Interesting Related Article: "Why (and How) to Plan a Company Holiday Party"