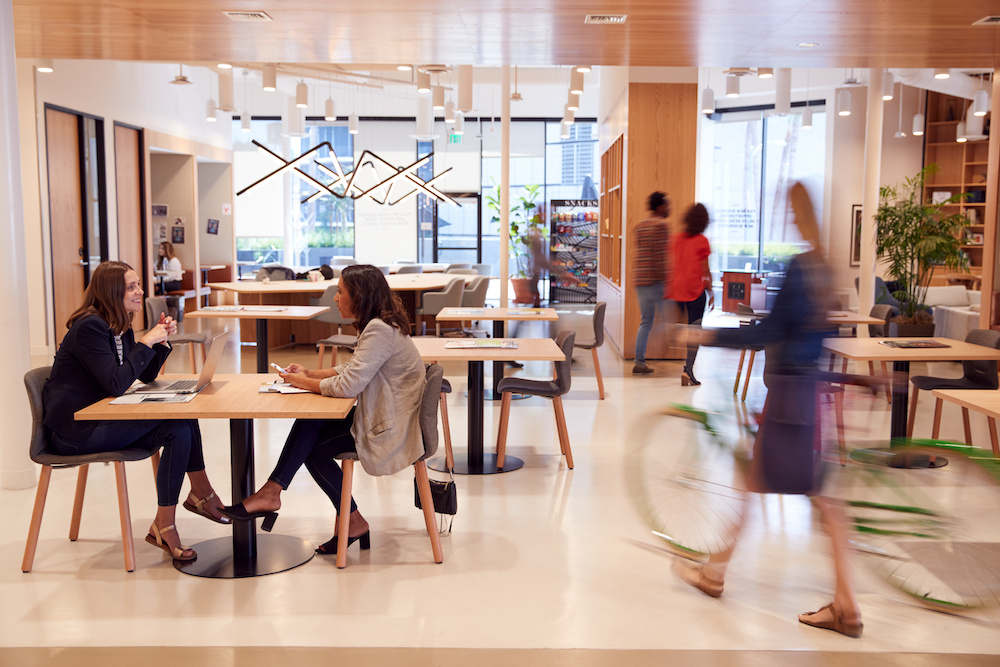 The global pandemic created a seismic shift in the way many of us carry out our work commitments and now that restrictions on movement have lifted and we see a return to a "new normal" it requires a change of thinking and strategy to help employees transition back into an office routine.
From offering enviable commuter benefits to a more adaptable office environment your role as a proactive employer is to offer the right guidance and incentives to deliver the required amount of encouragement to get everyone back into the office.
Here are some of the ways to help employees make their return to the office as smooth and efficient as possible.
Spell out the benefits
In much the same way that working in the office didn't suit every employee and some were more productive and comfortable in that environment than others, the same can be said of working from home.
The reality is somewhere in between the two worlds. A lot of employees have grown to appreciate the flexibility that remote working offers. To counteract that perception, it is fair for any employer to reinforce the argument that spells out why everyone working together in an office is more beneficial, all things considered.
Collaboration between colleagues is infinitely easier when you are in the same room, deposited the existence of facilities such as Zoom to bring everyone together virtually.
Another key point to emphasize to employees is that there is a stronger culture when everyone is in a physical office. Many employees prefer to work for an employee that has a healthy and inclusive culture and that is hard to achieve when everyone is working from home.
Offer commuter benefits
A certain amount of gentle persuasion can go a long way when it comes to encouraging employees to return to the office.
There are a range of commuter benefits programs that can be tailored to your business and they are a great way to attract and retain employees.
When you offer commuter benefits to your employees you will be giving them a solid reason to return to the office. Offering employees the chance to save on their income taxes while allowing employers to save on payroll taxes is a win-win situation.
It is no coincidence that many top companies have fully embraced what commuter benefit programs have to offer and it could be the right sort of inducement needed to fill the office with workers again.
Think about a change to the dress code
Attitudes and habits definitely changed as a result of so many employees working from home.
We are now seeing a new era of professional attire that is more focused on casualness and comfort.
You obviously may not want employees to return to their desks in the office wearing jeans and a t-shirt, but there are ways to tweak the dress code so that it is less formal and more relaxed.
Time to ditch the 9-5 model?
What we are now witnessing as part of the transition back to office working is the creation of more flexible working practices and openness towards a hybrid model of working.
Rather than suggesting every employee needs to work Monday to Friday from 9-5, it makes sense to try and offer the best of both worlds. This could mean an employee working three days in the office and two days at home.
If that could work for your business it could have benefits in terms of employee retention if you can offer this level of flexibility.
Work on fostering personal connections
One of the most coveted aspects of office life is the ability to forge friendships and personal connections that are good for the working environment and the business overall.
It has always been the case that employees are more than happy to come to the office when they know they will be enjoying the sort of camaraderie and connections with coworkers that make their job worthwhile and rewarding for more than just financial reasons.
If you can encourage team bonding it will make the transition back to the office a lot easier.
Offer an environment of efficiency
One of your fundamental responsibilities as an employer is to spell out the benefits of returning to the office rather than simply demanding compliance.
One of the most effective ways to achieve this aim would be to promise an office that delivers on efficiency. Employees tend to be more engaged when they know they can come to the office and accomplish their tasks in the most efficient way possible.
Give them the tools to do this and employees will be encouraged to return for all the right reasons.
Offer a personal development route
The way we work has changed and that means employees might feel left behind by new technologies and working practices.
Offer a training program that allows employees to get up to speed and feel that they have a route to bettering themselves.
Cater for their physical and mental needs
Working from home created a whole new set of physical and mental challenges.
Not every employee feels ready to return to work because of these changes. Recognizing that employees have different needs when it comes to their physical and mental wellbeing will help you to develop a program of resources that will help those that need support with the transition process.
Consider offering access to counseling services and see if you can arrange physical benefits such as yoga and exercise classes for employees.
A show of compassion goes a long way
It has been shown that employers who show their employees a good level of compassion and emotional support have fared well in job satisfaction surveys.
If you can encourage workers to return to the office by demonstrating a degree of flexibility, understanding, and compassion, it should help with employee retention and create a good office atmosphere from day one.
Finding ways to help your employees transition back to the office is a challenge created by the pandemic but these suggestions should help the process go as smoothly as possible.
---
You may be interested in: Cultivating a Culture of Empathy