Moons are beautiful heavenly bodies capable of spreading the aura of love; reduce anxiety, and give off the feeling of peace and tranquility.
Can't step out in the middle of the night to feel the moon? There is nothing to worry about as moon lamps are classical night lamps inspired by the lunar moons to mimic not only its beauty but functions too. Be it a romantic dinner or a birthday, moon lamps are perfect for every occasion.
Get your hands on the moon lamp, and do not miss the chance of making your memorable event even more cherish able. Before further diving into details of moon lamp, read on to know first better get an understanding of moon lamp and how it works.
What is a Moon Lamp?
Moon lamps are not like ordinary night lamps. They are made by the satellite images taken by NASA, morphed on a glowing orb. This 360-degree Lunar Moon Lamp mimics the beauty of an original lunar moon, from its ridges to craters. 
The cutting-edge 3D technology and PLA material make it safe and convenient to use and environmentally friendly. Moon lamps come up with advanced technology with multiple benefits to suit almost everyone's needs. Its encompassing light reaches in all directions and makes things go more interesting for people at night.
How to use a Moon Lamp?
The moon lamps functioning is pretty simple to understand. By just tapping the metal button at the bottom, you can turn it ON/Off and control its brightness and color. With the first touch, it will give a yellow light, the second touch will turn on the white light, and the third tap will switch it off. As for the 16RGB moon lamps, you also get a remote control to choose the color.
5 Different Types of Moon Lamps
Moon lamps come in different shapes and sizes, and some may even differ in functioning too. So no, don't be in such a hurry, and let's first know the types of moon lamp you would need for your space.
1. The Royal Moon Lamp
The Royal moon lamp is a basic yet elegant table moon lamp. It uses NASA 3D images to create an exquisite look of a real moon. With just a single tap, you can switch between warm yellow and cool white tones. The metal ring at the bottom does not only change color but also turns it on and off and adjusts the brightness too.
2. Levitating Moon Lamp
If you are looking to impress your guest with something extraordinary, then this is something you should consider. The magical orb floats in air support with the strong magnet in the base that rests on the tabletop. This wireless charging moon lamp can hover in the air stationary or can also rotate in 360-degree.
3. Customized Moon Lamps
Have you ever promised to name a moon to your loved one? If so, that's possible now with customized moon lamps. You can get a quote, a picture of you two, or even a simple text on the moon lamp and make it personalized. A glance every day at it will strengthen your bond and take it ahead.
4. Ceiling Moon Lamp
The ceiling moon lamp hangs from the rooftop and gives the appearance of lying under the real moon with a real effect. Whether dining room, kitchen, or bedroom, the moon lamp is capable of serving its purpose in every area effectively. 
5. Keychain Moon Lamp
Keychain moon lamps are for those who want to keep a moon with them wherever they go. This white color small piece can give a different feeling of holding the moon in your hand and take you to the next level.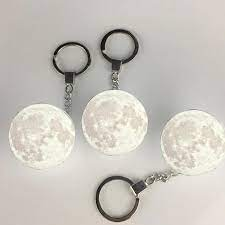 6. 16 Color RGB Moon Lamp
This moon lamp can change its color in up to 16 different shades and can stimulate a different emotion every time. What is better than changing the color of your night lamp in accordance with your emotion?
Buying Guide for Moon Lamp
Before you get so overwhelmed in buying a moon lamp that catches your eye, start digging up more about the features you need to consider buying a perfect piece for yourself. Here is what you need to know
The moon lamps, which have certified rechargeable batteries with a USB port, may long last.  A good pair of batteries on full charging should light the lamp up to 8 hours at least, but the longer it is, the better it will be.  
Since the market is saturated with moon lamps, and you are here to get the best one, it is preferable to go for environmentally friendly materials. Consider buying moon lamps made up of PLA or PVC that are free from toxins.
This is the most crucial aspect, which predicts the final look of your moon lamp. Choose a moon lamp with the clearest texture so that it can emit light properly and mimic the lunar moon in the right way.
Moon lamps on All Moon Lamps are available in various sizes from 8 cm to 20 cm. It is smart to always first pick the type of moon lamp you want for your area and then the size accordingly.
The charging port should be in the right place and shape to avoid inconveniences. It should neither be wide or far enough nor too small, as it can create imperfection in your magical orb.
Tips to Take Care of Your Moon Lamp
Since now you have bought a moon lamp, it is important to maintain its originality. Slight mishandling or even carelessness can cost the beauty of your lamp. To assure the long life of a moon lamp, consider the following notions. 
Keep away chemicals and liquids away from the lamp.

Avoid keeping the tabletop moon lamps on a slippery or tilted surface.

Attach the ceiling lamps firmly to the top.

Clean the lamp gently with a soft cloth, and no cleaners should be used.

Avoid overcharging it as it can harm batteries
---
You may be interested in: How to upgrade the lighting layout for industries