The increasing number of people who choose to lease vehicles rather than buy them is a major factor in the growth of the automotive industry. However, another factor is the online presence. To thrive in this competitive environment, a company requires a website that is both visually appealing and intuitive to use to bring in new customers, retain existing ones, and encourage repeat bookings.
Promoting your rental catalog, informing consumers, and streamlining the booking process are all easier with a professional-looking web design. With the right web design, you can provide a seamless customer experience. This includes creating custom booking forms, offering special discounts, and showcasing your finest products to entice potential customers. A well-thought-out site also helps establish trust and credibility with your audience, making them more likely to choose your rental services over the competition.
Crafting a customer-centric site is like building a house. Having guests over requires careful planning and consideration of all the amenities that guests will need. It's not enough to have a pleasing appearance; guests are also interested in practical considerations. It's the same with creating a website.
Where to Start?
The basic building blocks for a successful business website are as follows:
The first step is to decide on a CMS (content management system). For example, some popular ones are WordPress, Magento, Shopify, PrestaShop, etc. Almost 40% of all websites are built on WordPress, so this platform is definitely something to think about. Most importantly, it provides convenient e-commerce features.

Second, you must have a trustworthy web host. Websites are made accessible online thanks to web hosting companies, which keep them on their servers. You may select from a wide variety of hosting companies like Bluehost, SiteGround, DreamHost, etc. In terms of bandwidth, storage space, SSL support, etc., pick the one that best suits your demands.

Thirdly, you need to select a theme for your design. The WordPress theme library includes both free and premium options. You can also purchase

WooCommerce rental

templates from third-party marketplaces. When choosing a theme, look for one that is responsive, optimized for search engines, and has positive customer reviews. Keep reading, and we'll give you a few options that could save your life.

The last step is to install and set up a booking plugin. This group of strong add-ons gives you the ability to control reservations, payments, and inventory in your online store. It enables you to create unique booking forms, different rental product types, and price ranges.
That is, site-building demands careful planning and consideration of various aspects. This includes a handy CMS, reliable hosting, an elegant WooCommerce theme, and working plugins. By following these general recommendations, you are halfway to creating a professional online presence that attracts visitors and generates revenue.
The Why and What of WooCommerce
WooCommerce is now one of the most popular e-commerce platforms, along with BigCommerce and others, powering over 30% of all online enterprises. This means it's one of the most preferred ways to sell online right now.
Like all plugins, WooCommerce has pros and cons.
Pros:
Easy to use: Even an absolute beginner may handle this extension and have their shop up and running in a couple of minutes.

Flexible: It's a very customizable system that can accommodate a wide variety of payment gateways, shipping providers, and other add-ons.

Affordable: There is no upfront cost since the plugin is cost-free.

Support: WooCommerce has a large development and user community to help you out if you run into any issues with your online shop.
Cons:
Complexity: While WooCommerce is easy to use, it can also be complex for those unfamiliar with WordPress.

Customization costs: Although the add-on is free, some extensions and plugins cost money.

Scaling: WooCommerce handles small and medium-sized stores easily, however, it may struggle to scale larger stores. That is, if you plan to expand your service network in the future, you may need to switch to another platform.
Also read: What WooCommerce Is and How It Helps Grow Your Business
Three Successful Websites for Your Inspiration
It's time to find inspiration! Get started on creating a highly interactive website that your visitors will enjoy by checking out these web design ideas below.
Hertz.com
Hertz is a well-organized and user-friendly platform created to make it simple for travelers to access car-hire services. This is a comprehensive travel resource and offers details on places, vehicles, etc. The website has a stylish, modern aesthetic. To aid users in finding the car they require quickly, it also features a noticeable booking search bar. A sticky drop-down menu, social media integrations, and support for multiple languages are additional design elements.
Renterswarehouse.com
The RentersWarehouse website is a model of streamlined modernity, with its white layout and blue accents. Here is a rental property search function and a straightforward primary menu, with a MegaMenu option for each section. The website also has high-quality pictures and prominent calls to action. A slider with testimonials and a blog with real estate advice are also included in the design.
Bright.com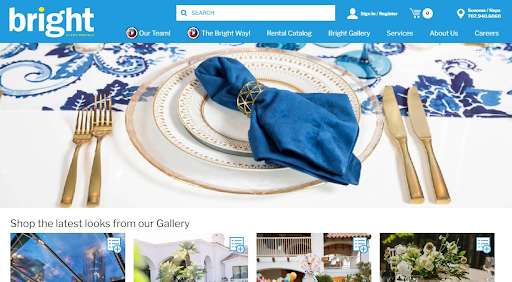 The BrightRentals site features a color palette of white and blue and a sleek, contemporary design, with a full-screen slideshow on the main page. The website also employs a MegaMenu, which is an excellent choice for sites with a complex hierarchy of subpages. It makes it easy to learn more about the company's offers. BTW, they offer a wide range of rental inventory, including furniture, housewares, and appliances, for individuals and businesses. The website also includes high-quality photos of available rentals, which effectively market the company's wares.
Best Demos of WooCommerce Rental Designs
It might be challenging for beginners to choose the best eCommerce theme from the many available options. Hence, to assist you, here are three of the most often-used rental themes for WooCommerce. All of them are up-to-date and fashionable, with features that can be altered to meet your specific requirements and those of the powerful e-commerce platform. Whether you're in the industry of renting out vacation homes, cars, or party supplies, these themes will help you build an engaging and user-friendly website. Well, so let's begin!
With its robust set of features, AutoTraider guarantees a user-friendly and visually beautiful e-commerce platform for the car industry's online presence. In addition, its code is optimized for search engines, which is one of its main selling points since it raises search rankings. Equally important is that the template was made with browser compatibility in mind, meaning that users may access a site using the browser of their choice.
AutoTrader also has a beautiful product catalog display arranged in three columns and improved with Quick View, comparison, and add-to-wishlist options. The theme includes various handy features, such as Google fonts, a scroll-to-top button, and a contact form. Equally significant is that the template is WPML-ready, meaning it is translation-ready and can be easily translated into different languages. In addition to being used as an online store, AutoTrader might be used as a blog or portfolio, providing a versatile platform for your business needs.
Drive is a flexible and responsive WooCommerce theme. It supports several languages and currencies and has a rich blog area to help you retain customers. Here is also the cloud zoom function, and with it, customers can get a close-up look at your goods without leaving the comfort of their own homes. Plus, Drive has a drop-down cart that makes it easy for consumers to keep track of their purchases, no matter where they are on your site.
Of course, that's just part of it. The design already includes modules to showcase your most popular products, dividing them into Featured, Latest, Best-selling, and Special categories. Overall, the Drive theme is an excellent pick for any shop that wants to boost its online visibility, interact with clients in many languages, and get more booking requests.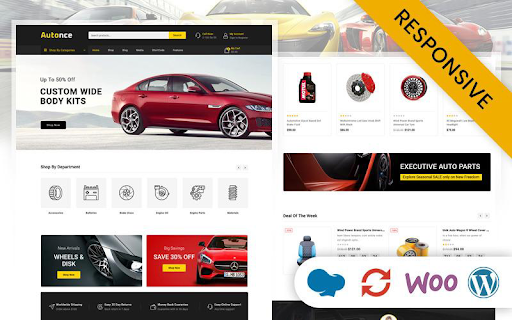 Autonce has a large number of shortcodes with variants that may be used to create beautiful sites without the need for any technical expertise. With the powerful Revolution Slider, you can create captivating and engaging banners and sliders that grab your visitors' attention and keep them hooked. Portfolio and gallery styles are also available to present your catalog attractively and well-organized.
In addition, the template features a product countdown timer, allowing you to evoke a sense of urgency and encourage prospects to purchase before the offer ends. And with the horizontal megamenu and vertical flyout sidebar, you'll design a straightforward menu system that will help your consumers quickly discover the information they need.
Related reading: Key Elements of Web Design to Make Websites User-friendly
Tutorial: Putting Themes into WordPress
Here's a comprehensive tutorial that anybody can follow to set up a WordPress theme—no coding knowledge is required. The video provides an in-depth explanation of how to set up any of the WooCommerce-ready themes available on the TemplateMonster marketplace.
Also read: The Guide on How to Setup WordPress on Your Site
FAQ
How does the WooCommerce rental & booking system work?
Depending on the plugin, this system may be used to book services or goods in a WooCommerce shop. A consumer may reserve a product or service, choose the days they need it, and immediately see the complete price. With such plugins, merchants may customize their stores' schedules and pricing structures to suit their needs.
What is the process for WooCommerce rentals?
Customers who are interested in renting something may do so by selecting a rental duration and seeing the associated fee. They can then make a reservation and pay for the rental using built-in payment gateways. You, in turn, may handle all reservations and bookings from the WordPress dashboard, as well as send out automatic emails to clients to remind them of pending bookings.
What types of products can I rent out using the WooCommerce rental plugin?
This add-on is compatible with any site focused on rental services. In particular, if you rent out equipment, vehicles, premises, sports equipment, costumes, and so on, then this module is what you need.
Where do I download a WordPress rental plugin?
There are plugins in the WordPress official repository, as well as third-party resources such as TemplateMonster and Crocoblock.