Music converters, also known as audio converters, are software tools or applications that allow you to change the format of audio files from one type to another. They are used to convert audio files from one file format to another while preserving the audio quality and characteristics as much as possible.
In today's dynamic digital audio landscape, music converters maintain their relevance by bridging the gap between diverse audio formats and modern consumption habits. With a myriad of devices, platforms, and encoding standards available, music converters offer a crucial solution for ensuring seamless compatibility.
As streaming services dominate music consumption, converters enable users to adapt downloaded content to their preferred formats, optimizing audio quality and file size. Additionally, the preservation of legacy formats through conversion safeguards against obsolescence and loss of access to cherished music collections.
In creative fields, from music production to podcasting, converters serve as versatile tools for adapting content to various platforms, enhancing educational endeavors, and fostering DIY projects. As technology continues to evolve, music converters empower users to navigate the ever-changing audio landscape while maintaining control over their listening experiences.
About MusicFab
MusicFab, a versatile music converter, is a revolutionary tool designed to convert songs from streaming music sites to various popular formats like MP3, M4A, FLAC, etc. This software primarily functions as an add-on module, offering several separate converters for different platforms such as Spotify, Amazon Music, Apple Music, TIDAL, and more.
Key Features of MusicFab
Convert Streaming Music: MusicFab can convert copy-protected music from streaming services like Spotify, Amazon Music, and Apple Music into locally storable formats such as MP3 or M4A. The output formats also include FLAC, M4A, OPUS, MP3, WAV, and ALAC, promising support for Dolby Atmos and 360 Reality Audio for a comprehensive sound experience.
Lyrics and Metadata: MusicFab can save lyrics as .lrc files, which are supported by several media player applications and software. This comes in handy when you want to play music offline while displaying lyrics.
User-friendly: MusicFab offers a wide range of features including bulk downloading of playlists and podcasts, GPU hardware acceleration technology for fast downloads, and ad removal options in downloads.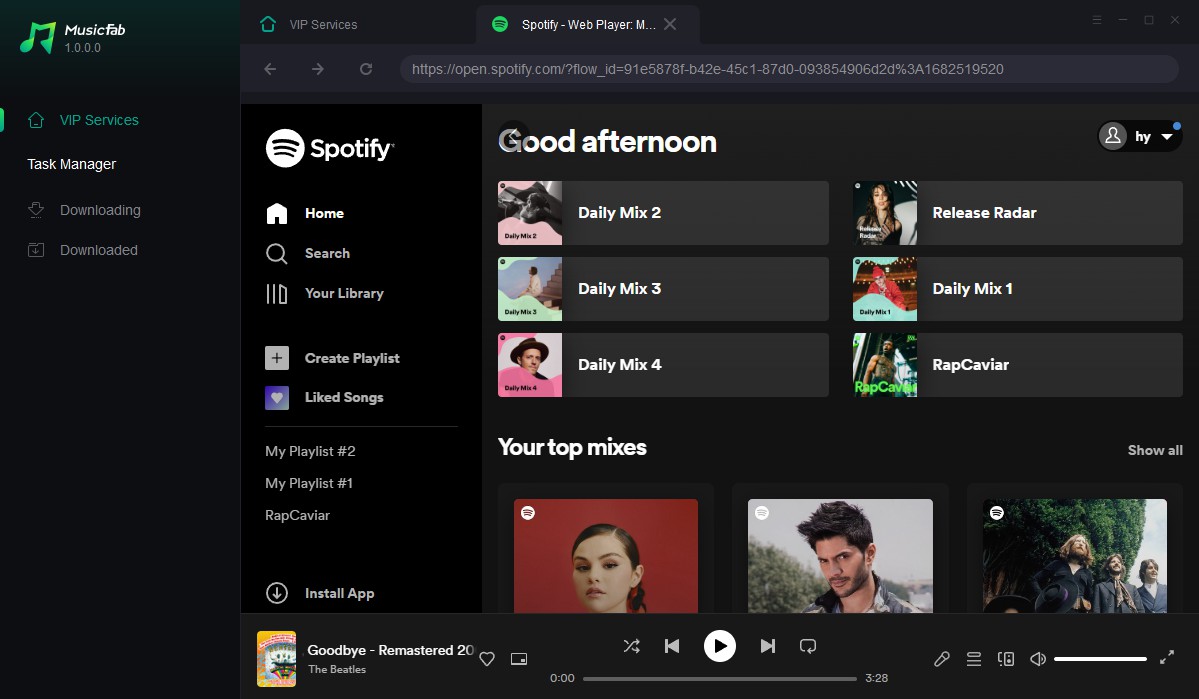 Installation and Purchase Process
The installation process is straightforward. Users can simply download the software from the official website and choose between a free trial or activation after installation. MusicFab is compatible with a wide range of operating systems, including Windows 11/10/8.1/8/7(32 bits & 64 bits).
MusicFab offers multiple subscription plans catering to various user preferences. Prices range from $79.99 for annual subscriptions to $159.99 for lifetime family plans. An "All-in-One" comprehensive version is also available, allowing downloads from all sites.
Setting up MusicFab
To acquire and set up MusicFab on your computer, you can access MusicFab's product page to download either the online installer program or the offline installer. Subsequently, follow the provided installation prompts manually to successfully complete the installation process.
Users can customize their MusicFab experience through the settings menu. From changing the software language and output folder to adjusting sound notifications, MusicFab offers plenty of personalization options.
Using MusicFab
MusicFab provides a free trial period during which you can test its functionality. The free trial allows downloading up to three songs. Before using MusicFab, users need to authorize their account, ensure the software version is up-to-date, and familiarize themselves with the interface.
MusicFab adopts a browser-based UI, allowing users to search for and download songs directly in the software's browser. An account for the respective site is necessary for downloading music.
Downloaded music can be played using any media player that supports the downloaded format. MusicFab also allows the deletion of downloaded data directly from the software.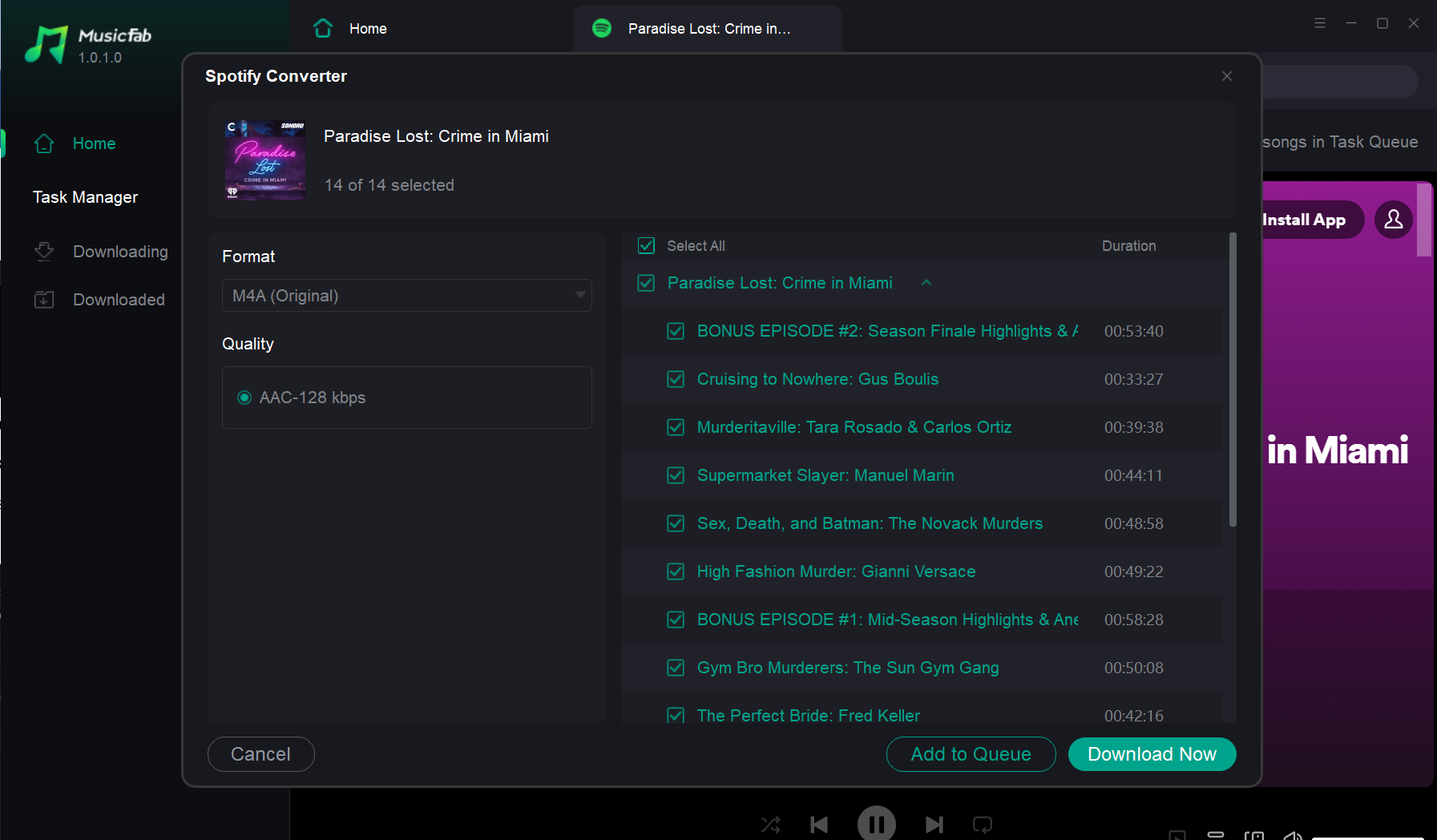 Frequently Asked Questions
MusicFab accepts a variety of payment methods, including credit cards, PayPal, Apple Pay, Google Pay, iDeal, and Bitcoin. The free version allows users to download up to three songs without a time limit. MusicFab's paid version can be used immediately after purchase and activation. For any support, users can contact the MusicFab Inquiry Forum.
Final Thoughts
In conclusion, music converters stand as indispensable tools in the modern era of digital audio. Their continued relevance lies in their ability to seamlessly bridge the gap between diverse audio formats, enabling users to adapt, optimize, and personalize their music collections. Whether it's ensuring compatibility across a range of devices, preserving audio quality, or facilitating creative endeavors, music converters empower individuals to navigate the complexities of the audio landscape with ease.
As technology advances and new formats emerge, these converters provide a reliable means of future-proofing audio collections while maintaining the freedom to enjoy music on one's own terms.
MusicFab offers a unique service for music lovers, making it possible to convert streaming music to different formats for offline use. Its user-friendly interface, combined with a range of personalizable settings, makes it a versatile tool for managing and enjoying music across different platforms. Although the software is subscription-based, it provides an array of features that may justify its cost. Nonetheless, as with any software, users are advised to consider their specific needs and circumstances before making a purchase.
---
Interesting Related Article: "Best 5 Music Converters for Windows and Mac"