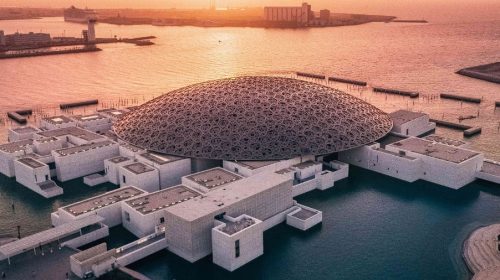 The Louvre Abu Dhabi located on Saadiyat Island as captured by Visit Abu Dhabi
The prominent Capital of the U.A.E presents heaps of opportunities for regional and international visitors to quickly experience the Arabian Dream.  Rising occupancy rates and the growing entertainment sector have confirmed Abu Dhabi to be high on the list of every aspiring globetrotter.
Abu Dhabi in itself is an exclusive peek into Middle-East culture – presenting plenty of gorgeous sightings, travel experiences and traditional insights. According to Dubai-based hotel marketplace – Serviced Apartments these are Abu Dhabi's top-rated travel experiences, hotel stays and attractions.
Best Tourist Attractions & Things To Do in Abu Dhabi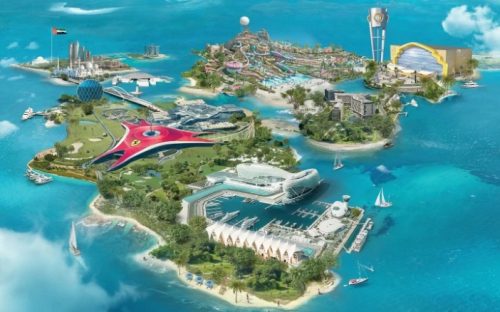 Yas Island
The unparalleled heart of Abu Dhabi stands to reveal some of the country's widely-talked about events, tourist venues and F&B outlets. The Island boasts endless water views, across from a hub of venues for entertainment and leisure.  Grand Prix Yas Circuit, Yas Waterworld, and Yas Mall are only a few to start with. As a host to several business events, concerts and record-breaking entertainment spaces – this is a community worth every minute of the trip.
Eastern Mangrove National Park
For a more laid-back cruise through the city, many chose to Kayak through the scenic Eastern Mangroves of Abu Dhabi. The Eastern Mangroves promenade revolves around the vast water body featuring several traditional cuisines, beverages and even retail outlets of its own.
Sheikh Zayed Grand Mosque
Another monumental addition to your trip – the destination is considered the largest mosque in the country effortlessly combining Islamic architecture and yet some more record-breaking elements. The World's largest carpet, cultural tours and unique visitor experiences are all on the list of reasons why it's worth paying a visit.
Louvre Abu Dhabi
With this one on the itinerary list, one can never go wrong. The gallery-based museum is located on Saadiyat Island, presenting an artistic adventure through famous works including Claude Monet, Da Vinci and Van Gogh. Over the years, The Abu Dhabi Louvre has also gained popularity for its collection of ancient scriptures, contemporary installations and guided tours.
Visitors are welcome from 10 AM to 6:30 PM except on Mondays.
Top Four Hotel Apartments for Rent in Abu Dhabi
Exploring Abu Dhabi is a trip more than a day's worth. According to the Dubai-based hotel marketplace – Serviced Apartments, these are the top fully furnished serviced apartments in Abu Dhabi available for monthly rent.
Dusit Thani Abu Dhabi
As an internationally well-known chain of hotels, Dusit Thani operates to produce its reputed luxury service across furnished apartments in Abu Dhabi.  The venue is especially known for its spacious studio and one-bedroom apartments for monthly rent.
Apart from an extravagant residential setup, Dusit Thani presents an all-around approach to lifestyle -giving its guests access to a luxury spa, fitness area and several other lifestyle amenities. The venue also has an assortment of on-site cafes and restaurants featuring international cuisines.
Bab Al Qasr Hotel Abu Dhabi
Abu Dhabi's luxury hotel is nestled in the Arabian west corniche promoting a blend of traditional and modern living in Abu Dhabi. Guests have a selection of upscale studio to 3-bedroom apartments with upgraded interiors, and spacious layouts of up to 1830 square footage. The area is popular for its lively ambience featuring dining venues, personal concierge shopping services, infinity pool, beach access and more.
Staybridge Suites Yas Island
Staybridge Suites is designed to showcase an affordable modern living space, right in midst of Abu Dhabi's focal venue – Yas Island. The hotel features furnished apartments ranging from Studios and one-bedroom hotel apartments for rent. Each unit is fully equipped with A-Z household appliances, technology and infinite views of the sought-after neighbourhood.
The world-renown chain of hotels – DoubleTree by Hilton showcases a standard just as high in U.A. E's capital hub. The hotel is highly praised for its 150 high-end serviced apartments with varying layouts, views and sizes. Guests can choose from studio and one-bedroom serviced apartments and enjoy flexible stays with a duration of one month or yearly rent.
Browse through Serviced Apartment's exclusive selection of hotel apartments in Abu Dhabi for monthly rent now.
---
Interesting Related Article: "Travel and Expense Management: A Complete Guide"