Every small or large business owner wants to entice customers through their door. To boost your business, sometimes you need to think outside the box. Occasionally, a thoughtful and creative minor promotion campaign can do wonders for your business. There are multiple ways that can put your failing company back on the right path of success. Vetting is such a process – it can strengthen your business foundation.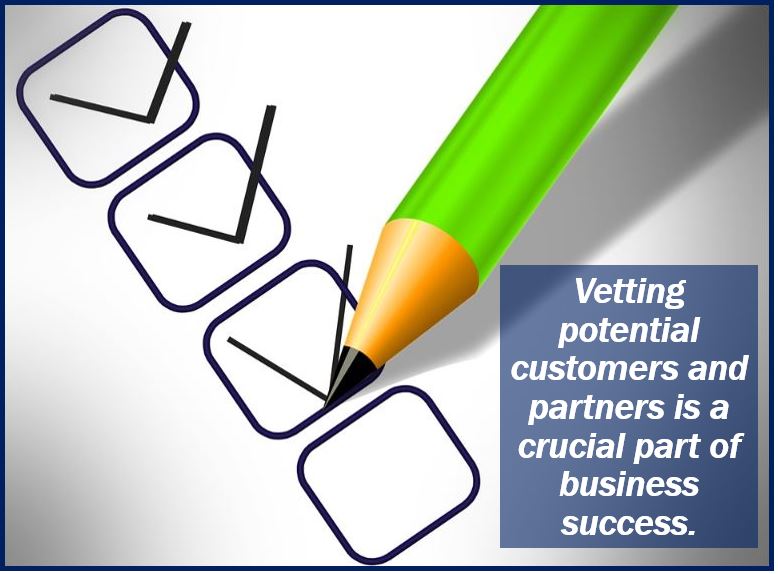 It is a process that you can use to investigate companies, individuals, or other potential business partners before you go forward with a joint project or any kind of transaction or deal. Put simply; we refer to checking someone's or a company's background as vetting.
Basics of Vetting
The vetting process is vastly used in the world of business today. It is a means to check out a company or person to make sure they are reliable and financially sound. People commonly use the term due diligence with the same meaning. For example, the board of directors of any firm will thoroughly vet a candidate before they appoint that person to a top management position like CEO or CFO.
A company may also need to vet a potential supplier in order to determine whether they should conduct business with them. Whether this happens depends on their honesty, reliability, efficiency, financial health, and commercial track record.
Investment advisors always vet a potential investor for their management quality, growth potential, and their track record before recommending them to their client.
There are many vetting firms like revisor that can easily vet companies, accounts, and individuals with timely reports that can help you make the right decisions. They can also help you manage your financial statements and tax returns by providing accurate data with their vetting process.
What Vetting Involves
It's a process that needs to be done thoroughly. You should start off by gathering all the relevant facts. There is also the matter of checking the resume of a job candidate. With this process, you can determine whether the experience and skills described in the document are accurate and true. By verifying the facts you collected, the process of vetting continues. Every certificate, degree, or award claimed by the candidate is checked for accuracy.
From here, the process of vetting gets deeper and more intrusive, whether it is a company, person, or investment. It may involve a criminal background check, credit history check, and if you find any, records of past interactions with other companies or organizations.
Account Vetting in Business
Not every customer is an ideal client. If you accept work from a bad one, it can create all sorts of problems for your firm. Vetting is a way to determine whether the client you plan to deal with can be an asset or liability for your business. You need to consider these key facts to before deciding whether you wish to go ahead with them:
Check whether the client was using a different firm before. This will help shed light on the capabilities of your competition and how the client approaches the relationship with vetting professionals.

You need to know the client's business entity type, which helps you draw out the critical information. It will also help you know the need and scope of work when you handle their books.

You need complete information about your client's personal and business credit cards, checking and savings, or whether they have PayPal accounts, loans, or leases in order to create a reconciling monthly statement.  

Managing payroll can be complicated, so don't forget to find out whether your client is using a reliable payroll process. Handling accounts that are used in inventory accounting requires specialized expertise.

Using the right tools or system to create vetting invoices is also necessary to promote your business. Microsoft Excel is an excellent tool to create invoices and record payments in an accounting system.  

Account vetting is essential to stay up to date on your tax filing.
Vetting Process for Employment
Human resource officers have many roles to play in an organization. Their major duties include recruiting and interviewing. Vetting is the only way to verify the authenticity of a candidate's credentials. It gives you an edge and helps you prepare for the interview and other encounters if you want to take the application to the next level.
There are many advantages of solid employment vetting:
It helps you save time and money in the long run, as you select the candidates for the interview that are both qualified and suited for the vacant position in your company.

Vetting helps you hire the right people for the job, which enables you to minimize any disruption to your business. With new employees, there is a learning curve. This curve is shorter and faster if the individual is well suited for the job.

Vetting helps you prepare for the interview, which will give you the opportunity to focus on the questions that matter.

It helps you gather all the facts about your employees, including their work and criminal history. These checks will help you maintain complete transparency throughout the company.

Vetting your employees can alarm them. However, it can also improve trust in the company when you publish the records and other details of its managers. You can assign this task to a specialist third party to perform a full background check of your employees.
Vetting Potential Clients
Vetting potential clients will help you weed out those who may be bad for business. What is the good of having a client who does not pay after you have spent time and money meeting their order? For some companies, especially startups and small businesses, a client who does not pay may mean the kiss of death.
Good clients, i.e., those who are good for business, pay their bills and strive to build a good working relationship with you. If they eventually become long-term purchasers of your products or services – better still.
If a potential client has a bad history with other suppliers and creditors, you have two options.
Explain to them that you cannot do business because of their track record.
Say that you can proceed, but you will need a hefty deposit – at least enough to cover your costs. You could even ask for all the money up front.
Vetting can save you a lot of time, effort, and money later on. Any business that sidesteps the due diligence process does so at their peril.
Conclusion
Whether you are trying to fill a job vacancy, deciding on a new client, determining whether to proceed with an investment, or verifying an account, vetting is a vital component for business success. If you take it seriously, you are more likely to achieve your commercial and financial goals.
_______________________
Interesting related articles: