Stockholm, Sweden – Spelinspektionen's media campaign "Games need rules" has successfully promoted self-exclusion among Swedish online gamblers. Erika Watts, the spokesperson for NyaKasino.se, has said.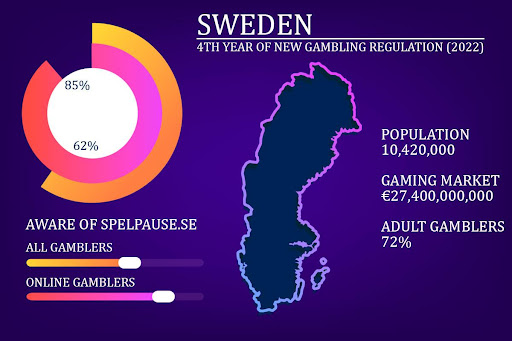 She quoted the regulator's 2022 annual report, which said the campaign raised awareness of responsible gambling while marketing its Spelpaus.se, the self-exclusion register. 
According to Spelinspektionen, 85% of online gamblers now know about the service. Furthermore, one in ten gamblers has used the service since the campaign launched. The campaign featured information films and related content on Spelinspektionen's website, which over 2.7 million people have viewed. In addition, more than 42,000 people have read information about the self-exclusion register on the regulator's website.
Spelinspektionen's annual report provides valuable insights into the Swedish gaming market and the regulator's role in regulating the industry. The report highlights the success of the regulator's social media campaigns in promoting responsible gambling practices and reducing the negative consequences of gambling. It also reveals that 72% of all Swedes have gambled in the past 12 months, with lotteries and number games being the most popular form of gambling.
NyaKasino.se has applauded Spelinspektionen's efforts to promote general awareness of gaming legislation and create a healthy and safe gambling market under public control. Erika Watts stated that "thousands of players have seen the advertisement and thus gained an increased understanding of what responsible gambling means".
According to Spelinspektionen's 2022 annual report, a survey conducted in May revealed that 8% of online gamblers in Sweden had played on sites without a Swedish gaming license. Poker and online casinos were the most popular games played on unlicensed sites, with bonus offers being the main reason for choosing these sites. However, safety, security, and control were the most critical factors for selecting sites with a Swedish license.
The report also highlighted Spelinspektionen's enforcement measures, which included license revocations and fines totalling SEK 140 million for companies that violated gaming legislation. NyaKasino.se recognizes the importance of choosing licensed gambling companies and encourages all online gamblers to do the same. Informed consumers can make informed choices, and Spelinspektionen's campaigns have helped create well-informed consumers in Sweden's online gambling market.
The Swedish Gaming Inspectorate collaborates with other organizations and authorities to promote sound and secure gaming development and prevent the manipulation of betting-related sports events, commonly known as "match fixing".
Source: https://www.spelinspektionen.se/globalassets/dokument/overgripande-dokument/arsredovisningar/spelinspektionens-arsredovisning-2022.pdf
Compiled by: https://www.nyakasino.se/