Learning to drive and getting a driver's license can be some of the most exciting events in your teenager's life. A licensed child may also alleviate some of the responsibilities for the adults in your household. Now that they have a driving license, they will probably rely on you less to get them to school, friends' homes, etc.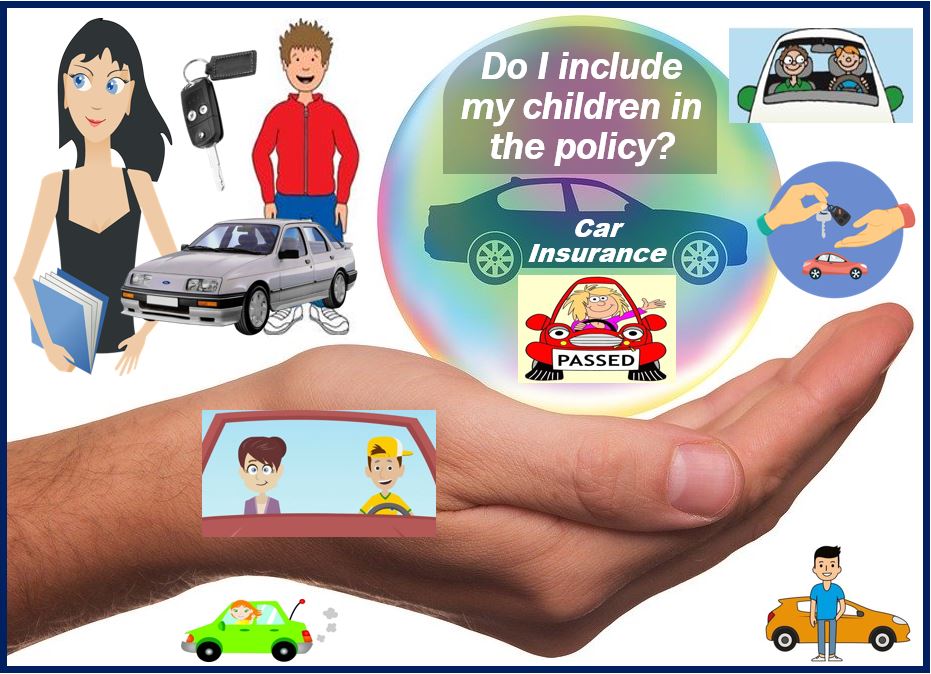 Before your young one hits the road, it's important that you are aware of the laws that pertain to auto insurance for teenage drivers. You should also find out what your current carrier's policies are. You may come to realize that it makes sense to shop around for a better deal.
Experts at Affordable Car Insurance Tampa have put together the most reliable and up to date info on whether you need to add your child to your insurance policy. If you're looking cheap car insurance in Tampa Florida, they can help with that as well.
Is it Required to Add Teen Licensed/Learner's Permit Driver?
Car insurance laws vary from state to state, so you should first find out what your state's laws mandate on this matter. You should also talk to your insurance carrier because the rules can vary from one company to another.
In many cases, you might not be required to add your teen driver to your policy during the learning stage. Since the law dictates that a driver with a learner's permit can only drive with a licensed driver in the vehicle, it may be assumed that the car itself is insured (as it must be to comply with insurance laws).
Basically, insurance companies determine rates based on risk level. Since a driver with a learner's permit should always be accompanied by a licensed, experienced driver, the risk is typically considered to be lower than when a newly licensed driver is on the road unaccompanied. However, if your teenager with a permit is in a collision and deemed to be at fault, your insurance company might then insist that you either add him/her to or exclude her/him from your policy.
Once your child has a license, you should let your insurance company know immediately if they are going to be driving your car.
As AutoInsurance.org points out, if you fail to alert your insurer that you have a licensed child living in your home and driving your car, you could be liable for fraud. In fact, some insurance companies will require you to add your licensed adolescent to your policy, even if they never drive the vehicle on the policy. The exception to this rule is if they have their own vehicle and an auto insurance policy that is separate from yours.
Benefits of Getting a Child's Own Policy vs. Going on Parent's Policy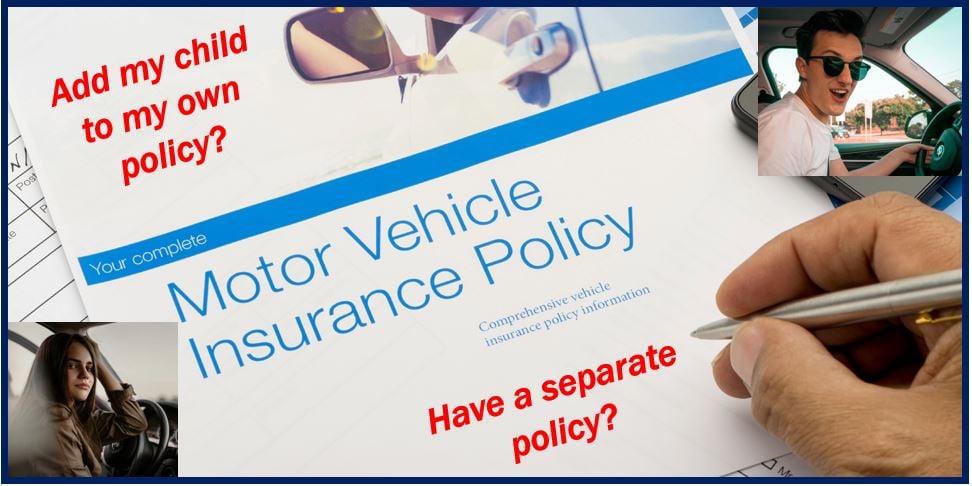 Adolescents are considered to be a much higher risk than adults on the road. The reasons are obvious; they are less experienced. Some very young people may not only see a vehicle as a means of transport, but also as a plaything (a toy).
Thus, as a parent, you might see a significant increase in your insurance rates if you add your teenager or young adult child to your policy. It may be in your best interest to arrange for your child to have their own policy (if that is an option).
Young males vs. females
You should also be aware that young males are assumed to be an even bigger risk than young females. This is generally the guideline because boys typically mature more slowly than girls. This could be another reason to keep your teenage boy off your policy. A few states do not allow insurance companies to factor in gender when determining rates. Those states are Pennsylvania, Massachusetts, North Carolina, Montana, and Hawaii.
On the other hand, if your adult child goes to college and does not live at home when in school, you might be able to get a discount. According to Insure.com, many insurance providers offer a discount for parents whose kids attend college at least 100 miles from home (as long as they do not have their own car at college). If this is the case with your carrier, then it may be beneficial to keep your adult child on your policy during the college years.
If you are helping your child to pay for their own policy or are paying for all of it, you may want to keep them on your policy for as long as possible. The younger your teenager is, the more they are likely to pay for insurance. According to HuffPost contributor Laura Adams, drivers who are 18 years old pay an average of 18 percent more when they have their own insurance policy. That number drops every year until they reach the age of 24.
As detailed at Insure.com, if your kid is between the ages of 18 and 21, you might be required to co-sign on an independent insurance policy, so you could be liable for higher costs anyway.
If your child has a history of getting tickets or getting in accidents, it might be advisable to take him/her off your policy. Your child's poor driving record will certainly raise your rates. If this is the case, your best option may be for your adolescent to get an inexpensive car with only liability coverage, along with their own policy.
How to Insure a Teen Driver
When it is time to insure your teenage driver, talk to your insurance agent. You may have a variety of options available. Although you should certainly be prepared for your rates to go up, you might be able to get a discount for multiple vehicles if your child has their own car.
One potential strategy is to have your deductible increased. Doing this may help to lower the cost of your premiums. Also, think about the vehicle your child will be driving. If it isn't a newer, more expensive car, and if it isn't being financed, you may want to drop your comprehensive and collision coverage. However, since your teenager is an inexperienced driver, make sure that you have the most liability coverage that you can afford.
DMV.org suggests asking whether "Pay as You Go" coverage is available. This involves installing a special device on your vehicle, which monitors your child's driving. If they maintain good driving habits, you may subsequently be rewarded.
Discounts for Teen Drivers
Fortunately, many insurance providers offer discounts for various reasons. Some of these factors directly relate to teen drivers. It can definitely pay off to explore this topic with your agent.
Good student discounts – If your teenager does well in school, they could actually be given a discount on car insurance. This is because students who earn good grades typically have better driving records. As a result, insurance companies tend to view such students as less of a risk.
Driver's ed/training discounts – It's also worth asking your carrier whether they give discounts for teens who take a driver's education course; some companies do. In addition, many insurance companies offer a discount to people who take defensive driving courses. Even if your company doesn't offer this discount, such a program can help your adolescent to avoid various mishaps on the road. Fewer collisions will help to minimize your child's insurance costs over time.
How Long Can a Child Stay on a Parent's Auto Insurance?
If your child is still living with you, you can keep them on your insurance indefinitely. This is true as long as they remain unmarried and don't own a vehicle.
Insuring Your Child as a Driver
Although the thought of your teenager driving can be scary, this time is an important stage in your kid's life. Every household has different circumstances, so make sure that you address yours with your insurance agent. By securing the right type of coverage for your teen, you can help them on the road to independence.
________________________________________________________________________
Interesting related article: "What is Insurance?"