Once you are settled in a good job, it becomes tempting to sit back, relax, and enjoy the flow of life. However, after a while, this can become jaded. As humans, it is natural to expect change and progress. This is why you need to consider incorporating some change in your dull life by advancing your skills.
Everyone has a skill set of their own with a dream of mastering it. Oftentimes, people take others as an inspiration in their field and wish to become like them.
Nothing is impossible if it involves knowledge, dedication, and follows the right path. You can get help in this regard from a number of resources, for example, reading a self-help book or getting yourself in an msba online degree. This article is an accumulation of tips that will help you in advancing skills in your field. You may become an inspiration for many.
Recognize your skill
This is the foremost thing to do if you want to excel in your field. You need to narrow down the things you are good at and then filter what you love and enjoy to do the most. For example, if you are working as an accountant at your office, you may be good at handling computer-related stuff. Out of those things, pick things that you enjoy doing the most. This is where you need to invest and excel.
Involve in activities that involve that skill
Getting involves in such activities will benefit you in more than one way. It will polish your skill, and it will highlight your skills in front of others. The more you practice, the better you will become at your skills.
Invest in short courses and workshops
Keep looking for short courses and workshops that may help you in honing your skills. This will not only earn you a certificate for that course but will also train you in handling your skills. It will give you knowledge that will help you in excelling at many levels.
Practice, practice, and more practice
You tend to lose skills that aren't used in a long time. Keep using your acquired skills in order to polish them until they become second nature to you. This will ensure that you do not forget what you have learned. You can practice your skills professionally as well as voluntarily for your personal satisfaction.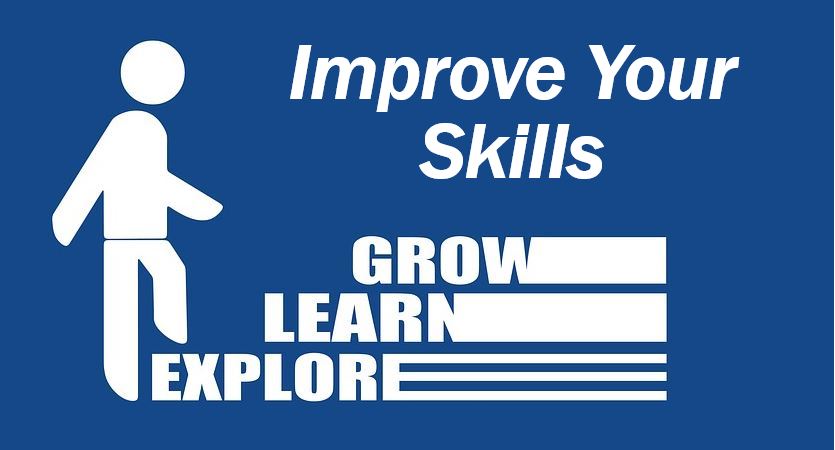 The contention is your enemy
Be hungry for your growth. The moment you get contended with the status of your skill, you will stop growing. Don't be satisfied after hearing good things from people about you. The room for improvement is always there. Take every opportunity as your chance to learn something new.
Ask other's opinions about the status of your skill
The best way to get your skills' status evaluated is by a colleague, friend or family. Ask them to closely observe the way you use your skills and give you honest feedback. This will help you in identifying your weak areas so you can work on them.
Get yourself mentored
You can ask someone from your field to mentor you. They may not be able to give you a complete training but sharing their tried and tested tips and tricks will be very beneficial for you. You can read books by influential mentors or even watch online videos to help in advancing your skills.
Take criticism positively
In your journey of mastering your skills, you will come across all sorts of criticism. Do not get demotivated or disheartened if you receive negative feedback or reviews regarding your skills. Take this positively and work harder on the areas that have earned you negative remarks. Remember, you can decide your future. Be smart and know the difference between constructive criticism and envious criticism.
Never compare yourself with others
Your competition should always be with yourself. You have to be better than you were yesterday. Comparing yourself and your growth with others is unfair to you as you do not share the same circumstances or privileges with others. Everyone has its own pace for development. If you compare yourself with people who are better than you, you will end up feeling insecure and jealous.
Do it with all your heart
When you start loving what you do, it becomes your passion. There is no stopping to the person who is passionate about something. Give your everything to your skill and advancing it to the max. It will earn you patience and perseverance. Be consistent about your practicing routine. Your love for your skill will make you keenly follow the routine.
Monitor your growth
Track your growth vigilantly. With each accomplishment, set up a new goal and strive hard to achieve it.
Last word
If you will follow these tips, there is no reason you may not succeed in advancing your skills in your field. Who knows? You may end up being someone's inspiration and mentor!
_________________________________________________________
Interesting related article: "What is Training?"