Many modern couples are always seeking ways to save some money and simplify wedding plans; therefore it is no surprise that more and more people are using online wedding invitations. As a matter of fact, the number of couples using digital invitations is growing each year.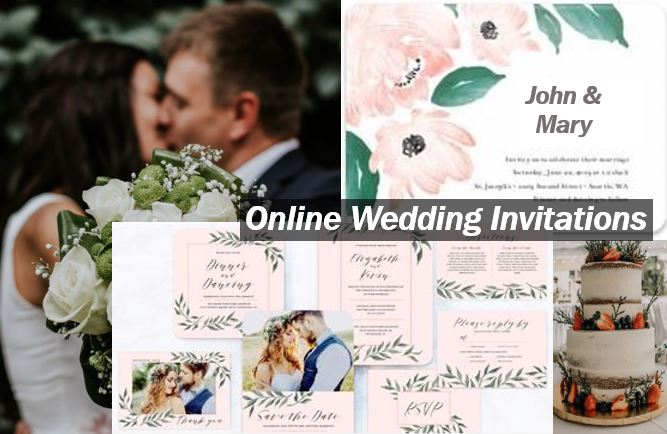 If you are not sure if this is a suitable trend for you, in this article we have detailed some of the advantages of using online invitations for your wedding.
Save You Money
The main reason why most couples opt for digital wedding invitations rather than paper invitations is because they help them to save money. With paper invitations you will have to spend money on a special design, and also for printing and posting. Moreover, after you factor in save-the-dates, wedding rehearsal reminds and other invitations, the cost goes up. Using online means can easily save you a lot of money.
No Delivery Errors
It is not always possible to remember the addresses of all your relatives and friends. With digital wedding invitations, you won't have to stress trying to determine who has received your invitation card and who did not because of human error or mistakes made by the post office. When you happen to send an email to an incorrect email address, you normally receive a quick response informing you that the email address is non-existent. On the other hand, when you write a postal address wrongly, you might never know what happened.
Quicker Responses
For huge or destination weddings, it is important to receive responses from invitees as soon as possible about who is coming. With digital invitations, you will not have to wait for long to receive a response. Invitees can even RSVP within a few minutes or seconds of you sending out the invites.
Save Time
You do not need to hire an assistant in order to determine the people who will attend and the ones who won't. With digital invitations, your wedding invites can be created and sent out with just a few clicks. This way, you get to focus on the plans that are actually very important, like what you will wear at your momentous occasion.
Everybody is Online
Nowadays, almost everybody is online. If you happen to have older family members and friends who haven't embraced online means, there is probably somebody who can assist them in completing a simple-to-use online invitation. The argument that online wedding invitations should not be used because some invitees do not use the internet does not hold water for many couples. As a result, you should not overlook the convenience of online wedding invitations as a great way to simplify your plans.
They Look Just as Good
Digital invitations do not need to be plain and boring. Actually, they can be easily designed and modified to match your personality similar to paper invitations. With so many Mixbook wedding invitation cards, collections and designs to pick from at Mixbook, they have options that you are bound to love!
Updating is Easy
If you have to make changes to your invitations, you can alter things with just a few clicks. With paper invitations, you will have to reprint them all over again, while online invitations make sure that you are not making a strong commitment to the layout until your wedding theme is finalized.
Added Features
Online wedding invites also provide more features than paper invites. Invitees can suggest songs for your event, they can write and read greetings in your wedding book, and they can also share and see pictures in your social wedding album. Your invitees can also get live directions to your wedding location and you can also make seating arrangements online.