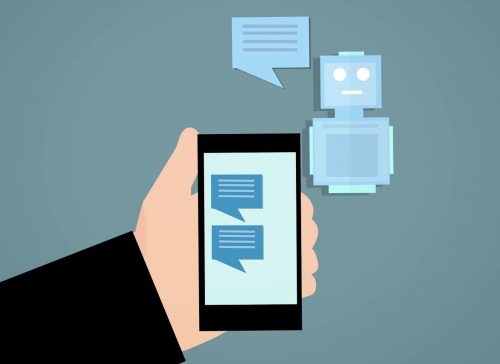 When someone mentions the word 'chatbot,' something that often springs to mind is a useless and frustratingly annoying support feature commonly used by website operators. 
They are the live chat robots people talk to when they try to get in touch with a website. It's a cheaper support option for operators that can't afford to pay for real people to man the customer support network, and it has traditionally been a very poor service. 
However, in recent years, the technology has come on leaps and bounds thanks to Artificial Intelligence (AI), which is helping to make chatbots better for businesses than ever before. 
The question being asked here is, are AI and chatbots essential for every business? Take a closer look right here. 
What is a chatbot?
A chatbot on a website is a software program specifically designed as an online support method to answer questions posed by visitors to a website or help resolve technical issues. 
It has been designed to simulate a human being by giving the most appropriate answer to any questions people may have about the website and its goods and services. 
The feature usually takes just seconds to launch, and after you have posed your initial question, the chatbot will try to point you in the right direction by giving you the most relevant reply. 
Up until just a couple of years ago, the service was usually dreadful, and people still needed to chat with an actual human being to get sorted. 
Chatbots have been designed to eliminate the need to deal with an actual human, which reduces costs for the business operator. Chatbots also reduce the length of time it often takes to deal with an actual human. 
In other words, thanks to chatbots, there's no more waiting around in queues to speak with someone. 
At many of the world's biggest websites, chatbots are now a major part of their approach to customer service. Although they still have a bad reputation, they can be extremely beneficial for businesses in several ways and are highly recommended support options. 
If they work correctly, they can get customers/visitors dealt with in no time at all, which can lift the mood of the customer and potentially lead to more conversions and, therefore, bigger revenue. 
Do online casinos use reliable chatbots?
Yes, and no. At many fully licensed online casinos today, you will find a variety of support methods available. 
This usually includes live chat (with an actual human team of friendly, cheerful, and professionally trained player support agents), email support, and toll-free telephone support. 
Some online casinos also now use advanced chatbots. If you want to claim no wagering free spins bonuses but you have a specific question about the wagering requirements that might be attached to that particular bonus, you can launch the chatbot support method.
It should load instantly, and the chatbot should be able to give you an answer to your question in just seconds. This is much quicker than having to wait for an actual person to answer your question. In cases like this, chatbots are fantastic for both the player and the operator. 
Is Chatbot AI useful for my business?
It all depends on what type of business you have and how often people need to get in touch with someone to find out more about your goods or services. 
If you run a busy website where people are always trying to get in touch with someone who can answer their questions, then yes, Chatbot AI is recommended. 
It's possible to communicate with chatbots directly over the internet in text form, or you can even chat with them using your microphone. Provided you speak clearly and not too fast, the most advanced chatbot programs should easily be able to answer your questions in a flash. 
However, the more advanced Chatbot AI programs can be quite expensive, so you should look into their different services and price plans. Don't forget that chatbots are relatively easy to tweak to give the most relevant answers to any questions your visitors may have. 
Chatbot programs will never get angry or rude, which means that if someone can get their question answered in an instant with zero fuss, they are more likely to return to the site in future or perhaps recommend your site to someone else. 
The same cannot be said of an actual 'human being' live chat agent or telephone support agent. Sometimes, they can be downright rude, which can be really damaging to your business. This would never happen with today's most sophisticated Chatbot AI software. 
What are the main benefits of using a chatbot service?
Customers are responded to in a much quicker length of time with a chatbot service
Chatbots can reduce the length of time human support agents spend on answering menial questions
Chatbots can work across multiple channels from almost all computing devices with Wi-Fi/internet connectivity
Chatbots are forever improving and becoming more advanced and human-like than ever before
Chatbots can be personalised/tailored to your business
How can a business get the most out of its chatbot service?
Suppose you have decided to get a chatbot service for your website to improve your customer service, save money, and streamline your business. In that case, you can do several different things to get the most out of whatever chatbot service you subscribe to. 
Fine-tuning your chatbot service won't happen overnight. It requires a lot of monitoring and plenty of modification here and there. It can be frustrating, but a well-oiled chatbot service can work wonders for your business. 
You can study things like metrics to improve your website's chatbot service. Don't forget that any conversations between your customers and chatbots can be studied in closer detail at a later date to find out what the chatbot did right and what it did wrong. 
Analysing the data enables you to see the chatbot's effectiveness each time it interacts with someone. 
It helps to give your chatbot as many 'human' responses as possible. This could mean including certain emojis. It's also important that you frequently test your chatbot service to find that it's in perfect working order. 
As a website business owner, you should always be looking for ways to improve your services.
Although chatbots may not be for everyone, the latest and most advanced Artificial Intelligence chatbot services are proving to be a hit with happy customers who have used them and are worth considering for your site. 
What are the best chatbot services for my website?
Many different chatbot service providers exist today, all claiming to be the best.
However, after narrowing them down and cross-referencing many reviews, our dedicated team of researchers found five fantastic chatbot services that you may want to consider getting for your business before trying any others. 
Some of the best chatbot services in 2023, apart from ChatGPT, are the following:
LivePerson (an ideal chatbot service for messaging across multi-channels, platforms, and devices)

WP-Chatbot (works best for sites using WordPress)

HubSpot Chat Builder (this one is widely regarded as the most user-friendly chatbot service)

Drift (known as the best chatbot for sales)

Intercom (one of the best chatbots for being customised)
Others include Genesys DX, which is known as being the best for natural language processing), and Salesforce Einstein (ideal for Salesforce users). Some of these chatbot services are free, and others come with a paid monthly subscription that can set your business back around $70 to $80 or more. 
Which other chatbot services are known for being good?
Other well-known chatbot services that are better than most others are Bing Chat, Ada, Zendesk Answer Bot, Inbenta, Apple Pie Chatbot, Watson Assistance, and Botsify. Others include Drift, Kommunicate, Infobip, and Bold360, to name a few. 
What other support methods can I use if I don't want to use a chatbot service?
Not everyone is quite ready for chatbots yet. 
Suppose you are one of these people but still want to provide a reliable customer support network for anyone who visits your website. In that case, there are several other support methods you can go for instead. 
The most common support methods include telephone support (preferably toll-free telephone support that's available 24/7). It also helps to have telephone support in multiple languages. 
Live chat support is just as effective as telephone support (with actual human beings, not chatbot agents). It helps to have this support method available in multi-languages too, and open 24/7. 
Some of the other popular methods of support commonly found at websites today are email support, where your website has an online email entry form the visitor can fill out at any time (and add attachments if needed), or at least an email address so they can email your support network from their personal email address. 
It's also common to find some other reliable support options, such as Skype support and What's App support. Each site is different in terms of which support options it has available. You just have to try and choose which methods would be best for your website and audience. 
---
Interesting Related Article: "Understanding Your Target Audience in a Competitive Industry"