"WE'RE OPERATING IN A WORLD WHERE ONE GOOD VIDEO CAN LEAD TO A MASSIVE SOCIAL FOLLOWING" – MIKE HENRY
The world's first AI-enabled video editing tool, InVideo with its Intelligent Video Assistant (IVA) has been declared as the Product of the Month on Product Hunt.
---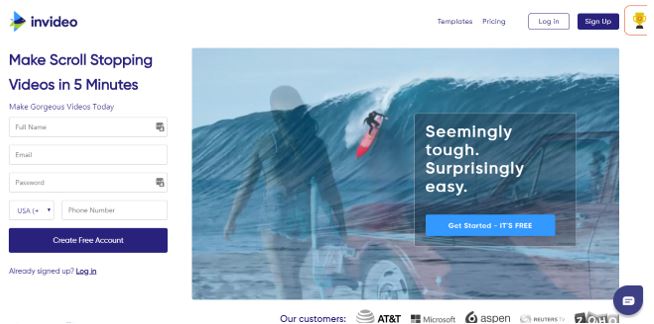 ---
CEO and Co-founder Sanket Shah said in an interview with BBN Times:
"InVideo was the #1 Product of the Week and #1 Product of the Month with an overwhelming number of upvotes and raving reviews. Product development at InVideo is customer-driven — our objective with the Product Hunt launch was to invite feedback from the community. InVideo was well received by the PH community because it is an all-in-one video creation tool, unlike its competitors that are one-trick pony (single purpose) video apps."
Product Hunt featured InVideo on 19th Feb 2020. They described InVideo as, "The most comprehensive social video creation platform to create video ads, promo videos, social media videos and more. It comes power-packed with an extensive template library of 1700+ templates, a full-fledged editor, millions of stock videos and images, effects and more."
Not only this, but InVideo is also one of the most reviewed and commented products on the Product Hunt platform attracting almost 3700 upvotes and 480 plus comments 200 of which were detailed reviews from the users of the platform.
According to all the reviews, all of them being fairly positive, the app was described as the best in the video editing category, taking care of a wide range of customer needs and wants. Users especially applaud their outstanding community support, customer service, and easy video creation techniques for any marketing purpose, be it social media or promotional videos or video ads or intro/outro videos.
The startup's founder Sanket Shah and Growth Hacker Rohan Chaubey personally replied to hundreds of these reviews and feedback showing the culture of 'customer-centricity' as the core value of InVideo. By generating a feeling of being heard for every user, they sure strengthened their bond with their existing users and presented a strong image to those looking for a reliable video editing platform.
---
---
InVideo's popularity and raving reviews didn't remain confined to the audience of Product Hunt platform as many members took to Twitter to refer InVideo to their friends and praised the InVideo's launch video.
---
---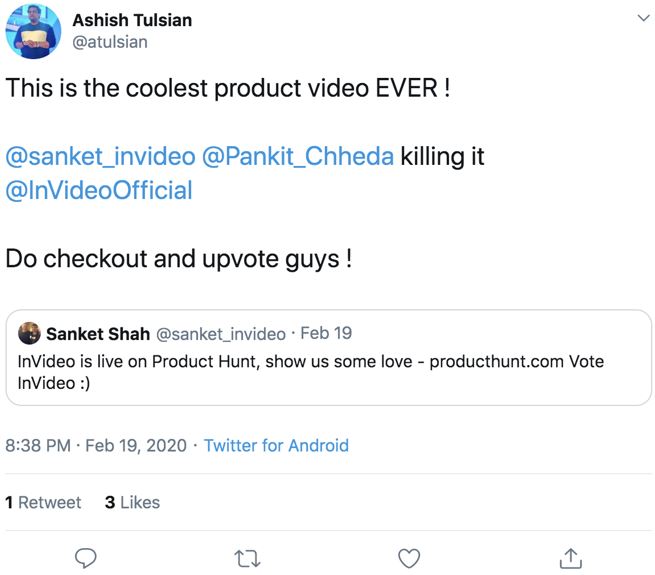 ---
This San Francisco-headquartered startup has till now raised $2.5M funding. It boasts of having 100,000+ users spread across 150+ countries. They are using the platform day in and day out for their every video marketing need and collectively creating over 220,000 videos every month.
The list of achievements doesn't end here for InVideo. InVideo is the most sold product in AppSumo history. For those who don't know, AppSumo is a lifetime deals website that offers a wide range of SaaS products.
One of the topmost comments on InVideo's Product Hunt listing outlined a few pros and cons of the app.
Pros
Over two thousand video templates.
Easy to use drag and drop pre-built video components.
Supports multilingual videos.
Incredibly helpful and quick support team.
Ability to add unlimited team members.
Intelligent video assistant that helps you correct your editing mistakes.
Cons
The mobile version of the app would be helpful (not really a con as that's on the roadmap already)
According to the founder of InVideo, both android and iOS versions of the mobile app are on the way.
Popular among a large variety of users, InVideo is the most positively rated platform across review websites. The categories of users include freelancers, social media and marketing agencies, social media influencers, publishers,  marketers,  and even large-scale companies including Sony Music, AT&T, Reuters, CNBC, and CNN.
According to G2Crowd, one of the largest services and business software rating websites, InVideo outperforms many of its competitors including Filmora, Final Cut Pro X, and Adobe Premiere Pro.
---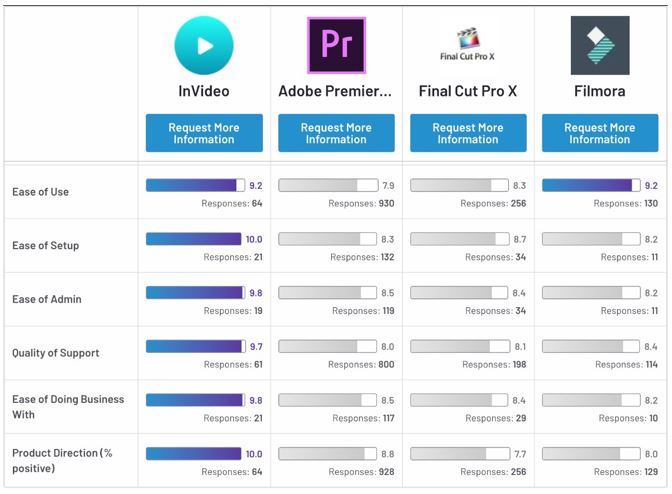 ---
By intelligently incorporating the future of video tech, InVideo has managed to garner praise and endorsement from the likes of Neil Patel, Jeff Bullas, Mari Smith, Rohan Chaubey and more. As the stats go and the customer reviews say, the startup sure has a very promising run in 2020 and in years to come.
______________________________________________________
Interesting related article: "What is Artificial Intelligence?"