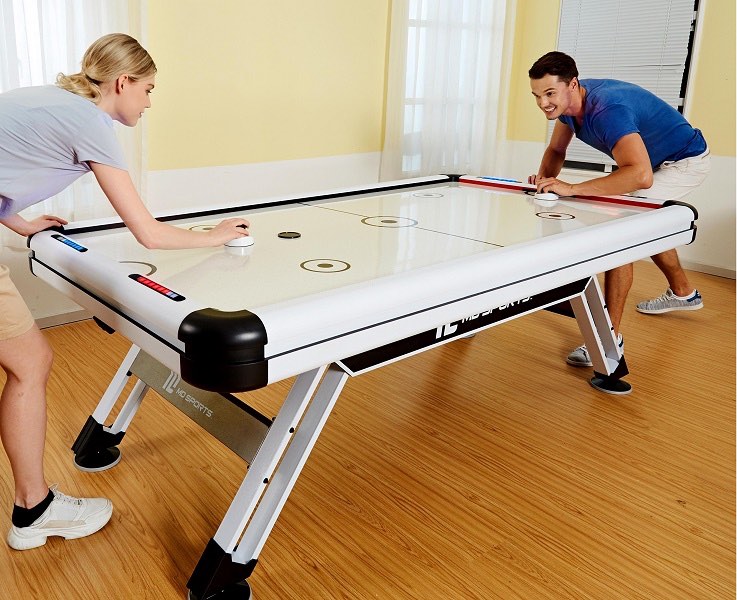 One of the most exciting and challenging games around, air hockey is fun for people of all ages, which adds to its appeal as there are no limitations to who can play it. The inception of the popular game came when a team of game designers wanted to make a game that combined the best of what pool and ice hockey have to offer, and so the fast-paced game appeared.
Ever-present in arcades and even bars, the air hockey table can even be found in people's homes. There are a few styles to pick between so that you find a table to suit your space, skill, as well as budget, so if you are interested in making this acquisition, finding one that suits your needs won't be much hassle at all.
How does it work?
To understand how it works, you first need to learn the biggest secret to the manufacturing of the table – the whole surface is symmetrically drilled with small holes. Through these holes, air blows that originates from a fan located underneath the table, making it seem like the puck levitates as it helps it float. For the table to work, there are several component parts that works together, more precisely:
The surface: As aforementioned, holes are drilled on the entire surface for air to come up through the blowers. For minimal friction with the blowers to be created, the surface has to be extremely smooth, the best air hockey table featuring a slick and durable laminate surface to ensure fluid movement across.
The blowers: They force air through the holes for minimal friction to exist between the puck and the table itself.
The rails: Designed to provide bounce and bankability, quality tables featuring dense aluminum rails that provide the best bounce.
Air hockey table types
Arcade-style – If money and space are not an issue, this is your go-to style table. Used by pros and ever-present in arcades, as the name suggests, some common features in arcade-style air hockey tables include convenient electronic scoreboards, powerful motors, music and entertaining sound effects, as well as truly smooth playing surfaces.
Basic – Great for players who want to have a fun experience while playing but don't want to spend a lot of money, basic tables don't really come with a lot of features, so don't expect to find a digital scoreboard. If you are the DIY type, you can even make your own table at home in case this sounds like a fun project to take up.
Tabletop – Portable and perfect for those who don't have a lot of room for regular tables, tabletop models are customizable when it comes to height, which combined with their smaller overall profile makes them perfect for children and individuals who cannot play on a full-size table.
Multi-game – Multi game tables are more than just air hockey tables as they incorporate other games too, like foosball and table tennis. Evidently, the asking price is considerably higher as well.
Buying guide
Table size
This is the most important factor in the decision making process, by far. To decide what size the table should have, take into consideration where you plan to place it and what type of air hockey you want to play. If the room is small, then the table has to be smaller-sized too, but don't expect to play as competitively on a small table as you would on a larger model. However, if the space and your budget allow it, go for a larger table as it can serve better for practicing your skills, and evidently allow you to play as intensely as you like with friends and family.
Tip: Take into consideration the fact that you must have approximately one meter of free space between the edges at which players sit and obstructions like walls for enough room to move and around and return shots to be provided.
Manufacturing materials
Cheaper tables are made with plywood, which isn't your best option as the legs on these models tend to break, and considering the fact that you lean on the surface when you play and that the heat of the moment might get to you, chances are that you might end up damaging it for good. What is recommended is to look into a table made with solid wood. It will be harder to budge regardless of how intense the game gets, and there are no issues related to the legs ceasing under pressure either.
Tip: Look for a table with levelers on the base of each leg as the floor in your room might not be level, which can affect the playing experience.
Rink walls
The rebound quality of the rink wall is the most important aspect to look into. If you want to enjoy fast and intense play, you should opt for rink walls made of aluminum or nylon. There are cheaper models that use laminate, but the material tends to dent if you play too aggressively, so it's better to avoid it altogether.
Motor
The more power the motor provides, the better as it is the piece which ensures even airflow on the playing surface. Moreover, quality motors tend to be considerably quieter and they don't overheat when you play for long periods either. Thus, for a smoother gameplay experience, invest in a table with a premium motor.
Conclusion
The functioning principle behind air hockey tables is as simple as it gets, but manages to provide players with the experience of a lifetime. Fun, easy to understand and play, and perfectly suited for highly competitive individuals, air hockey is a truly ageless game that pretty much anyone will enjoy playing.
Nowadays, you don't necessarily have to go to the arcade or a local bar to play either as tables come in plenty types and configurations to suit all budgets and possibilities, so you can have one in the comfort of your own home to spend more quality time with your loved ones and bond over games.