Alcoa Inc., is one of the leading aluminum producers in the world. It is based in New York City, USA.
The company has operations in 31 countries and is active in lightweight metals engineering and manufacturing, delivering value-add products made of titanium, nickel and aluminum, and producing the "best-in-class" bauxite, alumina and primary aluminum products.
Alcoa's products are used in food and beverage packaging, transportation, high-performance defense vehicles across air, land and sea, deeper oil and gas drilling and power generation.
Alcoa Inc. has three primary business groups:
Engineered Products and Solutions (EPS): Power and Propulsion, Fastening Systems, Building and Construction Systems, Wheel and Transportation Products, Forgings and Extrusions.
Global Rolled Products (GRP): Global Packaging, Aerospace, Transportation and Industrial, China and Consumer Electronics
Global Primary Products (GPP, Alumina and Primary Metals): Alumina (mining bauxite and refining it into alumina), Primary Metals.
Alcoa was first incorporated as the Pittsburgh Reduction Company on October 1, 1888. The company was founded by Charles Martin Hall – who discovered an affordable way to create aluminum through electrolysis.
The company is publicly listed on the New York Stock Exchange (NYSE) under the stock ticker symbol 'AA'.
Overview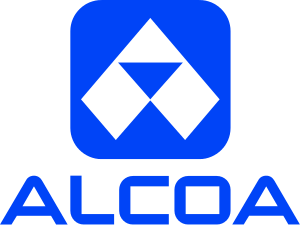 Chairman and CEO: Klaus Kleinfeld
Industry: Metals
Type: Public company
Listed on the New York Stock Exchange (NYSE)
NYSE stock symbol: AA
S&P 500 Component
Founded: 1888
Founder: Charles Martin Hall
Sales: $23.906 billion USD (2014)
Net income: $177 million USD (2014)
Earnings per share: $0.21 USD (2014)
Company head office: Lever House, Midtown Manhattan, New York City
Employees: 59,000 (2014)
Website: http://www.alcoa.com/
Investor relations number: 212-836-2674
---
Alcoa Inc. Financial Results, Years Ended December 31
Operating data (in $ millions)

2014

2013

Sales
$23,906
$23,032
Cost of goods sold
$19,137
$19,286
Selling, general administrative, and other expenses
$995
$1,008
Research and development expenses
$218
$192
Total costs and expenses
$23,409
$24,848
(Loss) income from continuing operations before income taxes
$497
$(1,816)
Net (loss) income
$177
$(2,244)
Net (loss) income attributable to Alcoa Inc.
$268
$(2,285)
Balance sheet data (in $ millions)
Total assets
$37,399
$35,742
Total liabilities
$22,605
$22,220
Total Alcoa Inc., stockholders' equity
$12,306
$10,593
Common share data (in $)
Basic earnings (loss) per share
$0.21
$(2.14)
Diluted earnings (loss) per share
$0.21
$(2.14)
Cash flow data (in $ millions)
Net cash provided by operating activities
$1,674
$1,578
Net cash used for investing activities
$(3,460)
$(1,290)
Net cash used for financing activities
$2,250
$(679)
Cash and cash equivalents at end of year
$1,877
$1,437
Source: "Alcoa Inc., Form 10-K 2014"
---