It feels nice to start a business. It would be even better when you find yourself expanding your industry. But regardless of whether you are starting or a seasoned business owner, you will require funds.
Funds will allow you to work out your business endeavor, and it also lets you develop your current industry into something bigger and better. So, what can you do to get started or expand? There are numerous ways to do it, but we will tackle only one for today. Say hello to business loans.

What Is A Business Loan?
A business loan is a financial assistance that several funding companies and entities offer for commercial purposes. It is not like a personal loan that you can take for whatever purpose. You take a business loan to either start your commercial endeavor or level it up a notch.
In any typical business loan, you can borrow at least a thousand dollars to more than a million. This cash, however, will depend on the terms you make with a lending company, as well as some other factors that involve your end. There are also several types of business loans you can give a shot at any time.
Speaking Of Types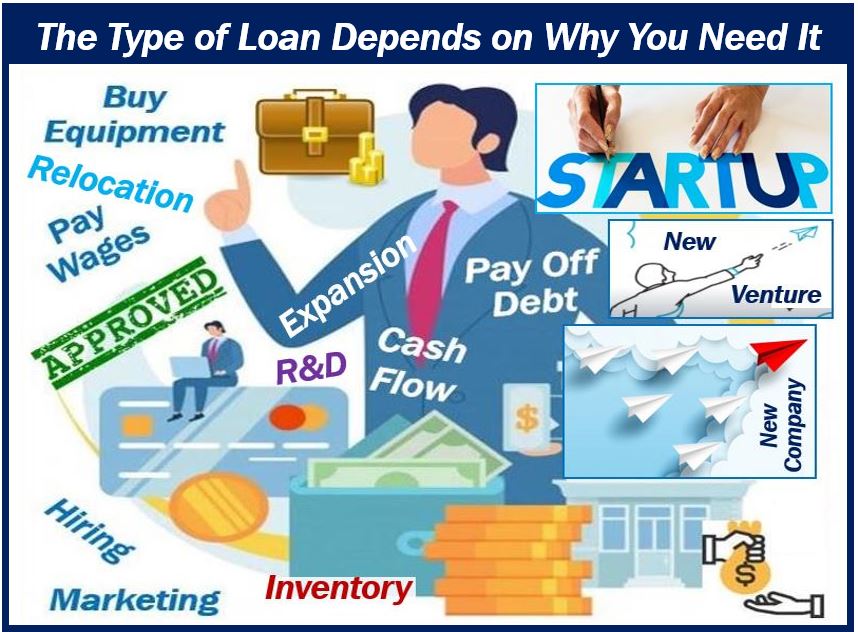 Several business loans exist. Each of them serves a different function. It will be up to you to find out what type of loan will suit your needs.
A term loan is one of the fastest business loans you can get. It allows you to borrow funds for almost any commercial process. In addition to being one of the simplest, term loans require not too many requirements from applicants.
A line of credit loan lets you borrow cash any time. What's neat about this type of loan is that you can use the funds to pay for emergency expenses and recurring business bills.
An SBA or small business agency loan is neat for business owners who have satisfactory credit. However, it is not ideal for you if you are after a quick capital. You can get in touch with your local small business agency to learn more about this type of loan.
The loan is as it sounds. You will receive financial assistance to cover your business's equipment needs. Whether it is to purchase new materials or to repair existing ones. Equipment loans are flexible, and you can pick interest rates as well.
Invoice financing is your best bet to help you with cash flow problems from invoices that have no payments. You may use invoice financing to cover expenses such as rent, payroll, phone bills, and so on.
Commercial real estate loan
This kind of loan works best for any business owner who has plans to purchase a location for their industry. It does not matter what type of business you want to place on the piece of land. The collateral for commercial real estate loans is the land itself.
There are instances where your business needs to pay for something small, but you don't have enough cash to cover it. That is where microloans come in. These loans often come in small amounts, not more than fifty thousand dollars. You might want to skip microloans if you wish to borrow more than that.
Just like a regular cash advance, a lending company will give you a financial advance. You will have to pay it back with a percentage of what you make in your business.
Personal loans will let you have access to money with few requirements. A business owner with a decent credit score has a high percentage of getting a green light, such as a loan. Like microloans, personal loans do not permit high amounts of cash for borrowing.
All of these loan variations have their prerequisites and other requirements. It will depend on the bank or lending company. As no two have the same regulations when it comes to documentation and policies.
Can I Apply for a Business Loan Online?
Of course, you can. Applying online is the better alternative when it comes to loans. The internet does not have a shortage of sites and platforms that cater to business loans and other financial services. In addition, applying online has some perks you can take advantage of any time:
You can apply from the safety of your home.
There is no need for you to travel to a bank or lending company office at all. That allows you to save some gas money.
Online applications take less time to handle. Some companies will even approve your loan not more than thirty minutes after applying.
You have the option to look for a financial institution that has discounts and other benefits that can fit your requirements or needs.
You will not have any trouble looking for a site that offers more than one kind of loan, including a business term loan.
Slow Down for a Moment
Not because it is easy, do not aim for a loan immediately. You have to take some steps to make sure you are not going in the wrong direction. Here are some things you have to do and consider:
Make sure your business credit is decent to look at overall. Banks and lending companies will always look at an applicant's credit score.
Review a lending company and find out all you can about its background and operation history. Doing so allows you to see if the business is legit or not.
Also, consider your business if it can pay for such a loan or not. You have to be careful with the loan you are aiming for in total.
You also have to take care of any collateral items that are in your loan's terms.
Do not rush with a business loan. Take some time to explore and find out all about business loans before leaping.
Conclusion
A business loan can help out with your business. But you have to make sure you are applying for the right one and that your business can handle the interest rates and other expenses that come along with it.
---
Interesting related article: "What is Business Finance?"