Altria Group, Inc., previously known as Philip Morris Companies Inc, is one of the world's largest tobacco corporations.
The holding company was incorporated in the Commonwealth of Virginia in 1985.
It is the parent company of three premier tobacco companies in the United States: Philip Morris USA, U.S. Smokeless Tobacco Company (smokeless tobacco products), and John Middleton, Inc (manufactures and sells machine-made large cigars and pipe tobacco).
Philip Morris USA has over half of the American cigarette market share, led by its iconic brands, which include: Marlboro, Basic, L&M, Parliament and Virginia Slims. Marlboro has been the largest-selling cigarette brand in the United States for over 35 years.
Altria Group is also active in the alcohol business with its Ste. Michelle Wine Estate's extensive portfolio of wines and economic interest in SABMiller plc​ (one of the world's largest brewing companies).
Philip Morris Companies Inc changed its name to Altria Group, Inc in 2003 to highlight the fact that its business portfolio consists of more than just Philip Morris.
Its mission is "to own and develop financially disciplined businesses that are leaders in responsibly providing adult tobacco and wine consumers with superior branded products."
Overview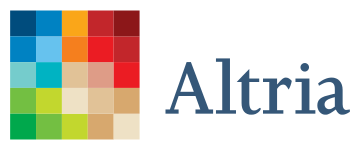 Chairman and CEO: Martin Barrington
Industry: Tobacco and Wine
Type: Public company
Listed on New York Stock Exchange (NYSE)
NYSE stock symbol: MO
Formed: 1985
Net revenues: $24.522 billion USD (2014)
Net earnings: $5.070 billion USD (2014)
Earnings per share: $2.56 USD (2014)
Company head office: 6601 West Broad Street, Richmond, VA 23230, USA
Employees: 9,000 (2014)
Website: http://www.altria.com/
Investor relations number: 804-484-8222
---
Altria Group, Inc. Financial Results, Years Ended December 31
Operating data (in $ millions)

2014

2013

Net revenues
$24,522
$24,466
Cost of sales
$7,785
$7,206
Excise taxes on products
$6,577
$6,803
Operating income
$7,620
$8,084
Interest and other debt expense, net
$808
$1,049
Earnings from equity investment in SABMiller
$(1,006)
$(991)
Earnings before income taxes
$7,774
$6,942
Provision for income taxes
$2,704
$2,407
Net earnings
$5,070
$4,535
Net earnings attributable to Altria Group, Inc.
$5,070
$4,535
Balance sheet data (in $ millions)
Total assets
$34,475
$34,859
Total liabilities
$31,430
$30,706
Total stockholders' equity
$3,010
$4,118
Common share data (in $)
Basic earnings per share
$2.56
$2.26
Diluted earnings per share
$2.56
$2.26
Cash flow data (in $ millions)
Net cash provided by operating activities
$4,663
$4,375
Net cash provided by investing activities
$177
$602
Net cash used in financing activities
$(4,694)
$(4,702)
Cash and cash equivalents at beginning of year
$3,175
$2,900
Cash and cash equivalents at end of year
$3,321
$3,175
Source: "Altria Group, Inc. Form 10-K 2014"
---