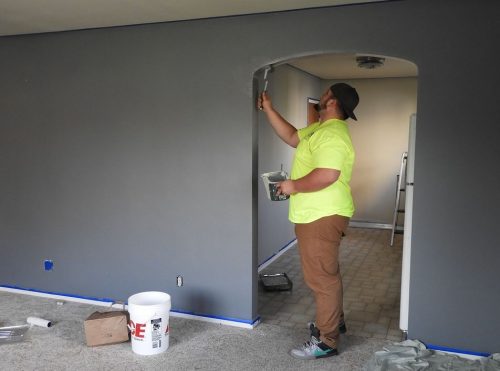 You don't have to be a millionaire to create your dream home. All you need is some creativity and inspiration to make your home a work of art. Maybe you'd like to organize your bathroom or add some new kitchen décor. Or perhaps you want to add value to your home with a home library or a DIY coffee station. Home improvement shows can provide the motivation and education you need to take the initial step and create your dream space.  
According to a recent study by Cinch Home Services, they can also help you save money. Cinch's research also found that roughly 92% of homeowners have been inspired by home improvement shows to start DIY home renovations. And on average, homeowners reported saving over $1,000 by completing a DIY home renovation project inspired by one of these shows. 
Since 66% of homeowners also told them they'd been surprised when a DIY home renovation project was more of a challenge in real life than it looked to be on TV, it might help you to do a little research before diving in. Luckily, the first step might just be watching some TV. Read on to learn about some of the top shows and what they have to offer.
Amazing Interiors
Released in 2018, Amazing Interiors is a home makeover reality TV series streaming on Netflix that includes eccentric homeowners with unusual interiors. The series revolves around finding and showing homes that are full of surprises on the exterior but which have unique and custom interiors.
It usually features homes that double as part-time museums or individual rooms where occupants don't actively live, such as garages, basements, bunkers, and even a backyard roller coaster. Every episode follows the same format for three different homes. One home is under renovation or construction, with the episode following the entire process throughout the renovation. The other two houses are shown as segments by an experienced and entertaining narrator or host. 
So, if you're looking for extra motivation to create your dream interior, check out Amazing Interiors to virtually tour homes with special and interesting interiors. 
Design on a Dime
As the name suggests, this one is a home renovation series that shows you how to save money on renovating problem areas. With a budget of only $1,000, the team helps you design your dream home best suited to your needs. The show dispels the notion that the perfect home has to be costly, combining cost-saving ideas, smart design solutions, and mind-blowing transformations that are likely to appeal to viewers with sophisticated sensibilities. 
Dream Home Makeover
Another Netflix show released in 2020, Dream Home Makeover makes dreams come true for families looking for the ideal home tailored to their specific needs, styles, and preferences. The show follows the husband and wife team, Studio McGee (Shea and Syd McGee), as they help homeowners achieve their desired dream homes. Every episode showcases the couple helping or working with the client on a home renovation project. 
Their client's budgets vary based on the size of the project, with some just renovating single rooms and others working on an entire home. The series ties the episodic remodeling storylines together, giving viewers an intimate look into the hosts' personal lives as they run their enterprise while helping people create their dream homes. The show currently boasts four seasons, with the latest released in December 2022, giving you plenty to binge. 
Extreme Makeover: Home Edition
You may have seen this show featuring families faced with hardships having their dilapidated homes entirely rebuilt while they take a vacation for a week. Extreme Makeover: Home Edition showcases moving stories, motivated volunteers, and mind-boggling home overhauls, including interiors, exteriors, and landscaping — all completed within just one week. This inspiring series has a team of volunteers helping families in need renovate their homes to better suit their needs. 
Fixer Upper
Fixer Upper is a reality TV series that originally aired on HGTV from 2013-2018. The show revolves around home renovation and design and stars Chip and Joanna Gaines: a married couple with a home redecoration and renovation business based in Waco, Texas. The couple helps homeowners renovate their homes, helping them sell at a higher price so they can turn a profit on their hard work. Moreover, the show has increased economic development and tourism in Waco, Texas, where it was taped. 
Conclusion
It turns out that you don't have to break the bank to create the perfect home. With extra inspiration from America's favorite Improvement shows, you can transform your home on a budget and learn a few skills in the process. These shows feature expert hosts who will guide you in transforming your living space into a vacation home or helping you increase the resale value of your living space.
---
Interesting Related Article:"Essential Home Improvement Projects to Increase Property Value and Comfort"