Video Marketing has become a vital element of today's fast-paced business world. The success of your business depends on how effective your video marketing strategy is. Videos are made up of a wealth of data that is valuable to both businesses and customers. They are becoming an effective way for businesses to connect with their potential audience and for people to find more and more information. 
According to statistics, more than 1 billion videos watched on Facebook every day alone and 300 hours of video uploaded to YouTube every minute. This growing rate of video consumption is something that pushes businesses and marketers to invest in video marketing. 
With the growing need for video marketing, creating impressive videos using the video making tool and uploading them on different channels is not enough. You need to track and analyze the results of your video marketing strategy to make it a success. Fortunately, there are several ways to detect your performance, monitor your success, and boost your strategy. One of the best ways is – Video Marketing Analytics.
Using analytics to monitor and analyze different metrics such as likes, shares, and comments on your videos can help to inform a successful video marketing strategy.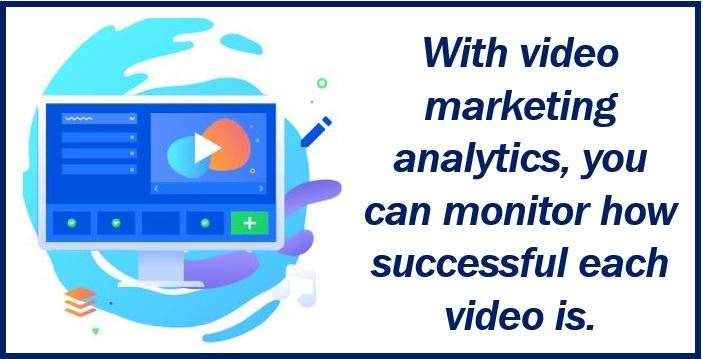 Video Marketing Analytics
Once you create and publish videos, you can use analytics to check out the response of the audience. Video marketing analytics enables you to monitor the success of each video by determining how many people viewed it and what is the engagement rate.
There are several tools to analyze different aspects of your video marketing strategy. Google Analytics, for instance, helps you monitor traffic from video and how on-page videos impact your website. The data shows that 28% of websites use Google Analytics on them, which represents that you can use this tool to improve your video marketing strategy. 
Metrics you need to monitor to determine your video success are views, demographics, device type, referrals, view duration, interaction, on-site actions, conversions, etc. No matter which online marketing platform you choose to upload your video from Facebbok, YouTube, or Instagram, with different analytics tools available for each platform, it has become easy to monitor your video marketing results continuously.
Use Analytics to Inform Your Video Marketing Strategy
Video marketing analytics is the key to understand the audience and the effectiveness of your video content. Most video marketing channels offer analytics in the form of visitors, engagement, and geographic metrics. Now, the question is how to use these platforms to boost your business growth. 
If you're not familiar with analytics, it can be a little daunting at first. With a lot of data available to dig through, it's complicated to analyze where to begin to find the most crucial metrics. Being a business owner, to strengthen your video marketing strategy, you need to understand how to utilize the complete data available inside analytics. Here, we've outlined a few tips on how to use analytics to inform video marketing strategy.  
Link Your Video to Unique Playback Webpage
Creating an intro video and uploading it on its own webpage make it easy for you to track how many people are visiting the webpage and how many of them are viewing your video. This gives you a clear result on how your video marketing is performing and what is your conversion rate. If you find a substantial gap between the number of people who are visiting your webpage and those who are watching your video, it means the webpage level experience is impacting video engagement.
Examine Where Your Audience is Coming From
After uploading a video on its own webpage, the next step is to find out where the audience is coming from or how they are finding your video. Is the video playing directly on your website or social media? This is where analytics comes to the play again. For example, if analytics discloses that your viewers are coming from your video being uploaded on Facebook, you can remold your strategy for the platform to make your video spread faster and get more views.
Highlight Important Parts of Your Video
How engaging is your video content? Are your viewers viewing the video for a couple of seconds and then abandoning it? Are people reviewing certain parts of the video? You can use playback analytics to find out what your audience is searching for and ensure that this information is incorporated into your video content you're publishing. By trimming the content people are not interested in and highlighting the most effective parts, you can deliver meaningful and quality content to your viewers.
Produce Interactive Videos to Connect with Your Audience
When it comes to video marketing strategy, the number of views on your videos means something but not everything. This is one of the most important measurement metrics of your video marketing strategy. In this case, you need analytics that reveals how many people are coming back to watch your video and which part of the video they are watching the most. If a viewer is coming to your video to view it again and again, it doesn't only mean that he is liking it but also means that he is an active qualified lead.
Use Video As a Tool to Boost Your SEO Strategy
Are you following a keyword strategy when it comes to video optimization? If in your analytics, you find a specific keyword is used repeatedly by users to find your video, it clearly represents that you should look into your SEO strategy to make relevant amendments. For example, you can make changes in your existing video to add that specific search term or you can produce a new video that covers the same keyword for improved SEO results. 
Final Words
No matter what's the size and type of your business, analytics is the best way to better understand your audience and strengthen your video marketing strategy. If leveraged properly, analytics can help you get valuable insight into who viewed your video, how they got there, what pages they spend the most on, etc. You can use this data to improve your video marketing strategy and make the most revenue from your video marketing efforts.
Video marketing, along with SEO, email marketing, and other online marketing strategies form part of digital marketing (also called Internet marketing or online marketing).
Bio: I am the Chief Marketing Officer at Renderforest, a Content Marketing Specialist and an Expert in SEO, Social Media Marketing, and Link Building who enjoys sharing the experiences gained along working as a marketer and helping other entrepreneurs succeed.
My works have been published on different blogs and mediums like Crazy Egg, Forbes, Upwork, ShareThis, etc.