Is your market reach as wide or as productive as you'd like it to be? This is a question that most marketing experts and CEOs ponder from time to time. And it is a very important one. After all, your market reach determines your brand's popularity and ultimately determines what our sales and profits will look like.
If you aim to improve your market reach, animated video production should be on your mind.  This 21st-century marketing tool has been moving brands into the spotlight and triggering a multiplier effect on customer base statistics.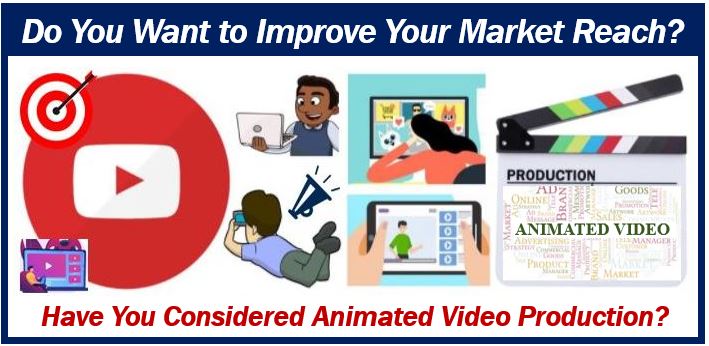 Proven Powerful Promotional Potential
Without a doubt, animated videos are more powerful than traditional marketing tools such as info-graphics and billboards. Today's marketing expert will admit that animated videos outperform other marketing tools in just about every industry. That is why the services of animated video companies are in such high demand in recent times.
Animated videos grab the attention of audiences because they combine audio and visual elements, and today's global citizen is more attracted to video content than any other type. In addition to being more appealing, animated videos can deliver the intended message more accurately.
Subtleties such as tone and mood are more accurately depicted in animated videos than in other tools such as flyers or audio productions. This increases the likelihood of the message reaching the audience and having the intended impact.
Keeping Up With the Digital Revolution
The fact that animated videos are digital content gives them a distinct edge over other promotional tools. One of the reasons animated videos are so powerful as marketing tools is the fact that they dominate the social media spaces. Because the whole world has gone digital, videos that are shared through platforms such as Facebook and Instagram are far more likely to be seen by the target audience than others.
Global video-sharing powerhouse YouTube has emerged as the second most popularly used search tool. This means that brands with videos on the platform have access to billions of viewers from a wide range of social and geographical backgrounds.
Many brands today are also reaping the rewards of having video content displayed on their websites. From landing pages to service pages, web content takes on a more vibrant and engaging appearance when video is infused.
Websites with videos are more likely to be visited by digital citizens and tend to hold viewers' attention for longer. And of course, the longer a viewer stays on your website, the more likely they are to make the transition from viewer to purchaser.
A New Spin on Traditional Marketing Tools
Animated videos convert some traditional marketing mediums into more powerful avenues for brand exposure.  Mediums such as billboards and television take on a whole new appeal when they deliver animated videos.
Marketing emails are more powerful and effective when a video is embedded within its message. Adding videos to marketing emails also reduces the need for lengthy written content.  When these videos are strategically placed, they captivate the attention of millions of potential customers.
Undoubtedly, animated video production is the number one tool for brands with global market reach as a prime target.
---
Interesting related article: "The importance of video marketing for any business."