Ever since the Walt Disney's Enchanted Tiki Room was inaugurated back in 1963, magical animatronics has been amusing people at specialized theme parks and movies. Simply put; animatronics is an advanced technology that uses cable-pulled devices or motors to develop automated puppetry that can make sounds and movements.
Recent innovations in the field of animatronics have made it possible for manufacturers, businesspeople, and movie makers to create lifelike characters that can blur the distinct line between reality and fantasy.
The purpose of this post is to discuss the unique uses of animatronic technology that has substantially contributed to the process of creating realistic moving characters:
Cloning a Human Face
Researchers at Disney's research labs situated in Zurich, Switzerland, recently presented their latest approach for creating more realistic and lifelike animatronics. They did this by cloning a real human face with the use of motion capture technology.
By using this technique, researchers can develop a 3D scan of a human's face while the person goes through different facial expressions such as smiling or yawning. The scientists then classify every minute facial detail, from freckles to hair, into a 3D rendering. The process is used to develop an accurate skin replica, introducing liquid silicone into a pre-made 3D face mold, allowing sufficient time to cure.
The prepared mask sticks to the skull, which is crafted from metal and plastic. Notably, the skull comes with visible points that show where the skin should be fixed.
Lifelike Robot Eyes
The eyes are certainly one of the major human parts that are used to exhibit numerous expressions like anger, hate, pleasure, friendship, pain, suffering, and love. Luckily, scientists have found ways to make surprisingly realistic robot eyes with moving eyelids. They can even blink.
These eyes are painted by hand to make them as human-like as possible. The robot eyes consist of precision aluminum parts run by servo motors, which are basically small devices that are generally used to control remote-controlled cars and helicopters. These motors help the eyes move up and down and blink.
Robotic Hands
This is one of the biggest innovations in the field of animatronics. Now the robots will have the ability to grip things. Yes, you heard it right. Ghosts and other creepy creatures can now easily remove their own ear. Even though you can find a huge variety of gripping hands on the market, those in animatronics are the most realistic and creepiest of all.
Walking Ability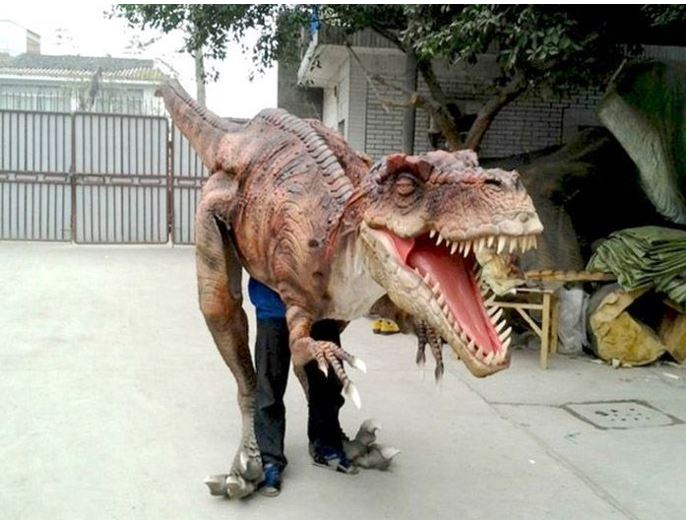 Even if there's no practical use for animatronics, the robots are basically designed to respond to instructions given to them in real-time as opposed to recurrently following a predefined set of commands. However, the difference between these two concepts is usually not very clear, specifically when it boils down to specialized aspects like locomotion.
To develop a more life-like animatronic, researchers and scientists are increasingly integrating more technology-driven, realistic robots. Hexapod, the six-legged walking robot that appeared in the movie Harry Potter and the Prisoner of Azkaban, is one of the best examples.
While the overall functioning of that animatronic robot is in the hands of the puppeteer, it also features hi-tech software that controls its gait and movement.
Life-Size Animatronics
The field of animatronics has gained momentum during the last few decades. From tiny hand-held birdies to gigantic riding dinosaur costumes, there has been a massive transformation in the way people control these robots.
Today, you can find hundreds of dinosaur and crocodile theme parks that feature real-size dinosaurs and crocs with amazing power and functionality. These robots need two trained puppeteers whose job is to control the facial expressions and direct movements. The dinosaurs generally use hydraulic power to function.
Autonomatronics
Another interesting Disney feat called autonomatronics gives the robots the appearance of being able to see, hear, and examine things. They run through a camera system, a microphone, and other powerful sensors that help them converse with humans using pre-installed complex data and coding.
Disney's popular Destini, which is basically an autonomatronic fortune teller, is a great example of a robot that can talk with guests, tell your fortune, and interact with visitors.
The Future of Animatronics
Animatronics is a broad field. Not only has it been widely used by engineers working on special effects, but also the US military and other prominent state organizations are incorporating this technology in the workplace and other areas.
The applications associated with animatronics are many and evolving on a continuous basis to give users a realistic robotic experience. Scientists are also planning to incorporate this technology with Artificial Intelligence in order to create large-scale robots that can converse and communicate like real objects.
Artificial intelligence or AI refers to software programs that make robots, computers, and other smart devices think and also behave like human beings.
All in all, the field of animatronics is expected to witness a major shift in the coming years.
Video – Artificial Intelligence
_____________________________
Interesting related articles: