Whenever we talk about family safety, thousands of things come to mind. Whether our children reached home from a tuition class safely, are they spending time with a wrong circle, etc. As parents, it is natural that we want to keep our children safe. The solution is simple and right here, GPS-enabled applications for your family safety come with a variety of features. You can track down their real-time location, listen to sounds from their surroundings, monitor phone usage statistics, and much more. Let's explore a few of them here: 
Find My Kids
Find My Kids is currently in great demand. It includes a set of features that are necessary to make your child as safe as possible. You can set their specific area zone. If they move out of that area, you will get an immediate notification. You can track their real-time location along with the sounds captured from their surroundings.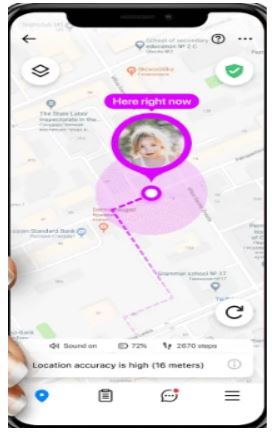 If they are not answering your calls or texts, you can monitor their environment. Find My Kids has an SOS button that can be used in an emergency. With a single click, you will get their live location. You can also listen to where they are, i.e., surrounding sounds.
It is also possible to access this application with a GPS smartwatch. All  you need to do is connect your watch with your smartphone. It is a good app if you need to carefully monitor your children all the time. It is available for both iOS and Android smartphones.
Web Watcher
With Web Watcher, parents can monitor messages, calls, web browsing history, etc. You are also allowed to check the deleted messages and photos. The real-time location of the target mobile phone or device can be accessed so that you don't need to keep calling your child to check that all is OK.
It allows you to monitor their social activities on some apps like WhatsApp, Viber, Tinder, etc. You can even take screenshots of their mobile screen. Also, Web Watcher helps you in web filtering so that you can protect your kids from cyber bullying, sexual harassments, and other unpleasant or hurtful situations. It costs $130 annually per device.
Net Nanny
Net Nanny is compatible with both the platforms – Android and IOS. It enables you to track real-time locations, past location history, time scheduling, and your kid's other online activities. You can monitor their browser history. It also has a web-filtering option.
You can restrict your kids from using adult sites and other undesirable materials. One drawback is that you cannot read text messages and or monitor calls. It is not possible to monitor other messenger or social media apps either.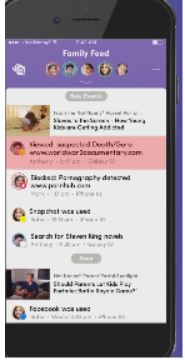 Its annual price is $55, which covers usage for 5 devices. It can be used on a computer system and smartphone. Net Nanny has a $90 per year plan which covers usage on twenty different mobile phones.
mSpy 
If we talk about a worldwide child monitoring app, then mSpy is right up there among the leaders. It allows you to monitor you child's mobile, including their their call logs, text messages, apps they install, and also the saved contacts in their address book.
You will be notified of their live location without having to informing them. By using mSpy, you can protect your kid from several online dangers. As kids, especially teenagers, spend an increasing amount of time each week using their smartphones, protecting them from online perils has become a priority.
Boomerang
Here comes the next commonly used child tracking app – Boomerang. It helps you in restricting the overuse of mobile phones. Boomerang offers scheduling phone using time by setting the screen time. It supports features like web-filtering, app blocking, and lets you control the installed apps.
Reports of videos that they watched and browsed can be generated with this application. If you feel that your child is spending far too long on the Internet, you will find this app extremely useful. It is available for both Android and IOS platforms.
Safe Lagoon
Safe Lagoon is an application that has been specially developed for parents who want to track the real-time social activities of their kids. It has algorithms that provide you with the history of every single website they have visited today, yesterday, and before.
You will have remote access to your kid's mobile and can monitor their activities on social network platforms. Also, you can monitor what is on their smartphone screen. It supports monitoring through the browser as well as mobile. Apps can be blocked or locked without the child being aware. It also notifies you if your child receives a phone call or gets a text message. Both Android and IOS versions are available.
Locategy
The function of the Locategy application is clear from its name. You can get the live location of the child on your phone. You do not need to disturb them to find our where they are. It is possible to lock the particular app for some time, such as while they are studying, sleeping, having dinner, or involved in some other activity.
You will be notified when they have reached a specific location along with the time. You simply need to download it from Google play store or App store. It has a simple and user-friendly interface along with the required features for parents.
As you can see in this article, keeping your family safe is possible and not so difficult. All you need to do is download an app that you think is right for you, your family, and your child.
Video – What is Cyber Security?
Cyber security (cybersecurity) includes all the measure we take to protect our computers, smartphones, other electronic devices, and sensitive data from digital attacks and hackers. We refer to anything related to computers, IT, and virtual reality as cyber.