The Archer Daniels Midland Company (ADM) is a food-processing and commodities-trading corporation, based in Illinois, USA.
The company operates more than 470 sourcing facilities and over 270 processing plants, which convert corn, oilseeds, wheat and cocoa into products for food, animal feed, industrial and energy use.
The Archer Daniels Midland Company was founded in 1902 by George A. Archer and John W. Daniels (as a linseed crushing business).
It was incorporated in 1923 and currently trades on the New York Stock Exchange (NYSE) under the stock ticker symbol 'ADM'.
The company connects crops to markets in over 140 countries across six continents.
Its four primary business segments are:
Oilseeds Processing – global activities related to the origination, merchandising, crushing and further processing of oilseeds such as soybeans and soft seeds
Corn Processing – corn wet milling and dry milling activities (mainly in the United States).
Agricultural Services – buying, storing, cleaning, and transporting agricultural commodities
Other – this segment focuses on the company's other operations (mainly financial business units).
The company provides agricultural storage and transportation services under the subsidiaries "The American River Transportation Company" and "ADM Trucking, Inc."
Overview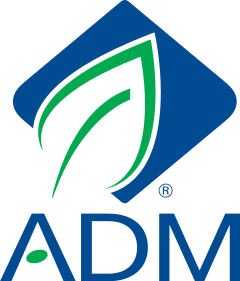 Chairman, President and CEO: Patricia A. Woertz
Industry: Food Processing/Commodities
Type: Public
Listed on the New York Stock Exchange (NYSE)
S&P 500 Component
NYSE stock symbol: ADM
Founded: 1902
Founders: George A. Archer and John W. Daniels
Revenue: $89.804 billion USD (2013)
Net income: $1.354 billion USD (2013)
Diluted earnings per share: $2.02 USD (2013)
Company head office: 77 West Wacker Drive, Suite 4600 Chicago, IL 60601, USA
Employees: 33,900 (2013)
Website: http://www.adm.com/
Investor relations contact number: 217-424-5200
---
The Archer Daniels Midland Company Financial Results, Years Ended December 31
Operating data (in $ millions)

2014

2013

Revenues
$81,201
$89,804
Cost of products sold
$76,433
$85,915
Gross profit
$4,768
$3,889
Selling, general, and administrative expenses
$1,907
$1,759
Asset impairment, exit, and restructuring costs
$105
$259
Interest expense
$337
$413
Income (in $ millions)
Earnings before income taxes
$3,130
$2,024
Net income including non-controlling interests
$2,253
$1,354
Net income attributable to controlling interests
$2,248
$1,342
Balance sheet data (in $ millions)
Total assets
$44,027
$43,752
Total long-term liabilities
$8,795
$7,900
Total shareholders' equity
$19,630
$20,194
Common share data (in $)
Basic earnings per share
$3.44
$2.03
Diluted earnings per share
$3.43
$2.02
Cash flow data (in $ millions)
Cash provided by operating activities
$4,962
$5,226
Cash used in investing activities
$(3,407)
$(577)
Cash used in financing activities
$(3,577)
$(3,242)
Cash and cash equivalents at beginning of year
$3,121
$1,714
Cash and cash equivalents at end of year
$1,099
$3,121
Source: "ADM Form 10-K 2014"
---