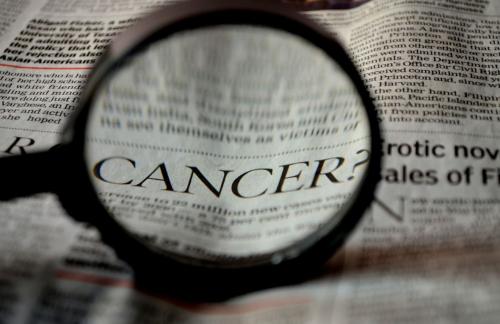 Cancer patients can qualify for medical marijuana access in 37 states around the US that have legalized marijuana.  This means that the majority of Americans have access to medical cannabis, according to Business Insider.
What is Cancer?
Cancer is a disease in which some of the body's cells grow uncontrollably and spread to other parts of the body.  It can start almost anywhere in the body where the cells may form a tumor that can either be malignant or benign.
What are the Four Types of Cancer?
The types of cancer depend on where it begins.  Cancer can either be any of these four types:
Carcinoma, the most common type, begins in the skin of the tissue that covers the surface of internal organs and glands, usually forming solid tumors.
Sarcoma begins in the tissues that support and connect the body like fat, muscles, nerves, tendons, joints, blood vessels, lymph vessels, cartilage, or bone.
Leukemia, a cancer of the blood, begins when healthy blood cells change and grow uncontrollably.
Lymphomas begin in the lymphatic system, comprising a network of vessels and glands that help fight infection.
What are the Early Signs and Symptoms of Cancer?
The possible signs of cancer can appear at any time and age.  It's important to be aware of these signs, so you know when you need to see a doctor.
The early signs and symptoms of cancer:
Pain
Weight loss without trying
Fatigue
Fever
Changes in your skin
Sores that don't heal
Cough or hoarseness that doesn't go away
Unusual bleeding
Anemia
Differences Between Cancer Cells and Normal Cells
They grow in the absence of signals telling them to grow, while normal cells only grow when they receive signals.
They ignore signals that normally tell cells to stop dividing or to die.
They invade nearby areas and spread to other areas of the body while normal cells do not.
They tell blood vessels to grow toward tumors
They hide from the immune system.
They trick the immune system into helping cancer cells stay alive and grow such that immune cells protect the tumor instead of attacking it.
They accumulate multiple changes in their chromosomes.
They rely on different kinds of nutrients than normal cells.
How Does Cancer Develop?
Cancer develops when the body's normal control mechanism stops working.  Old cells do not die and instead grow out of control, forming new, abnormal cells.  These extra cells form a mass of tissue called a tumor.
Cancer is caused by changes to genes that control the way our cells function.  Genetic changes that cause cancer can happen for so many reasons, like errors as cells divide, damage to the DNA by harmful substances in the environment, or were inherited from parents.
Types of Genes That Cause Cancer
The genetic changes that cause cancer are sometimes called "drivers" of cancer.  The three main types of genes that are affected by the genetic changes that cause cancer are:
Proto-oncogenes in normal cell growth and division can become cancer-causing when they are altered in certain ways or are more active than normal.
Tumor suppressor genes are involved in controlling cell growth and division and may divide in an uncontrolled manner when certain alterations happen in their cells.
DNA repair genes are involved in fixing damaged DNA and tend to develop additional mutations that can cause cells to become cancerous.
What is the most effective treatment for cancer?
The best type of treatment for cancer will depend on the type of cancer you have and how advanced it is.  Most cancer patients have a combination of treatments, such as surgery with chemotherapy and/or radiation therapy.
Other treatments include immunotherapy, targeted therapy, or hormone therapy.
Supportive care services are also being given to managing the side effects of cancer.  One of the well-known alternative supportive treatments is medical marijuana.
It is thought to be a safe and effective medication for addressing the pain, fatigue, depression, and other side effects that come with cancer.
Medical Marijuana for Cancer
Cancer is one of the debilitating conditions that qualify for the use of medical cannabis in managing its symptoms.
Studies have long shown that people who took marijuana extracts in clinical trials tended to need less pain medicine.
Get access to medical marijuana in Lafayette by visiting our Lafayette page.
If you are around the Lafayette area, visit Teleleaf.com in Lafayette to gain access to a medical marijuana card.
---
Interesting Related Article: "Can you use your medical marijuana card on vacation in Florida? "