Various reasons make slot machines at casinos highly popular. The simplicity of its gameplay, ease of use, and addictive fun make valid arguments when talking about slots.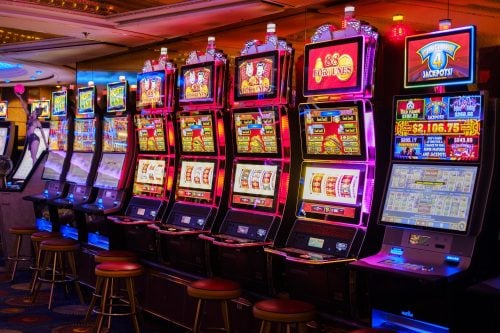 While it has become the epitome of casino games that cater to all players from any age, gender, and background, many people still fear the possibility that casinos rig the slot games against the player. Are casino slots fraud? The simple answer is: no. There is an exaggerated fear of it. However, even if it is plausible, it is avoidable for as long as you play in respectable casinos. 
No Fraud in Trustworthy Casinos
Bear in mind that the gambling business is a competitive industry. Gambling companies are competing for customers by becoming the best, the easiest, and the most secure brand to cater to all players.
Trustworthiness and a positive reputation are vital factors to win the competition. Therefore, there is no room for a legit, respectable casino to "cheat" on players by rigging their games. They monitor and maintain their games at all times. Many of them also opt to work with third-party auditors to add extra security to their operations.
Signing to a licensed and regulated casino has stripped you from most possibilities of fraudulent gameplay, especially in their slot machines. Casinos are taking slots seriously because it is one of their showcases of transparency and trustworthiness. After all, slots are the most popular casino games to attract all players — casual or veteran. Besides, the house edge has guaranteed long-term profits for the casinos; there is no room for additional profit by rigging the algorithms. 
How Are Slots Working?
Since its invention in 1891, slot machines have thrived and survived the test of time to become one of the most popular casino games nowadays. This game even withstands the conversion of land-based games to its online counterparts without losing its ease of use. 
Slot machines use sophisticated mathematical algorithms to balance fun entertainment with the profit-making ability of the casino. Those slot machines are not a fraud nor rigged against players. They are games with negative expectations designed to gain income for the casino. 
While the slot is one of the most accessible games to play, it is still a high-volatility game. It might rarely pay, but they still pay and pay big. These games are designed with extra attention to ensure their fun elements thrive, even if they sometimes take in money.
What makes people suspicious of slots is that they do not compete against fellow players in the gameplay. People are wondering what happens behind the machine to decide if they win or lose. For this matter, casinos bring independent, third-party auditors in to assure gamblers and gain their confidence.
These auditors will examine the games and certify them as fair when they fulfill the requirements. The seal of approval is visible on the machines on land-based casinos or at the bottom of the websites on online casinos. When you see the seal of approval, you can breathe a sigh of relief, knowing that the game is fair.
What Makes Slots Popular?
Many reasons are levitating the popularity of slots. One of the most apparent ones is its low-cost, low-risk factor. Players can aim for big wins without wasting a lot of money. It is even more appealing when playing a progressive slot that offers more rewards with the same minimum bet.
Slots also require no minimum skills. It is a game of chances without any winning formula or sophisticated equation needed to win big. This relaxing gameplay attracts new and veteran players altogether. Its unwinding, stress-free nature also makes it a perfect game to pass the time, especially if you are in the waiting room.
Players are also gravitating back towards slots because of the varieties. They make up the largest selection of online casino games nowadays. Many casinos are also offering promotions and bonuses applicable for many of their slots. No wonder slots are always the go-to games for most players.
The ultimate reason why people love slots is the chance to win the life-altering jackpots. While fortune plays a big favor to win, it is difficult to resist the temptation to win big with a minimum bet.
Conclusion
Slots are the kind of game meant for fun and passing the time. With the enormous variety of games and rewards, slots cater to all players. It might not always pay, but it is never a fraud.
---
Interesting Related Article: "What's the Difference Between Online Slots and Land Based Slots?"