The specialty of blenders is their capability to blend frozen fruits and ice with ease. The high-powered blenders are easily able to handle frozen solid ingredients. The low-powered ones are the ones that suffer. Remember, any problem that you face related to blending is mainly due to the low power. We will later in the section see one of the best blenders to get your smoothie made.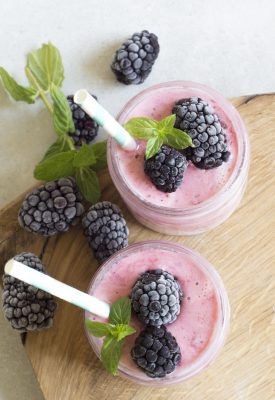 Smoothies are healthy or not, usually depending upon what they are made of. A smoothie made up of frozen fruits will cause no harm to the body if it has nothing that could harm the body. Usually, the only ingredient left that can do any harm is excessive sugar. So, if you replace sugar with sweeteners or you decide to go naturally with the sweetness of fruits, there is no harm.
Frozen fruits when blended to make smoothies ensure that they can be used as a healthy meal. People drinking frozen fruit smoothies are more concerned about their health. Drinking smoothies increases the intake of fresh fruits and vegetables (depending on which type of smoothie one is drinking. But, smoothies made with frozen fruits are loaded with vitamins, minerals, fibers, and antioxidants. These help in making any meal a healthy one.
If regularly taken then it increases the benefits like reduced inflammation, improved digestion, reduced heart risk, saves from osteoporosis, any age-related mental decline, or obesity. Generally, it is obesity that the majority of the people are dealing with and hence, they replace their lunch or any meal with a smoothie. The world health organization has recommended an intake of 500 gms of vegetables per day. But, people generally fail to reach this goal of daily intake. Smoothies loaded with these fruits become the best way to replace that.
Frozen fruits need a little more than normal blenders as they are frozen they are strong, hard and they cannot be dealt with without a high-powered blender. We searched among the best blenders and found one perfectly matching our requirement of best quality, durability, and facility. The first one is :
COSORI Blender for Shakes and Smoothies:
1500W High-Speed Professional Blender for Crushing Ice, Frozen Fruit with 70oz Pitcher&24oz Travel Bottle.
Hard Stainless Steel Blade –
The strong blades are capable of thoroughly crushing ice, frozen fruits, seeds, nuts, and any ingredient that you name. This helps in better absorption of all the nutrients and vitamins.
Professional Blender Motor-
The COSORI pro blender gives you an amazing and user-friendly experience of making smoothies. It has a perfect design with a 1500W and 30,000 rpm motor. With this blender, high performance is guaranteed.
Variable Speed, Many choices-
The freedom to smoothly adjust the speed at which you blend the fruits gives you an upper hand at obtaining any texture. You can go all full blends at high speed or if you don't want that go with mid or low. Seriously, it is your choice. With the option available to adjust speed it becomes easy to have more control over your food.
User-friendly Design-
This product is all about making Fresh fruits healthy smoothies with ease. It has a non-slip handle and noise reduction pad making it much safer and quieter than many other similar available in the market.
Conclusion
Frozen fruit smoothies are healthy and easy to make. They fulfill many requirements of the body and help to deal with many age-related health issues that might hit you up. Smoothie made with healthy ingredients is the best replacement of your meal or lunch. Because it will not only keep you satiated but will also ensure you ate something healthy at the same time.
---
Interesting Related Article: "The Must-Haves You Need In Your New Kitchen"