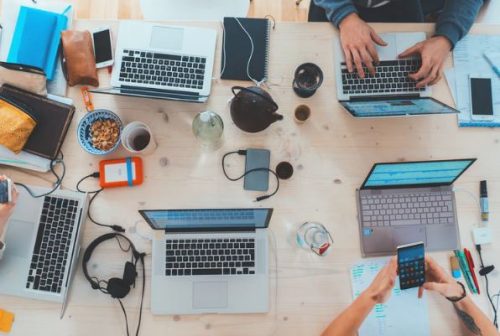 It is hardly possible to imagine modern education, especially in its remote forms, without mentioning artificial intelligence tools. These can be met everywhere as one turns to tools for intelligent alerts to solutions like Grammarly that help to get the basic grammar check done. Then we also have LMS or Learning Management Systems that are also based on artificial intelligence and which has proved quite helpful during pandemic times when the majority of college students had to learn remotely.
Without a doubt, artificial intelligence in education still has a long way to go as we are only at the very beginning of a long and adventurous journey, yet we are already coming closer as we implement Augmented and Virtual Reality tools to teach Engineering, Biology, or to let youngsters appreciate the lessons from history in a totally different way. It is the main purpose and a sum of paradigms that make the use of artificial intelligence in education so important.
Artificial Intelligence in Education: The 4 Paradigms
1. Socio emotional Belonging Paradigm.
It is one of the most widely discussed paradigms in relation to artificial intelligence in education. It explores the lack of physical qualities or mental belonging when a person interacts with the machine. Letting the "ghost inside the machine" concept alone, it is easy to claim that education needs socialization and a clear understanding of moral principles that help a learner not only choose the right answer but apply sufficient analysis to learn and master information. In a certain sense, the creation of Metaverse in education promises to address this problem to another degree, yet it is too early to tell whether it will work well in practice. Socioemotional belonging still remains an important task for educators as they appreciate new technologies and AI in education.
2. Direct Cognitive Learning Paradigm.
To put things simply, it stands for correct perception of information, which has not always been easy, as the remote learning practice shows. It is one of the reasons why students these days always seek additional help online that goes beyond their course curriculum or instructions that have been provided. The objectives of AI solutions include direct perception and immediate learning, which are often achieved with the help of visual learning. At the same time, we often encounter pay someone to do my term paper requests that are floating online, since artificial intelligence alone cannot give due confidence and appreciation that only a human can offer. It only proves that the presence of affection and critique helps to tell wrong from right, even when knowing one's subject well.
3. Collaboration & Influencing Paradigm.
The talk here goes about collaboration not only between two or more students but about a deeper interaction with the machine. It may sound a bit complex, yet it helps to influence learners to think differently and play with various analytical concepts. It takes away all the textbook limitations and helps to control progress and failures at the same time. For example, Minecraft Education is one of those AI-based tools that unites basic school subjects with the gaming experience. The purpose is to influence and let students become engaged. 
4. Empowered Learning Paradigm.
This is one of the most complex aspects of artificial intelligence in education because students have to separate themselves from the learning process and implement self-service based on artificial intelligence tools. It may take time before one can fully appreciate the changes. While such use of artificial intelligence in education has always been linked to a diminished role of a teacher, it is far from the truth. Think about LMS platforms like Socrative where students are able to use cloud-based solutions to make decisions and control their progress by helping each other. The key aspect here is to empower each learner individually and as a group to provide a greater sense of belonging and responsibility. As a rule, it also helps to develop strong leadership skills. 
Artificial Intelligence Accessibility Matters
This aspect is not often mentioned, yet artificial intelligence is one of the most efficient ways to address accessibility aspects and help challenged learners appreciate education. For example, we have learners with dyslexia or students on the autistic spectrum that use AI-based solutions that help them to identify various data with the help of audio examples, visual hints, and neurological changes. AI tools make it possible to help students access flexible information that goes way further than the classic textbook.
Just think about Zoom video conferences, the use of gamification in language learning tools like Memrise or engineering apps that help to model architecture or 3D objects based on given human language objectives. When one has a chance to make complex concepts easier without affecting accessibility in a negative way, every opportunity must be implemented for the common good!
---
Interesting Related Article: "The Development of Artificial Intelligence "