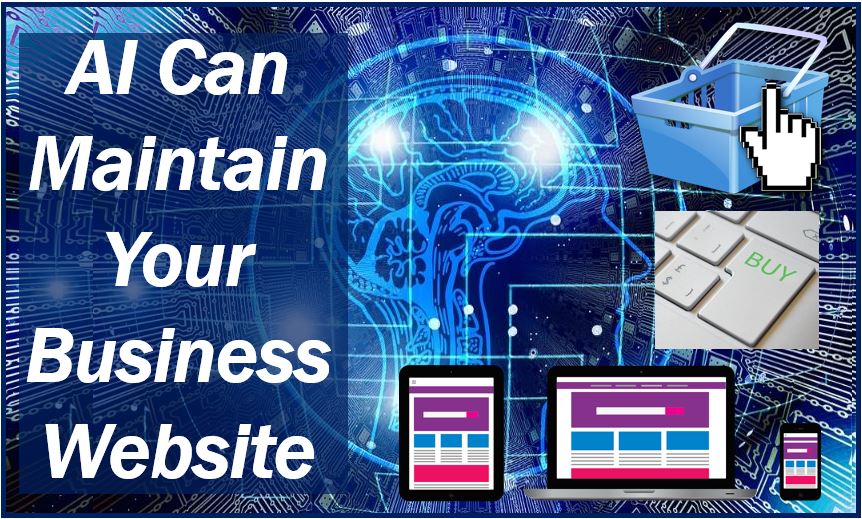 A website is the primary source of communication between a company and its customers. A company with an effective web presence is more likely to achieve its business goal than organizations without a proper website or a website that is not maintained. 
The term AI now encompasses the whole conceptualization of a machine that is intelligent in terms of both operational and social consequences. AI has the potential to simplify complex processes, automate repeated tasks, and organize complicated data sets so that even people without much technical knowledge can decode the tasks easily.
AI learns on its own. It observes user behavior to improve itself. However, AI also works on pre-defined multi-faceted input to maximize the likelihood of success at certain goals (user-defined). Now that we know what AI is, let's understand "Why do websites need maintenance?" and how AI can help you maintain your website.  
What is Website Maintenance?
Checkingthe website for bugs and errors and keeping it updated is referred to as website maintenance. It is important to maintain the website on a consistent basis as it will help you keep your website healthy and encourages continuous traffic into your website and strengthens your Google rankings.
What Tasks should be Completed Regularly?
There are certain tasks that need to be completed weekly while others should be checked monthly. Let's have a look at the weekly website maintenance checklist. 
Verify if all the pages in your website are loading without errors (including 404 errors and redirect) or not

Ensure you have a backup of the previous version of your website in case something goes wrong with the latest version

Release updates to website plugins as well as software

Make sure that all the forms on your website are running efficiently

Make sure that you remove all the spam comments and check for broken links on your website

Upload at least one blog every week to encourage

SEO traffic and customer engagement
Now that you know what tasks should be accomplished every week, let's have a look at a few tasks to be completed once every month. 
Check your website's loading speed and make fixes to improve it

Review your website's security and make sure that your visitor's information is safe

Analyzethe website's performance and build a strategy to boost your website's performance
You should also review your website's design and structure once in a while and update images and graphics quarterly. It gives your regular visitors a way to engage with your website in an innovative manner.
How to improve your Website with AI?
The first impression lasts longer and if a website has a poor us erexperience, most of the first-time visitors will never return to your website. This is where AI comes into play. AI can enhance your website's user experience and boosts conversion. Let's have a look at the top 5 ways to use AI in order to improve your business website. 
Search Engine Optimization:

More than 63,000 searches happen every second on Google. And, if you want to attract potential customers it is very important to bring your website to the first page of search results for the appropriate search queries. AI can quickly identify issues on your website and provide you with feedback and simple tips to improve it. 
Real-time Personalization:

Personalized marketing can help you convert potential customers into clients very easily. Instead of targeting a segment of people, AI can target each and every individual and offer personalized recommendations, deals, and more. 
24/7 Customer Service:AI-powered bots have the potential to interact with your customers like a human being through textual or auditory ways. From assisting customers throughout their buying journey to answering their queries after purchase, AI can help you save a lot of money while enhancing user experience. Today's online consumer expects top quality customer service from sellers of products or services.
Content Creation and Curation:

Content marketing is 62% cheaper than any other form of marketing and it also generates three times more leads than outbound marketing. AI can not only gather important content trends resources, but it can also curate the content, suggest useful articles, and keep your audience engaged. 
Churn Prediction:

Retaining existing customers is five times cheaper than acquiring new customers. But, customer churn can hamper your brand reputation and can cost your business a huge load of money. However, AI has the potential to analyze customer interactions and predict as well as prevent customer churn. 
Final Thoughts
Analyzing your website regularly and fixing for bugs and errors should be your top-most priority when maintaining your website. It not only engages your visitors but it also boosts your search engine rankings. With the help of AI, you can provide 24/7 customer service and prevent customer churn. AI can also help you optimize your website for search engine and create new content for your business website. Hence integrating AI onto your website can help you save a huge amount of money while enhancing user experience and boosting sales.
Video – What is AI?
AI (artificial intelligence) refers to software technologies that make robots, computers, and other smart devices think and behave like us, i.e., human beings.