Gone are the days when the HR professionals in every company spent hours doing mundane, repetitive, non-productive tasks. This not only took away a large part of their productive working hours but also left them feeling less motivated and exhausted at the end of the day without accomplishing much.
The traditional ways were far less proactive in the hiring process and were mainly dependent on publishing advertisements in local newspapers and walk-ins. But HR automation has transformed the way it functions in modern workplaces. The HR vertical is no more dependent on manual leads for hiring the suitable candidate, nor does it have to waste time and effort in doing manual paperwork.
HR automation software is proving to be a game-changer as it not only increases productivity but also results in better team engagement, greater employee satisfaction, and employee retention. From paperless onboarding & offboarding, employee management, training, and skill development to maintaining employee well-being and compliance, automated human resource systems have taken giant strides in making workplaces more efficient.
What is HR Automation?
HR automation refers to utilizing HR automation software to digitize and streamline processes that are time-consuming, tedious, repetitive, and mundane. This way, the HR professionals can save a lot of their time and energy that can be dedicated to more important aspects like strategic planning and other similar initiatives.
Furthermore, HR automation can also ensure that required security and privacy controls are in place that can protect important information and data. Apart from this, HR automation also helps in keeping compliance in place.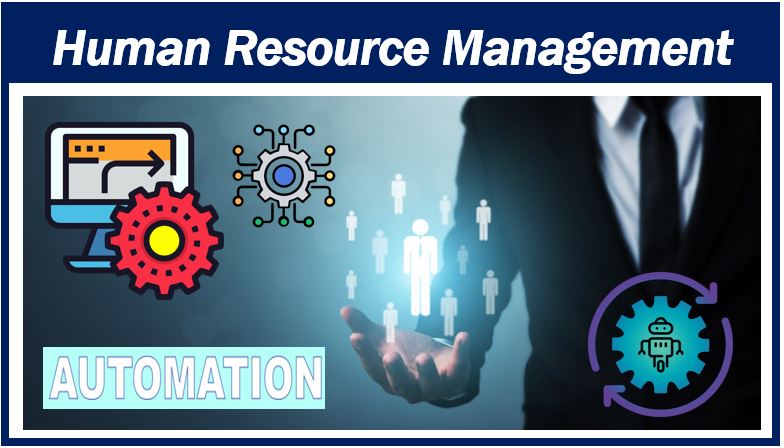 The following processes can be automated
With several companies providing proficient HR automation software, various processes can be automated. Here are few essentials on the list:
HR management and information system
Some important information like employee data, attendance, profiles, schedules, important dates, etc., can be saved securely and can be accessed whenever required.
Performance review systems
The goals and objectives that managers discuss with the employees can be stored and sorted through HR automation. Their progress, inputs by the managers, feedback, and a lot of other information can be handled in an automated format. And all this can be made available for any kind of escalation whenever required.
Recruitment process
The entire hiring process, or at least the initial one, can be completely automated. This includes posting ads, tracking responses, sorting out applications, prioritizing candidates according to their eligibility, etc. This enhances the hiring process to a great deal.
Payroll solutions
A lot of automated human resources systems automate payroll services. This includes automatically calculating salary, payments, distribution, and direct deposits to an employee's bank account. Some software also provide payment options to various vendors and contractors.
Benefits services
While payroll takes care of everything to do with salaries and benefits, automation helps in tracking retirement plans, compensation, health insurance, and other benefits. Some software also provide compliance solutions.
What do the surveys say about HR automation?
Several surveys conducted by leading HR and recruiting firms show the positive effects of automation. Numbers show that companies without fully automated HR software lose out on an average of 14 hours per week on manual work that could easily be automated and fast-tracked. Not just that, lack of automated processes results in 41 per cent lower productivity, 40 per cent more errors, 17 per cent lesser engagement, 18 per cent poor employee experience, and 11 per cent poor hiring methodology.
On the other hand, companies that have automated their HR processes have shown better results with enhanced performance by 68 per cent. Automating HR has also resulted in the fact that each HR manager is able to support 10 more employees as compared to non-automated systems.
Positive and negative effects of automation in HR
Automated human resources systems are surely revolutionizing employee engagement and interaction. And while most industry experts believe that automation has impacted the HR system positively, some point out its negative effects as well. So, here's a low down on both aspects of automation.
Positive effects of automation
Better performance management
With modern workplaces becoming more competitive and result-oriented, performance enhancement is a big challenge for HRs. This is where automation can help. HR software helps in tracking, monitoring, reviewing, and giving feedback on an employee's performance and helps the management to make well-informed decisions about their promotions and assessments.
Automating several mundane tasks results in better performance. Apart from that, HR professionals save time that can be utilized in doing more important tasks. Automation also helps in reducing human error, eventually making the entire system more cost-effective. Studies have shown that organizations could save 10-20 per cent through automated systems.
Recruitment and engagement made more efficient
Automated HR software not only makes the hiring process more streamlined but also results in better employee engagement. Automated processes can browse through data to find the right candidate and also simplify the onboarding process. With features like HR chatbots, employees get instant feedback and responses to their queries resulting in better employee engagement. Automation also creates an efficient bridge between HR professionals and managers.
Negative effects of automation
While automation helps in the long run, the initial setup and installation cost can be an issue for some businesses, especially small-scale businesses and start-ups. While there are different payment models that can be used to reduce initial cost, training and IT support services increase the initial budget in any case. Although automation is mostly used in big companies, Carbonate is one good and affordable HR software for start-ups.
Losing the personal touch
Too much automation can remove the human-like quality in interactions and the overall experience for employees. Although automation has only benefited organizations from making communication more efficient, they definitely lack person-to-person interaction. Automated processes can become too objective at times, and even though they do help in analyzing an employee's performance, too much objectivity can't be that good either.
Every technology has its own positives and negatives. But there are more benefits of HR automation than disadvantages. HR automation has become an integral part of any workplace, but what you need is a complete HR solutions provider that can develop software that fulfils all your needs.
---
Interesting related article: "What is Artificial Intelligence?"