Having a collection of stylish portraits can be a great asset. They come in handy for social media profiles, professional networking, or even just as cherished memories. But what if you need a professional photographer at your disposal? Fear not, because Avatarly is here to help you get multiple stylish portraits without needing a photographer.
Say Hello to Avatarly
Avatarly is a super-cool iOS AI Avatar generator that turns your photos into awesome digital mini-yous! Want a fun new profile picture or gaming character? This tool uses smart tech to make unique avatars that look just like you but with a twist. It's like having a personal artist in your pocket, ready to jazz up your online presence.
With Avatarly, you upload one face photo and get 12 stunning profile pictures with high quality. Your face will be naturally and seamlessly placed onto other images as if those roles were originally you. Through this tool, you can immerse yourself in different scenes, wearing different outfits conveying various emotions. This can help you explore more diverse styles of expressing yourself.
Give it a try and see your digital self come to life!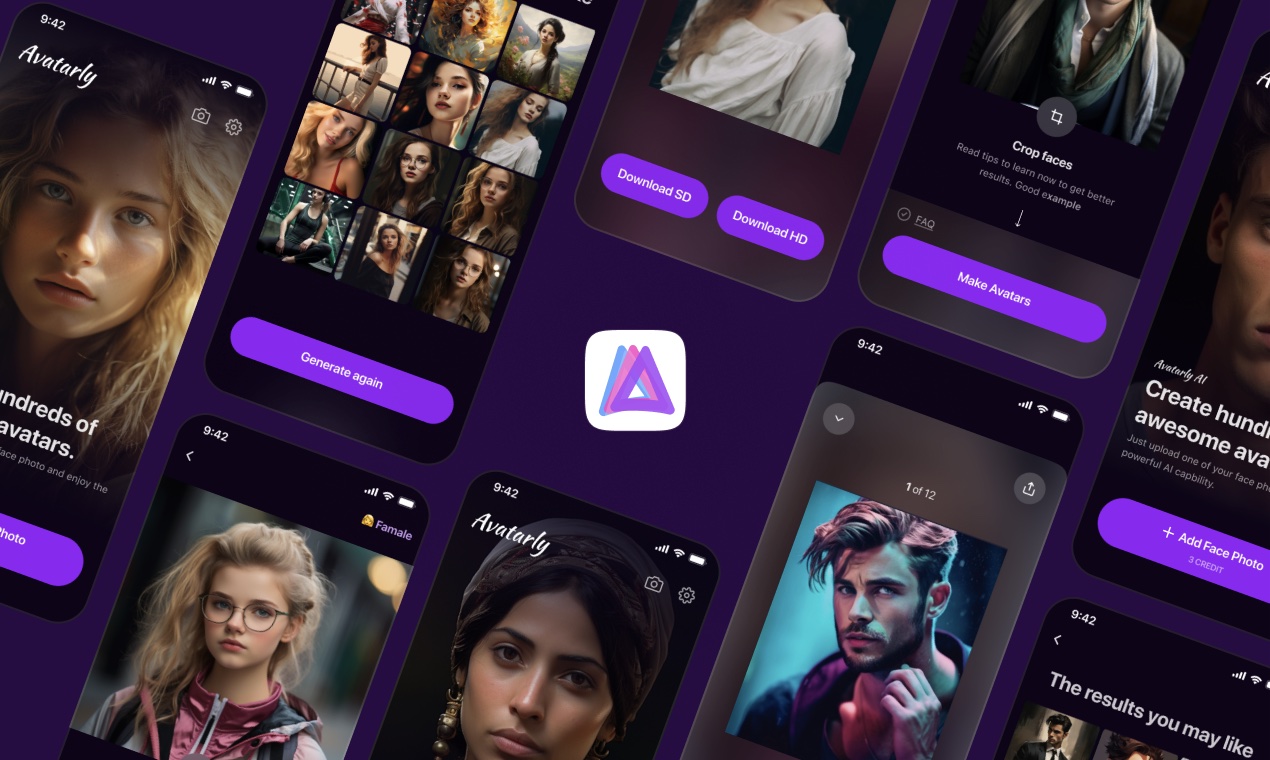 Key Features & Highlights:
One-Click Transformation: Just one photo can produce 12 distinct avatars.

Variety: Avatars come in different scenes, poses, and styles. The possibilities are vast!

User-Friendly: Its intuitive interface ensures even the least tech-savvy can easily navigate.

High-Quality Outputs: The avatars are of impeccable resolution, perfect for any platform or use.

Craft avatars using advanced AI for unmatched uniqueness.

One upload yields a collection of top-tier avatars.

Transform your facial photo into varied AI-crafted avatars effortlessly.

Dive into a vast library of AI-generated avatars.

Instantly preview your avatar once it's ready.

Speedy avatar creation saves you heaps of time.

Choose avatars based on gender for style alignment.

Assured premium quality without any pesky watermarks.

Snap a new photo directly using the in-app camera.

All avatars are AI-made and random, perfect for personal and business use.
Handy Tutorial to Use Avatarly for Avatar Creation 
Step1: Download Avatarly from the App Store 
Avatarly app is now available on the App Store. Go to the store and search for "Avatarly – AI Profile Picture" to download it. Or you can click here to visit the download page directly. 
Step 2: Upload One Photo with a Single Face 
Next, select the "Add Face Photo" option to upload a picture containing a single face. If the photo includes multiple fronts, our AI system will promptly identify them and provide you with the opportunity to select the specific look from which you'd like to create new avatars.
Step 3: Choose the Gender 
Once the photo is uploaded, you must select the gender before generating the avatars. For creating avatars of a female character, opt for "Female". If not, choose Male. Gender selection is essential, which can help the app to match the best style for you. 
Step 4: Generate a Set of Avatars 
Click the "Make Avatars" button, and Avatarly will instantly create a new set of avatars based on your uploaded content. With one base photo, you will get 12 personalized profile photos in unique styles. If you want to generate more effects based on the same uploaded image, click "Generate Again." 
Step 5: Ready to Download Image 
In a few moments, you can preview the 12 images generated by the app. Click on each image to inspect the details closely. Select your favorites, download them directly to your device, and voila! You're ready to share or use them as you please.
Pros and Cons of Avatarly 
Pros: 
One upload grants you a collection of stylish and distinctive profile looks.

Blend your face perfectly with the other characters.

Fast Image Generation. It takes only seconds to generate 12 fresh avatars for you. 

Free AI avatar creation is available. You can experience the app with five free credits. 

A variety of avatar styles to fit your needs. 

You can download high-resolution images for sharing or printing. 
Cons: 
Accessible service is minimal. 

The app is only available on iOS. 

It doesn't categorize the style of the avatar. 
Free Plan vs. Premium Plan: Exploring the Key Differences 
Free Plan:
With the free plan, you'll receive five complimentary monthly credits, granting you access to the app's fundamental features. Once these credits are exhausted, generating new avatars will be possible once you subscribe to our service.
Premium Plan:
Opting for our premium plan opens up two subscription options:
Monthly Plan:

Priced at $6.99 per month, this plan provides you with 100 credits every month.

Yearly Plan:

Priced at $29.99 per month, this plan also offers 100 credits monthly.
When you upgrade to a premium plan, you gain a substantial advantage. The 100 monthly credits offer you full access to the Avatarly experience. This means you can create new avatars as often as you like and download high-definition images, all with the convenience and flexibility of a premium subscription.
Know More About Avatarly
How Do I Create a Virtual Avatar? 
Creating a virtual avatar with Avatarly is a straightforward process. Begin by uploading a photo with a single face in it. If there are multiple faces, don't worry—our AI system can detect them and allow you to select the one you want for your avatar. Once the photo is uploaded, click the "Make Avatars" button and let AI do the rest of the job. Within a moment, you will see 12 unique virtual avatars are generated. 
How long does it take to create new avatars with Avatarly? 
The time it takes to create new avatars with Avatarly is impressively fast. Once you've uploaded your photo and customized your avatar to your liking, the process is almost instant. There's no need to wait around, and you can create multiple avatars in minutes, saving you valuable time.
How do you get the best result using Avatarly? 
To ensure the best result when using Avatarly, consider the following tips:
Start with a high-quality photo:

The better the input photo, the better the avatar. Choose a clear and well-lit image for optimal results.

Experiment with customization:

Avatarly offers various styles and options. Don't hesitate to experiment and personalize your avatar to match your desired look and feel.

Choose the correct resolution:

When downloading your avatar, select the highest resolution available (usually HD) for the best image quality.

Practice and refine:

Creating avatars is an art. The more you practice and refine your choices, the more stunning and unique your avatars will become.
Conclusion
Avatarly is a user-friendly and efficient tool for creating virtual avatars. With its quick and intuitive process, you can transform a single photo into a range of stylish avatars in just a few simple steps. The key to success with Avatarly lies in your choice of input photo, creative customization, and careful resolution selection. Whether for personal or professional use, Avatarly offers a convenient solution for anyone looking to add a touch of uniqueness to their digital presence. Try it out and start creating your stunning avatars today!
---
Interesting Related Article: "Video Content Creation Made Easy: AI Video Generator"