B.Sc nursing is a professionally-focused, 4-year undergraduate course that is centered on developing critical care, building proficiency, and nurturing advanced thinking skills. These skills are necessary for the practice of professional nursing and midwifery as chalked out in the National Health Policy 2002. A candidate can pursue a basic B.Sc nursing course or a post-basic B.Sc nursing course depending on what they aspire to be.
B.Sc in nursing helps individuals diagnose and address the health needs of the nation, which includes society and individuals. Throughout the course of BSc nursing, students are taught to follow a code of moral values and conduct at all times while taking care of social, personal, and professional responsibilities pertaining to national objectives. Thus, transforming learners into becoming responsible citizens.
B.Sc Nursing – Know The Eligibility Criteria
To qualify for the B.Sc Nursing entrance exam, candidates need to fulfill some requisite B.Sc nursing requirements. If an aspirant fails to meet the set eligibility standards, he/ she will not be allowed to appear for the exam. Refer below to find out the standard B.Sc eligibility criteria for aspirants:
1.     Basic B.Sc Nursing Eligibility Criteria
Aspirants should have passed and cleared 10+2 in physics, chemistry, and biology subjects
Candidates need to be medically fit to fulfill the Sc Nursing eligibility criteria
2.     Post-Basic B.Sc in Nursing Eligibility Criteria
Candidates should have passed 10+2 in physics, chemistry, and biology subjects to fulfill a part of several B.Sc Nursing requirements
Students who've successfully completed 10+1 are also eligible for attempting the post basic B.Sc nursing entrance exam
Candidates need to have a certificate in General Nursing and Midwifery and be registered as R.N.R.M (Registered Nurse Registered Midwife) with the State Nurses Registration Council
Aspirants require proof of training provided by the Indian Nursing Council or equivalent in the following domain-

Leprosy Nursing
TB Nursing
T. Techniques
Ophthalmic Nursing
Community Health Nursing
Psychiatric Nursing
Neurological and Neuro-surgical Nursing
Cancer Nursing
Orthopedic Nursing
A point to be noted is that some institutes have slightly different sets of eligibility criteria. So, make sure to go through their official website and be 100% sure about referring to the right B.Sc nursing eligibility criteria.
B.Sc in Nursing – In-Depth Admission Process
The B.Sc Nursing admission process is based on entrance exams that are held in between April-June. Aspirants have the option to fill out the application form in online and offline mode. Some of the popular B.Sc nursing entrance exams are JIPMER, SAAT, AJEE, CENTAC, DSAT, IUET, AUAT, IGNOU OPENNET, and ITM NEST.
For filling out the online B.Sc nursing application form, candidates need to follow these steps:
Head over the to the official website of the concerned entrance exam
Fill in the details and requirements
Upload documents if asked
Once the B.Sc nursing application form is submitted, take 2-3 physical printouts for your reference
When and if required, submit all the obligatory documents and DD of a specified amount to the relevant exam body
For submitting the B.Sc nursing application form offline, aspirants need to go to the designated centers and fill out the form as well as complete other formalities
Top B.Sc Nursing Colleges
Every B.Sc nursing college has its own way of teaching. Moreover, each institute has its own study structure, a set of unique teachers, vast campus, different delivery of syllabus, and more. So, it is of paramount importance for students to choose the best B.Sc nursing college as their future career depends on it. The top and some of the renowned B.Sc nursing colleges in India are:
All India Institute of Medical Sciences, Delhi
Christian Medical College, Vellore
Symbiosis International University, Pune
University of Calicut, Calicut
Armed Forces Medical College, Pune
Sri Ramchandra University, Chennai
Bharti Vidyapeeth University, Pune
Christian Medical College, Ludhiana
Government Medical College, Nagpur
King George's Medical University, Lucknow
B.Sc in Nursing – Career Prospects
B.Sc Nursing entrance exam allows students to secure an admission in the college and course of their choice. There are plenty of options available right after completing their graduation. Aspirants can start their B.Sc nursing career in government/ private hospital or as a tutor in an institute. Here are the career prospects that B.Sc nursing graduates can unlock:
Nurse
Nursing Assistant
Nurse – Nursery School
Home Care Nurses
Ward Nurse & Infection Control Nurse
Home Care Nurses
Nursing Assistant
Nursing Assist Supervisor
Nursing Tutor and Educator
Nurse & Patient Educator
Ward Nurse & Infection Control Nurse
Nurse Manager
Junior Psychiatric Nurse
Deputy Nursing Superintendent
Staff Nurse
Nursing Service Administrators
Military Nurse
Assistant Nursing Superintendent
Industrial Nurse
Nursing Superintendent
Community Health Nurse (CHN)
B.Sc in Nursing – Different Sectors That Offer Employment
There are various sectors that offer employment to a B.Sc nursing graduate. The primary B.Sc in nursing employment sectors/ areas are:
Government hospitals
Nursing homes
Old age homes
Super specialty hospital
Orphanages
Industries
Indian Red Cross Society
Indian Nursing Council
Sanatoriums
Armed forces
State Nursing Council
Educational institutions
B.Sc Nursing: Top Recruiters
B.Sc nursing graduates can find employment or a job in India's most reputed companies/ hospitals such as:
Apollo Hospitals Enterprise
Breach candy hospital trust
Medanta Medicity
Fortis Healthcare
Columbia Asia Hospital
Global Hospitals
Wockhardt Hospitals
Manipal Hospital
Max Hospital
Higher Education After B.Sc Nursing Graduation
Once applicants clear the B.Sc nursing entrance exam, study in their dream college, and become a graduate, they have an opportunity to either learn more or go for different job-specific specializations. For further studies, one can opt for post-graduation in Nursing and MBA in Pharmaceutical management/ Nursing/Hospital Management. Some of the major M.Sc nursing specializations that B.Sc in nursing graduates can opt for are:
Medical-Surgical Nursing
Obstetrics & Gynaecology Nursing
Community Health Nursing
Paediatric Nursing
Adult Clinical Nurse Specialist
However, if a candidate wishes to go for a specific job-oriented course that they really like, then these are the value-added courses to catapult your B.Sc nursing career:
Psychiatric Nursing
Educators
Auxiliary Nurse Midwife/ Health Worker
Hospital Nursing
Orthopaedic Nursing
Industrial Nursing/ Occupational Health Nursing
General Nursing & Midwifery (GNM)
Paediatric Nursing
Post Graduate Program in Public Health Management
Public Health Nursing/ Community Health Nursing
Military Nursing
Salary Insights for a B.Sc Nursing Graduate
The average salary offered to B.Sc nursing graduates can range anywhere between INR 2.5 lakhs to 8 lakhs. Your compensation depends on several aspects like skillset, experience, job position, and the organization you choose to work in. The below attached image provides an overview of salary.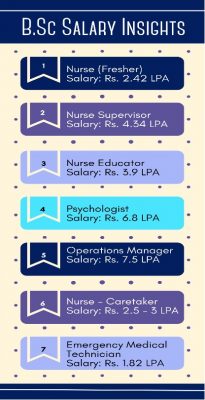 ---
Interesting Related Article: "Achieving Your Nursing Career Goals"