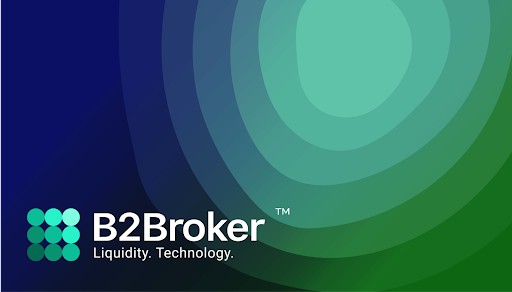 B2Broker is one of the industry's largest liquidity pools for forex, commodities, cryptocurrencies, and CFDs. There are many different types of financial institutions that use our liquidity solutions.
Due to the fact that B2Broker is a dominant technology and liquidity provider in the FX and cryptocurrency industries, it has introduced a number of amazing conditions to its Margin and Crypto Spot liquidity solutions that it provides to customers. The industry now has a rare opportunity to compete on both price and quality for the first time since the new pricing system was adopted.
B2Broker has provided traders with a total of 30 Crypto CFD pairings since the company's debut in 2017. The firm was a pioneer in the cryptocurrency CFD sector by using a Prime Broker business model for its product. Today, it is the most complete liquidity provider in the crypto area, offering Crypto CFDs in addition to Tier 1 liquidity in the Spot Forex, Metals, Equity Indices, Commodities, and Single Stock and ETF markets from a single margin account.
As a major or secondary source of liquidity, B2Broker is currently used by almost all retail forex brokers, funds, and other financial institutions that provide crypto CFDs.
Liquidity of the Margin
As the popularity of margin trading soars to new heights, B2Broker's new trading conditions will enable its clients to profit from a number of extra features and perks. Here are a few instances:
Updated Crypto CFDs
Polkadot, Cardano, XRP, Dogecoin, Solana, Chainlink, Polygon, Uniswap, HIBA INU, Algorand, Avalanche, Terra, Filecoin, Vechain, Maker, Terra, Avalanche have all been added to our liquidity pool as new CFDs.
Please bear in mind that all transactions are conducted in US dollars.
Margin Requirements Have Been Changed
According to the Financial Conduct Authority, the new margin requirements for major crypto CFDs have been decreased from 20% to 10%. This will provide additional opportunities for traders all around the world to take advantage of our exceptional trading conditions.
The following are some instances of symbols that we have altered:
BTC/USD, BCH/USD, ETH/USD, XRP/USD, LTC/USD
BTC/EUR, BCH/EUR, ETH/EUR, XRP/EUR, LTC/EUR
BTC/GBP, BCH/GBP, ETH/GBP, LTC/GBP
Pricing Policy Changes
It has been made feasible by the development of new commercial solutions tailored to the needs of a diverse range of company kinds. This is because B2Broker can provide bespoke solutions to match your company's specific needs, whether it's a White Label or a FIX API/gateway connection.
Brokers will have greater control over their liquidity pricing streams and risk management solutions with our new Enterprise offering, which consists of PrimeXM or OneZero HUB plus a liquidity solution. Our objective is to provide broker-dealers with a more convenient and cost-effective method of utilizing our liquidity with leading HUBs/XCOREs, which this package accomplishes. 
Consider purchasing a Hub from PrimeXM or OneZero and then purchasing liquidity via B2Broker. In the end, a single Enterprise package from B2Broker will be less costly.
It will be extremely beneficial to traders who use their own trading servers, such as MetaTrader 5, MetaTrader 4, or C-Trader, and who wish to manage their price streams in addition to markups, swaps, and risk management.
Distribution of Liquidity
To meet the diverse needs of our customers, we distribute liquidity across the following platforms: OneZero, PrimeXM, FixAPI, MT5, MT4 for FX/CFD, Crypto CFDs, etc. And B2Trader, Rest API, and WebSocket for Crypto Spot liquidity.
New Liquidity Pool Locations
Our liquidity pools have been developed in a variety of locales, including LD4, NY4, TY3, SG1, and Mainland China (Beijing). You have the option of specifying the location of your API/Gateway connection.
Our global network of low-latency access servers enables us to deliver a higher level of service to our WL customers in LD4 than ever before.
Crypto Spot Liquidity 
We have disclosed a number of significant new innovations that are essential to B2BX on the liquidity side of the crypto spot market. Here are several examples:
In the ultra-competitive commission ladder, which has changed since its debut in 2008, commissions may be as low as 0.04 percent.

To better meet the needs of key participants, the depth of our order book has been increased to 100 levels on each side (Buy and Sell). The compressed order book comprises around 120 BTC and has an average spread of just 7 USD and a market effect of approximately 140 USD.

Adding more stable currencies, as well as all major tokens, to our trading pairings has been a top focus for us.
"We are always searching for ways to improve our offers, and we are well-positioned to provide an unrivaled pricing structure for our services, as well as other beneficial circumstances that benefit our users," said B2Broker CEO Arthur Azizov. Our liquidity services are quick and easy to use, and we provide the market's most competitive prices as well as the highest level of technical assistance."
B2Broker's liquidity solutions are used by a wide variety of financial institutions, all of which benefit from our experience and technology, as well as our ability to design customized liquidity solutions to match the unique needs of our clients. With over 400 products, B2Broker acts as a point of presence (PoP) rather than a market maker to offer liquidity on Spot FX, metals, commodities, and individual stocks. As a consequence, we are always on the broker's side, delivering the most liquidity in the best interests of our consumers.
---
You may be interested in: What is liquidity? Definition and examples