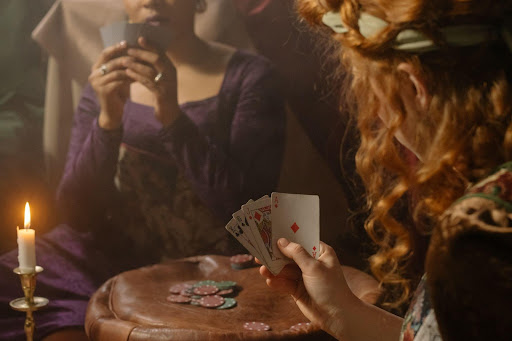 Gambling is a social practice that has been present in various forms throughout history in most cultures. Some accepted it and integrated it into special laws to ensure more safety for people. 
The UK is among those countries and developed one of the world's most powerful gambling regulatory bodies, the UKGC. 
It can be an enjoyable pastime activity because people can connect and socialize, even if they gamble online. However, the negative consequences can be devastating if practised incorrectly. Gambling addiction impacts every aspect of one's life, starting with financial and health issues, interaction with others and stigma.
Who gambles the most in the UK? 
According to a 2022 survey by Statista, 48.4% of 45 – 54 years old participants engaged in gambling in 2020. These are followed closely by 46.5% of the 55 – 64-year-old entrants and 45.8% of the 35 – 44-year-old bracket. 
Another study suggests that more than 43% of British adults gambled in 2021 and 2022. Therefore, these two data sets conclude the same thing: people older than 35 and younger than 64 gamble the most. 
In terms of gender, the data between 2020-2022 does not present much inclusion, but it seems that there are 1.2% more male gamblers than women. Men tend to gamble more often than women.
People with lower incomes gamble more often because they believe they can get more money and afford the cost of living. However, gamblers with a higher income will gamble larger sums even if they bet less often. 
Gamblers Typologies 
The Gambling Commission found that there are eight typologies of gamblers that will stick around in 2023. Some are aware of the situation and dangers, and some are not. 
Social Play
The first typology includes people under the age of 40 who want to do simple, interactive and competitive activities with their family or friends. They prefer bingo, greyhound, horses or F1 races bets or home variants of consecrate casino games. These people engage in gambling because they can do it within a group they want to fit in. 
Wise Decision
Bettors in this category have a lot of confidence that they can win and that it is only about skill and experience, not luck. 
The way the odds and the chances of winning change excite them, and they believe that they can influence the outcome only through logic and mathematical systems. 
Psychologists believe that narcissistic men under 45 with a good and stable income belonging to ethnic minorities can easily fall into this category. 
Me Time
These people are relaxed, believing gambling is a hobby and an easy to pass the time. They usually play online slot games to reward themselves after a busy period. They are young and feel lucky but don't necessarily show problematic behaviours. 
Just What I Do
Somehow similar to "Me Time" peers, the "Just What I Do" category talks only about routine. They've been gambling for a long time, which is a simple daily activity they do even if they lose. These gamblers have an income under £20,000 per year and are older than 50.
Along for the Ride
These people enjoy being part of a group so much that they will agree with whatever activity the group wants. They bet on lottery tickets, scratch cards, or bingo and don't necessarily prefer complex games. They are usually women under the age of 35. 
Money to Burn
Younger men and women bet their leftover money after everything else is paid for. Although they have a lower income, they feel invincible and spontaneous and believe they have nothing to lose if they gamble their pocket money. 
Feeling Lucky
These gamblers want to prove their lucky nature and believe that they will win no matter what. They read about or know people who won and think they will be the next big win. Their income is higher, and they lean towards slot games. 
For the Money
They are non-problematic older gamblers who prefer betting on lottery tickets from time to time. They are not invested or interested in trying other forms of gambling and know that winning the lottery doesn't have the best odds, so they engage with minimal effort.  
Novice & Avid UK Gamblers Targeted By Scamming Platforms
The gambling industry is expected to surpass the £149 billion milestone by the end of 2030. The fast expansions also bring unlawful websites with false advertisements that manage to impress and deceive punters. 
Data from Kingcasinobonus shows that the black betting market gains around 1000 new accounts each month. The casino bonus comparison platform also mentioned that the number will double in 2023 and 2024. These accounts are created by either novice players who don't look for a gambling license when accessing or avid gamblers who want to play on platforms without GAMSTOP. 
Both categories of players are targeted and tricked into depositing money to receive incredible bonuses, but in most cases, this does not happen. Moreover, the sites that commit fraud block the possibility of withdrawing the money earned from the account. 
Is 2023 Going To Change Something? 
The Gambling Commission and the Betting and Gaming Council started a plan in October 2022 to use modern technology and a singular database for all legit casinos from Great Britain. The project will probably begin in the second half of 2023, and we can see results at the end of 2024.
The industry needs to protect the players, and all these studies drew a better understanding. So, this is the direction the regulatory bodies will march towards, and every online platform must follow. 
---
Interesting Related Article: "What is Responsible Gambling?"