When it comes to backlinks, things can go both ways: Google will either hate them or love them.
Back in the day, digital marketers relied on black-hat linking strategies. They spammed with their links in comments and irrelevant blog posts. Google got smarter. It learned to identify link schemes, and it hates such spamming practices. That kind of backlinking does not work, and it will get your website sanctioned.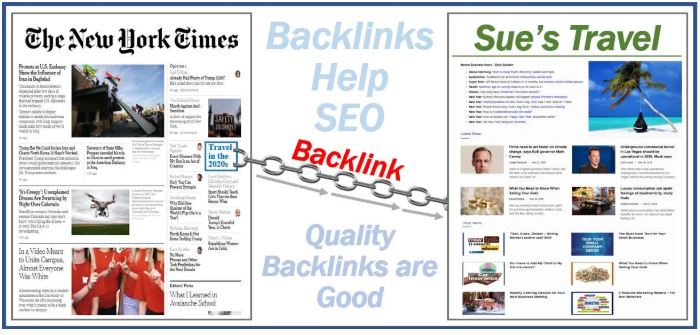 However, proper backlinks still hold a lot of value. When they come from high-authority websites, they add to the authority of your pages as well.
The question is not how to build backlinks. You should focus on building good backlinks that work.
Why Are Backlinks Important?
When a high-authority website links to you, it means that it gives you the seal of trust. It vouches for your content and it recommends it as useful.
Google's bots will notice that. If the websites that link to your resources are reputable, your reputation will also increase. This will indirectly affect your search engine rankings.
We don't know how Google's algorithm works. But through different experiments, we've been able to figure out how good links make a difference.
What Is a High-Quality Backlink?
How do you distinguish good-quality SEO backlinks from spamming link schemes?
There are a few standards to meet:
It should be a "dofollow" link
Some blogs will accept guest posts only with nofollow links to your site. These links are usually featured in paid ads, press releases, author bios, and blog comments. The search engine's algorithm will ignore them, so they won't contribute to your site's reputation.
Try to get your links featured in the text, and make sure that they are dofollow links.
The link must come from a trusted website with a good reputation
Random blogs without a good reputation will easily accept your guest posts and include links to your site. But you don't want that. When offering your content to a website, make sure it has good domain authority.
You can use the Sitechecker backlink checker tool to see where your links come from. If they come from sloppy blogs that you didn't approve of, maybe your competitors are trying to ruin your reputation. In that case, you should think about disavowing them. You want to be associated only with reputable websites.
The links should come from different sources
You got an idea to create a few blogs and use them to link to your main site all the time? It's not a revolutionary thought that no one got before. Google's algorithm sees right through those practices.
If you're getting too many links from the same website, your reputation will drop.
Backlinko published an interesting study that proves that rule. It showed that the more websites link to your page, the better it will rank in the search results.
The link should come from a related website
Let's say you're trying to promote a blog that focuses on fishing. Will you offer guest posts on fashion blogs? Of course not!
You shouldn't go by "a link is a link" philosophy. Only a relevant link is a good part of your backlink strategy.
The anchor text has to be relevant
You can include your target keyword there, so people will find the posts that link to your site when they use Google. However, a keyword-rich anchor text also shows the relevance of your link to people's queries. The search engine appreciates that.
Do not use the exact anchor text for each guest post. Google's algorithm may recognize that as spamming. Also, don't use too many keywords that don't make sense.
How to Identify and Remove Bad Backlinks
Some links are toxic to your reputation. You want to find them, and fix the damage is possible.
First, you can use Sitechecker's backlink checker to see what websites link to your pages. As an example, let's use the link to the above-mentioned study by Backlinko, so we'll see how the tool works.
The tool gives us a list of all pages linking to this one. When you go through them, you'll notice that not all of them are dofollow links. Some links may also come from sites with bad reputation. Take your time to examine the links that lead to your website. When you discover the bad ones, you'll be ready to take the next steps:
Look through the website that you don't want links from. Find the owner's contact info, and write them a message to ask for a link removal. Be polite. This might not work, but it's always the first step to take.
If asking politely didn't work, you can go through Google's "disavow links" procedure. Google gives you clear instructions on how to do that.
Monitor Your Mentions All the Time
Whenever a blog mentions your site but forgets to link to it, you can react.
Mention is a nice tool that lets you see when people talk about your brand. When you see that a blogger mentioned you, you can reach out to ask them to include a link. In most cases, they will be happy to do so. They mentioned your brand, so they won't mind linking to the source. It's useful for their audience, too.
You can also set up Google Alerts, so you'll get informed whenever someone mentions your brand across the web.
Earn Your Links through Great Design
When you create outstanding pages with great content, you won't have to try too hard to get your links. You can still offer guest posts that would feature backlinks. However, many sites will willingly link to your pages even if you don't ask them to.
These are the types of posts that get many dofollow links:
Case studies
Science-backed posts
Content that offers clear solutions, which haven't been mentioned before
Infographics
The design itself is important, too. When bloggers include links in their posts, they want to take their viewers to high-authority websites. Adding visual appeal to your site boosts the impression of authority and quality.
Get the Backlinks that Google Loves!
When focusing on link building, you shouldn't do it randomly. You need a clear strategy that will get your links to great websites. You'll also need to monitor the mentions all the time, so you'll request links or disavow them when appropriate.
A great link building strategy will improve your rankings, but a bad one will harm them. That's why it's important to pay attention to the tips mentioned above.
___________________________________________________
Interesting related article: "What is a Backlink?"