Going on a hiking expedition is one of those hobbies that once you start, you're pretty much hooked for eternity. Because hiking allows you to discover endless parts of nature and uncover hidden gems while getting away from the noise and crowds of the city, it is a stress-reliever and truly fascinating experience that should be a regular habit.for more hiking tips, visit this site http://happilyeverhiker.com/
However, in order to guarantee that your hiking trip is ideal, there are basic hiking gear and tools you should own and be sure to pack with you.
Hiking tools
You never know what you'll encounter when you're hiking and that's why it's vital that you're always prepared for anything that may occur. According to Gear Up Hiking, which markets waterproof backpacks, there are certain hiking tools that you should have in your backpack that will come in super handy. When in need of firewood to keep you warm at night, a backpack saw will be your best friend, and you can find out more on how to pick the most suitable saw based on the qualities you may need.
However, just remember to ensure that it is packable to avoid causing any damage or injuries. Other hiking tools can include a utility knife to help you fish, cut rope, and can be used as a weapon when necessary.
Flashlight
In order to ensure your safety, it's essential that you have a flashlight or headlamp that allows you to see your pathway clearly in the dark. When hiking, you'll encounter a lot of slippery slopes, rocky terrain or other obstacles you need to overcome. If you can't see your way properly, it could be pretty dangerous, or you could even get lost. A flashlight allows you to be safe and guarantee that you're not putting yourself or others in danger. Just remember to have an extra set of batteries on you just in case you run out.
Hiking shoes
One of the most essential hiking gear you should own is the right shoes. While many beginners choose to wear athletic shoes, once you've decided to make hiking part of your life, then the best investment you can make is buying a pair of hiking shoes. These allow you to have your feet firm on the ground and avoid getting injured regardless of the type of trail you hike as they are suitable for slippery, muddy and rocky grounds.
Hiking shoes are sturdy but also comfortable, offering you enough cushioning and support even if you'll be on the road for quite a while. To add to that, you'll find that many hiking shoes are suitable for different kinds of weather as they're waterproof but also manage to keep your feet safe from cold winds and humid weather.
Backpack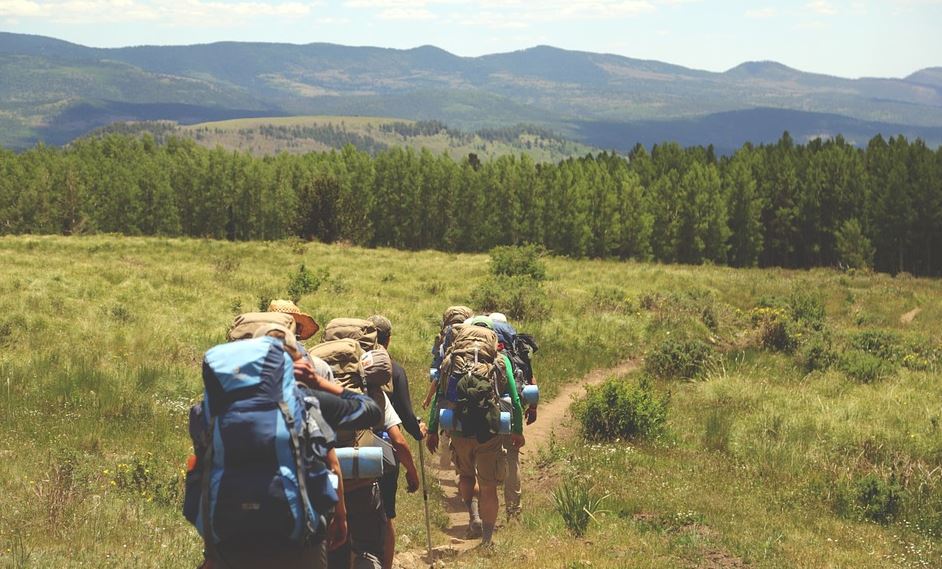 There's a reason many hikers don't go anywhere without their backpack and that's because it is important to pack safety gear, food, and camping equipment when hiking just in case. A hiking backpack isn't just useful because of its size and ability to carry many items, but it's also ergonomically designed to sit comfortably on your back reducing the amount of weight on your shoulders.
It can also be adjusted around the waist to help share the weight against different muscles making it a lot easier to carry for long distances. Hiking backpacks are usually divided into different compartments allowing you to access certain pockets easily without having to take everything out.
You need to be certain that it can carry everything you would need on a hike but can also cope well with trickier weather conditions and will not break while en route. You can trust backpacks built for athletes – the bonus is that they can double up for a weekend away bag!
Map
Before you head out for a hike, you need to get familiar with the route you're taking. Be sure that you or someone in your group is able to read a map as it is very likely that you will lose network coverage. A map will guarantee that you follow a specific route, reach your destination, and are able to get back safely.
To help guide you even better, you could also include a compass to aid in taking the right route when you're unable to identify where you are on the map exactly. These guides are really important to ensure your safety and allow you to know where you're heading and what to expect. It's also a lot of fun channeling your inner explorer and relying on actual skills rather than an automated system.
Hiking is one of those activities that allow you to completely disconnect, relax and connect with nature on a completely different level. But, if it's your first time, always make sure that you're surrounded by experienced hikers and that you're fully prepared with the right gear that will ensure your safety and help make your hiking experience a whole lot better, easier and enjoyable.
_________________________________________________________
Interesting related article: "Graphene now used for making hiking boots."