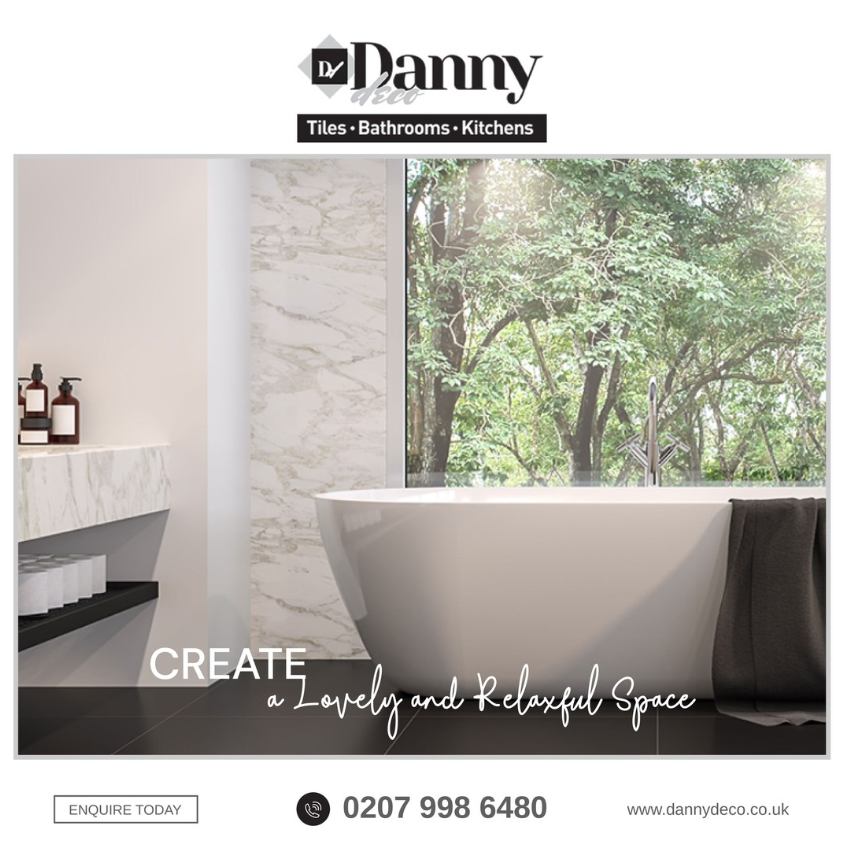 Bathrooms tend to be the tricky part when it comes to home renovations. Often, people do not think of splurging on their bathrooms, more often than not, because of the small sizes of these spaces. But there is so much potential in turning these spaces into luxurious dream bathrooms.
With this bathroom renovation guide by Danny Deco tile showroom London, getting started on the bathroom of your dream will be easy.

From Old to Brand New Bathroom
For a full bathroom renovation, follow the steps below.
Dismantle the Bathroom
Start by removing all the fittings from your bathroom. Remember to empty the toilet to avoid leaking and use a jigsaw to remove insulation from the walls if necessary. If you are changing or adding a new shower or bathtub, remember to remove the tiles down to the foundation.
Install the Tub or Shower
Once you have cleaned up the space, start with the installation of the tub or shower. It is best to match the bathroom essentials such as the bathtub and wash basin design to have a cohesive look.
Lighting and Fittings
Next, install the lighting and other fittings. If you are inexperienced with electrical and HVAC, it is best to hire a contractor for this process to avoid unnecessary issues.
Tile the Floors
Tiles can change the entire look of a bathroom, and premium Danny Deco bathroom tiles London are a great way to add luxuriousness to the space. Remember to mark guidelines that are perpendicular to the wall to avoid your tiles being laid crookedly.
Final Bathroom Essentials
With the tiling and bathtub installation complete, you can now bring in your wash basins and faucet as well as other items such as mirrors, shelves, and vanity.
End the Race with the Plumbing
The final and last step is to set up the plumbing, for which we highly recommend hiring a plumber. Since many insurances will not cover the cost of fresh and waste water pipes leaking after a DIY project, a plumber will ensure you do not get into any trouble.
Hire a Contractor or Do-it-yourself?
If you aren't intending to make major changes to the bathroom that would require skills like carpentry, tiling, or plumbing, renovating one by yourself is a possibility. It is cheaper to do the bathroom renovation yourself than to hire a contractor.
However, there are some drawbacks if you want to take up an ambitious project all by yourself. The first and foremost thing to consider is how long the project will take. Even if you have the skills that match that of a contractor, doing it by yourself can take significant time to complete it. And since bathrooms are used every day, this can cause a lot of hindrances.
Changing the layout of the bathroom also requires skills and specialised knowledge in addition to numerous tools. Considering these things, contractors such as Danny Deco bathroom designers London are a good option for renovating a bathroom from A to Z.
| | | |
| --- | --- | --- |
| | DIY | Bathroom Designers |
| Visualization | Mood boards | CAD designs, 3D virtual world images, mood boards, and elevations |
| Project Length | Can take a very long time | Relatively faster given the manpower and expertise |
| Procurement | You have to source items from different places | Extensive line of premium supplies and items sourced from the best manufacturers |
| Uniqueness | Possibly not as unique as you had hoped | Unique bathrooms designed to your requirements with hand-drawn artwork and carefully chosen materials |
| Cost | Cheaper than hiring a contractor, but might lead to unexpected expenses | Relatively expensive but bathrooms can be designed within your budget |
How to Upgrade Your Bathroom Without Major Renovations
It is possible to bring more life to your bathroom without going in with a sledgehammer.
Bring in Artwork: Art is the easiest way to add an interesting element to a bathroom.
Spruce up with Greenery: If you have a window that gets sufficient light, then nothing beats having a plant. But if you don't, artificial plants are also a good choice to bring freshness.
Change the Lights: Changing the light fixture or adding more unique lights can add interest and all that light will make the space look bigger.
Add Aesthetic Items: Benches, non-slip mats, and stylish soap dispensers are some functional items than can also be aesthetically beautiful when chosen correctly.
Ceiling to Floor Shower Curtains: Bright shower curtains installed in this way can create a roomy appeal and add some drama.
Stay Organised: Use organisation items to keep your space clutter-free and beautiful.
Conclusion
Before you begin upgrading your bathroom, decide on the budget and make sure to keep additional expenses for unexpected situations. While DIY is cheaper, bathroom designers can help you create unique bathrooms and ensure there are no problems during and after the renovation.
---
Author Bio:
Brandon Peter
Brandon Peter is the Tile Installation Expert at Danny Deco, London. He's the master of his trade and has always delivered the best and most satisfactory results to clients when it comes to tile installation. His expertise has been immensely helpful for the company in winning the trust of customers. He knows everything there is to know regarding tile installation and often shares his knowledge with the general public through interesting and useful blog posts.
https://www.linkedin.com/company/80715273/admin/
---
Interesting Related Article: "In general, how long does it take to tile a bathroom?"