Buying weed in the Bay Area is about as easy as it gets since the cannabis industry has had several decades to become firmly established in San Francisco, Sacramento, and beyond. Today, consumers can enjoy browsing endless selections of products in the Bay Area's many dispensaries or enjoy the luxury of buying weed online and having it delivered directly to their door.
No matter how you like to shop for weed, we've got options for Bay Area stoners looking for the best deals, service, and products.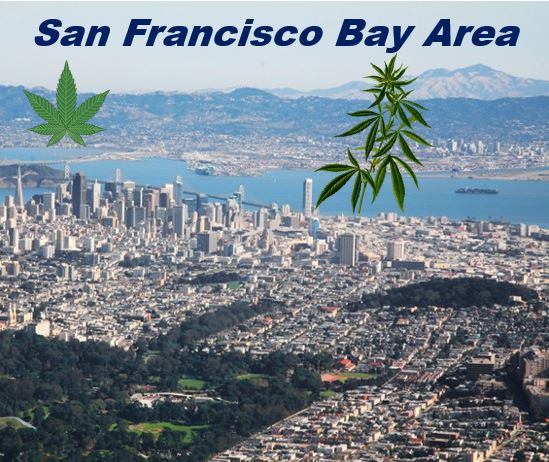 Buying Weed in San Francisco
Buying weed in San Francisco and the greater Bay Area is 100% legal. Adults over 21 can purchase recreational cannabis, and adults over 18 may be eligible to become medical marijuana cardholders.
Once you are legal of age or qualify for medical cannabis, you'll be able to choose from several different ways to buy weed. Some smaller towns and municipalities may have local 'restrictions' regarding delivery in the area. However, cannabis delivery bans are difficult to enforce, and most delivery services still deliver to so-called 'ban towns.'
Bay Area Cannabis: An Overview
The two most popular ways to shop for cannabis in the Bay Area are at the dispensary and online. Yet, with widespread acceptance on the rise, cannabis delivery services are booming.
Dispensaries are great for first-time buyers and new cannabis users because you can spend face-to-face time with knowledgeable budtenders who will provide you excellent recommendations. On the other hand, marijuana delivery services are ideal for consumers who want to buy the best quality products at the best price and in the most convenient way.
Continue reading to learn the basics and benefits of some of the best delivery services in the Sacramento area.
Best Cannabis Delivery Services
Weed delivery is no longer a stoner pipe dream (no pun intended) and is very much a reality for customers throughout the Bay Area. Weed delivery service in SF, Sacramento, and the rest of the region allow customers to stay home and enjoy relaxing while their weed comes to them.
Customers simply order online, pay using a secure online checkout system, then sit back and watch TV, get some chores done, or finish working while they wait for a delivery driver to arrive.

If you are looking for the best weed in the Bay Area, you can end your search and place an online cannabis delivery order from greenrush. A premium delivery service trusted by countless customers throughout San Francisco and the Bay Area, greenrush is well known as one of the most reliable ways to buy weed online.
What makes greenrush so amazing? Not only does greenrush carry a wide range of premium products from your favorite cannabis brands, but they also make it super affordable and easy to get these items delivered.
With no order minimums and free delivery on all orders, customers only pay the price of their cannabis, which is often discounted or offered for a lower than average price. To help customers save even more, greenrush also offers special deals and sale prices whenever possible.
Once you have chosen your items and are ready to pay for your order, greenrush makes the checkout process safe and secure. Customers have the option to pay online with their credit or debit card, or pay their delivery driver directly with cash when they arrive. Once your order is placed, greenrush delivers orders in 90 minutes, so you'll be enjoying your weed within the next two hours.
Order Minimum: $40
Delivery Fee: FREE
Delivery Time: ~90 Minutes

Although greenrush is number one on our list, another trusted delivery service in the Bay Area we can vet is Mountain Remedy. Carrying some of the most sought-after cannabis items on the market, Mountain Remedy maintains its premier reputation by providing its customers with luxury and well-known cannabis brands.
Understandably, new cannabis consumers prefer visiting a retail dispensary if purchasing weed for the first time. Having one-on-one assistance with in-store budtenders is helpful when choosing the most effective product for your needs. That said, Mountain Remedy is unique in that its staff offers a personalized service for each customer by preparing advice from live cannabis experts, helping you buy weed online.
Selling brands from Kiva to Raw Garden to Sherbinkskis, Mountain Remedy is another delivery service available in the Bay Area.
Order Minimum: $50
Delivery Fee: FREE 
Delivery Time: ~90 minutes express or scheduled up to 48 hours in advance
Final Thoughts
Now that you know where to buy weed online in San Francisco, nothing stops you from enjoying everything that Bay Area cannabis offers! When buying weed online through reliable cannabis delivery services like greenrush and Mountain Remedy, you are guaranteed to find what you are looking for and more.
---
Interesting related article: "What is Cannabidiol?"