A beautiful photo of London in all its glory captured by British astronaut Tim Peake, which he then posted on Twitter, has spread across the online world like wildfire.
You can see the city night lights and major trunk roads spreading out from the centre like luminous strands of a spider's web. The winding black snake that makes its way down the middle of the picture is the river Thames.
When he posted the photograph he wrote that he would rather be aboard the International Space Station (ISS) than down in London at midnight on a Saturday, and then added jokingly 'but only just!!'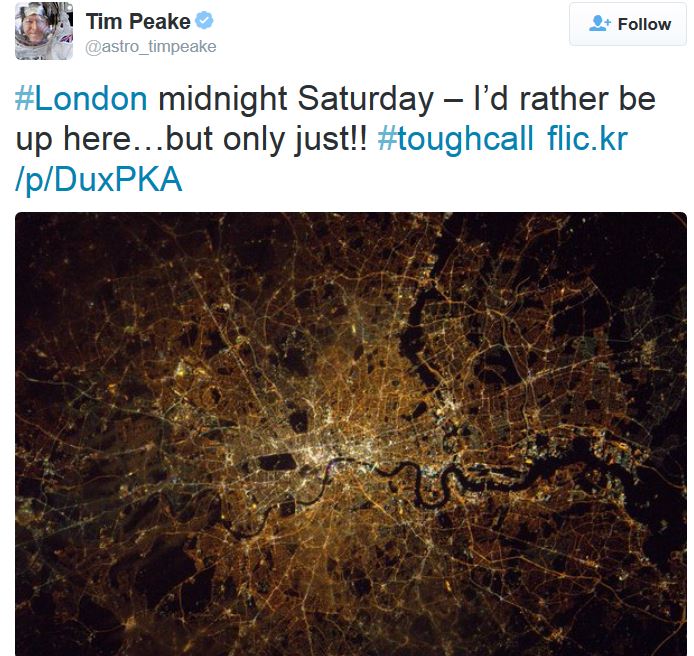 London, our beautiful capital viewed from space at midnight on a Saturday. Can you see the parks (dark patches)? (Image: twitter.com/astro_timpeake)
He also took another spectacular photograph of the whole of the United Kingdom at night. You can see the British Isles all lit up. He posted the pic and commented "Hey, I recognise that place!"
Major Peake, 43, a former regular British Army Air Corps officer (now a Reservist), from Chichester in West Sussex, is building quite a reputation as a gifted space photographer.
---
---
When he became the first Brit ever to complete a spacewalk earlier this month, he took a sensational selfie, where you can see the Earth and Union Jack reflected on his space helmet.
Major Peake, a current European Space Agency astronaut, is on a six-month mission aboard the International Space Station.
He is the first British ESA astronaut, the sixth UK-born person to visit ISS (NASA astronaut Michael Foale was the first in 2003), and the seventh person born in the UK to be in space (Helen Sharman, who visited Russia's Mir space station in 1991, was the first).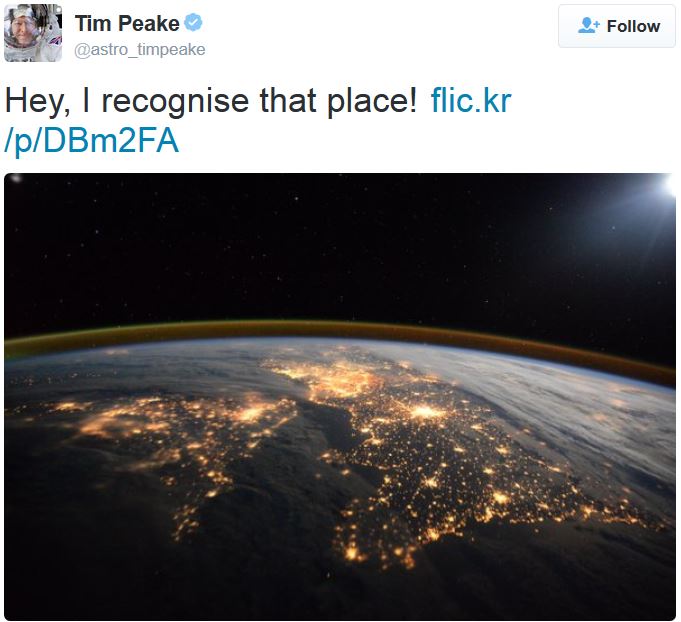 When I first saw this photograph I just sat staring at my laptop screen – frozen! A spectacular photograph. I and 65 million other humans live our lives down there … amazing! (Image: twitter.com/astro_timpeake)
He started ESA's demanding astronaut basic training course in September 2009, and graduated with flying colours in November 2010.
Rocket Science: a massive space gardening experiment
A huge space gardening experiment – dubbed Rocket Science – will soon be underway, and Major Peake is asking hundreds of thousands of British schoolchildren to help him.
He estimates that up to half-a-million pupils will participate in this nationwide space biology experiment.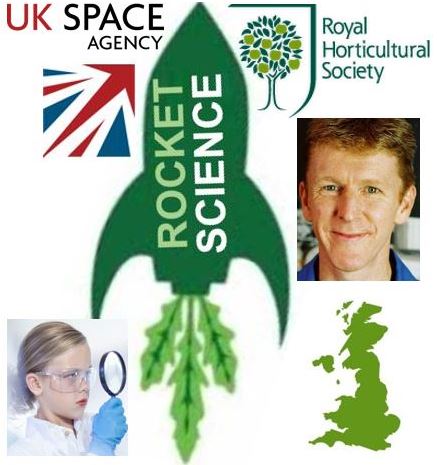 Rocket Science is a nationwide space gardening experiment. (Image adapted from www.gov.uk)
The British astronaut is holding onto 2 kg of rocket seeds. They were sent to the space station in September last year, and will remain in its weightless environment until March/April 2016.
In April they will be returned to Earth and sent to thousands of schools across the country.
Teams of pupils will plant the space seeds, as well as seeds that stayed on Earth, and report on how well (or badly) the sprouting plants have grown to the British Horticultural Society and the UK Space Agency, the organisers of this massive space biology trial.
Rocket Science aims to see how space seeds perform, and compare them to Earth seeds.
Space agencies across the world, including the European Space Agency, NASA and Roscosmos, want to find out whether and how astronauts in deep space missions can grow their own food.
First spacewalk and an incredible selfie
Earlier this month, Major Peake made history by being the first ever Briton to complete a spacewalk, during which he took an incredible selfie.
He described the spacewalk as exhilarating, and one that "will be etched in my memory forever."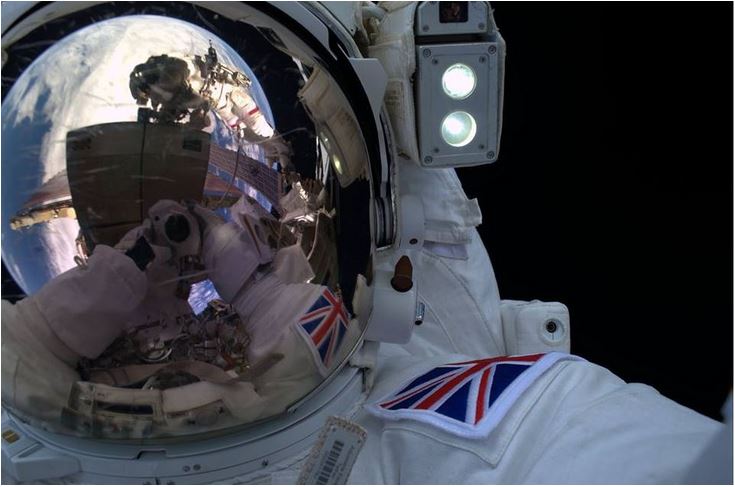 Major Peake shared this spectacular selfie taken during his spacewalk. You can see the Earth, the Union Jack and parts of the space station in the background like a mirror. (Image: facebook.com/ESATimPeake)
Major Peake posted the following message on Facebook:
"Today's exhilarating spacewalk will be etched in my memory forever – quite an incredible feeling! Huge thanks to the ground teams who make it all possible and keep us safe out there – you guys rock!"
The spacewalk had to end earlier than scheduled because fellow spacewalker, NASA astronaut Colonel Tim Kopra, reported that a small amount of water had leaked into his helmet.
Although the leak was not considered life-threatening, Flight Director Royce Renfrew decided to end the spacewalk two hours early.
Video – Tim Peake has a space shower
In fact, there is no shower on ISS. Major Peake and other crew members use wet towels to keep clean. After use they are packed as waste in returning cargo vessels.