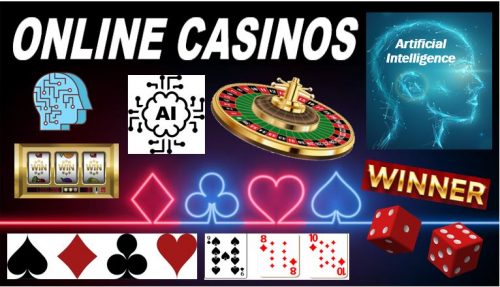 Online casinos can be a great way to enjoy premium entertainment without having to leave your home. The gambling industry is currently sending big waves worldwide, and a lot of it is due to online casinos. Since their first appearance, these websites have been an unstoppable force. These websites keep growing by the day, and people love the incredible variety they have to offer! If you're a newbie to the casino scene and need some guidance, here are a few things you should know about online casinos.
At most online casinos, you can try the game for free before deciding to take the plunge into playing for real money. Since this is usually a limited free period, you should be careful. Use it to your advantage and learn as much as possible about the games and how they work.
Another thing important to the overall casino experience is the bonuses. The one thing you should always try to do when visiting a new operator is to try to find a casino bonus. These bonuses come in many shapes and sizes, so some are better than others. See which ones work best in your favor and give them a chance!
Online casinos offer a plethora of different options game variety is in question. If you're new, go for platforms that offer plenty of options, such as slots, table games, Video Poker, Bingo games, instant win games, and others that even newcomers can learn easily.
Depending on what type of payment/withdrawal method you use, you should look for an online casino that matches what you have available. These can include several options such as PayPal, Skrill, credit/debit cards, wire transfers, or pay by phone options. When looking at the deposit and withdrawal limits, make sure that the casino you pick has a low minimum deposit/withdrawal limit and a high maximum deposit/withdrawal limit.
One way to see if a casino website is any good is to look at the reviews it's gotten. What better way to find out about what something's like than through the experiences of others. If a website has a ton of bad reviews, then obviously, you should stay away from it. Try to look at the content of the reviews and see which parts of the experience people like and which ones they didn't.
Safety
It's very important to keep your online safety high. Look for casinos that are licensed and independently audited. Licenses from places like the UK and the Isle of Man are the safest since they're more expensive to acquire. Independently audited websites assure you that the outcome of the bets is random and fair. 
With so many choices out there, this can be a tough one. The first thing to look at is what your available platform options are. This means that you need to match what you have to what's out there. If you want to play on your phone, then look for casinos that offer apps or are mobile-friendly. On top of this, owning a high-end device can be a big advantage. Playing on an older phone can mean slower loading and stutter during gameplay.
If you're going to be playing on your PC, then a website should be just fine. The best casinos out there offer all of these options, so keep an eye out for those. Of course, the advice about keeping your tech up-to-date also applies here.
---
Interesting Related Article: "Online Casinos: Surviving the Pandemic, or Thriving in It?"