In 2018, the global outsourcing market was valued at $85.6 billion. Outsourcing has been a popular trend over the past three decades. According to Back Office Pro, the service is a central part of business management worldwide.
Along with accounting, IT is the top outsourced services by small businesses. That's because IT requires skills and proficiency that most small businesses do not possess internally.
Regardless of the size of your business, IT outsourcing services can prove beneficial in helping you achieve your goals.
But what exactly does IT outsourcing entail? More importantly, what are the specific benefits of IT outsourcing?
These are just some of the issues we discuss in this comprehensive guide. Read on to learn more.
What Is IT Outsourcing?
IT outsourcing is the use of outside IT service providers to offer IT business applications, processes, and infrastructure solutions to help your business grow. By partnering with a managed IT services provider, you can benefit from IT expertise without having to invest in an in-house team of professionals. This way, you get to cut costs and bring your product to the market faster.
If you're located on the Gulf Coast, partnering with a trusted provider of managed IT services Gulf Coast can ensure seamless support for your business operations. This way, your IT needs can be handled while you focus on core aspects of your business, driving growth and efficiency.
How Do IT Outsourcing Services Work?
Outsourced IT services are available in a variety of shapes and sizes, based on how and where the work is delivered. The most common models of outsourced IT services include:
Project-Based Outsourcing
In this model, you provide all the information related to your project to the external IT services provider. The managed IT services provider then becomes responsible for the whole process of software development, which includes project management, quality assurance, and backlog development.
Body Leasing
This arrangement entails buying the time of the staff of the IT services provider. Typically, you pay an hourly or monthly rate.
Offshoring and Nearshoring
You can also opt to partner with an outsourced IT services provider located in a different city or country. This arrangement is referred to as offshoring and nearshoring.
Dedicated Teams
In this scenario, the IT services provider delivers a team of software development experts to your company on a long-term basis.
Extended Teams
This model entails ongoing cooperation between experts delivered by the IT services provider and members of your core-inhouse team.
Which IT Services Can You Outsource?
Outsourced IT services provider can deliver just about any IT services your company needs. Among the commonly outsourced services are:
Center operations
Disaster recovery
E-commerce web design
Network architecture
IT support
Cybersecurity
Data backup
Data recovery
What Are the Benefits of Outsourcing IT? ​​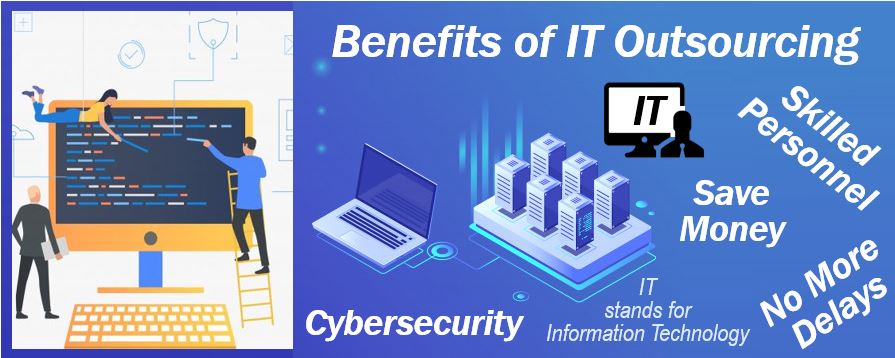 Regardless of the industry your business is in, outsourcing IT can help foster your company's growth. Below, we discuss seven top benefits of managed IT services.
Outsourcing IT Saves You Money
At first, it might seem like having an in-house IT team is more affordable than hiring an external IT services provider. But think of all the expenses that come into play when running an IT department. You'll incur hardware costs, software license fees, cloud service subscriptions, employee salaries, and so on.
Don't forget about the maintenance costs that come with IT infrastructure, as well as the training and workshop costs to keep your team up to date. By outsourcing IT, you get to bypass all of these costs and meet your technology requirements at a fraction of in-house costs.
There Are No Delays
Think of the time it takes to recruit and train the right IT team for your business. That can mean delays in getting your products or services to the market.
A dedicated IT services provider gets to work right away. They instantly become a part of your project and start to deliver results from day one. Outsourcing thus guarantees you uptime and smooth operations.
You Benefit from Proven Skills and Expertise
A dedicated IT services provider will typically have in-depth expertise in your business technology as they've been in the industry for a long time. Such a team can add lots of value to your business operations right away. Keep in mind that you're working with top-tier professionals, so you can expect results within a short time.
Outsourced IT Services Afford You Scalability
When your business starts to experience fast growth, it's essential that you scale your IT accordingly to match the rising demands. Sticking to your in-house IT team can prove impractical.
In-house teams are typically limited in scope and size. Expanding an in-house team to meet growing demands can prove significantly costly and time-consuming. It's the reason many businesses opt to outsource IT services to leverage a scalable solution that smoothly expands to cover increasing needs.
You Get to Focus on Core Operations
Many companies get distracted from their core business operations by focusing on activities that are outside of their core business goals. Outsourcing such activities can free up time and resources to concentrate on what matters most, hence increasing productivity. This is what you achieve when you partner with an outsourced IT services provider.
Outsourced IT Services Can Guarantee Better Security
Cybercrime is a huge threat to today's businesses, and you need to be doing the best to protect yourself. Unless you have a team that specializes in IT security, it's difficult to keep your sensitive data from sophisticated cybersecurity threats.
Specialist IT companies have the necessary expertise in protecting digital assets from hackers and malware. They usually have cutting edge security tools that can stop cybercriminals from accessing your data.
You Get to Keep Up with the Latest Trends
Technology evolves at an astonishing speed, and it's hardly possible to ensure that your in-house IT team is keeping up. New IT hardware and software are developed every day.
Outsourced IT services providers are usually in touch with what's happening and adapt quickly. By partnering with such a company, you thus get to benefit from the latest technology and practices in the world of IT.
Outsourcing IT Can Take Your Business to the Next Level
Building and running an in-house IT team can be an expensive and time-consuming affair, especially for a small business. Fortunately, there are IT outsourcing services that can take care of your technology needs quickly and affordably.
Would you like to read more great content like this? Please keep visiting our blog.
---
Interesting related article: "What is Information Technology?"