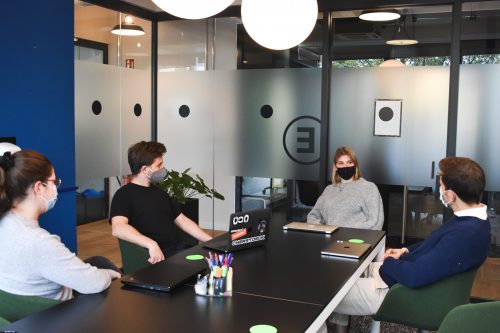 Serviced offices, sometimes referred to as managed offices or business centres can be the perfect choice for many companies. They offer flexible contract terms whereupon you can lease just the amount of office space you need with room to expand as your business grows and develops.
Serviced offices at any time of year have all the facilities you need to hit the ground running. You can have a ready set up office, move in and get started without even having to put your coffee down. If you need a hearty breakfast before tackling the day, many can even provide that too. The range of services offered may vary slightly depending on the location you choose. Still, the convenience and flexibility ensure they remain a popular choice for many startups and established businesses alike to make them home.
As well as the many services and facilities available, which we highlight later on in this article, being a tenant of a serviced office over winter is when you could really feel the benefits. Facilities may vary between providers, so it pays to choose your landlord, facilities and location with care. 
What do you need from your serviced office?
Look for a complex that is in an easy to access convenient location, allows you 24-hour access and on-site security as a minimum. If that sounds like the impossible, consider getting in touch with business centre managers such as RTC Business Park, who offer prestigious serviced office locations in Derby. They will help you set the benchmark when choosing the perfect serviced office location for your business.
Food Based Facilities
Look for facilities such as on-site restaurants serving a hearty warm hot winter meal, conference and meeting facilities and extras such as mobile food services to your door. These are undoubtedly helpful all year when busy, yet, they really are an extra blessing on cold or wet winter days—there'll be no need to venture far for breakfast or lunch or to meet with customers and suppliers. You can welcome visitors knowing you have everything you need on-site and close.
Parking
A free car park located close to your office, within beautifully landscaped grounds, could be just some of the fantastic extras that some serviced business centres can offer to make your working day smoother and more comfortable.
Security  
In winter, on-site security comes into its own when you arrive or leave in the dark. The days may be short on daylight, but arriving in landscape surroundings to a modern well equipped, air-conditioned building and friendly serviced reception before heading to your secure office will brighten even the dullest of winter days.
Contracts with everything included
You won't have the pressure to arrange suitable buildings insurance or deal with difficult or unreliable contractors for any maintenance issues. Your serviced office managers will organise the work and cover costs, saving you time, uncertainty, delays, and unexpected bills.
When you see all the benefits some of the best serviced office managers offer, it's easy to see why they are a popular choice. You can have all we mention above as well as:
Furniture

Air conditioning

Broadband service

Free car parking

Access 24 hours a day

On-site security

Bookable meeting rooms, conference centre and break areas

Serviced reception area

On-site catering and restaurant

Green spaces and landscaped surroundings
Choosing the right time to take on an office can be daunting for startups and established businesses alike, let alone costly. Independent offices often tie you to long leases and require legal help to decipher, all taking time and causing delays. Serviced office flexible lease terms ensure you can move in and be up and running quickly and you can go about making changes or adding extras such as workshops or specialised laboratories if your chosen location has them available. Your office space impacts your well-being, so selecting a great location and excellent facilities will make your working day easier and be good for your health no matter what time of year it is.
---
Interesting Related Article: "Happy and Productive Office"