Discounts will (90% of the time) work in the favor of your business. In today's world, the savvy shopper is always on the lookout for the best discounts around. Discounts are a great way to attract new customers as well as keep those loyal to your business happy at all times.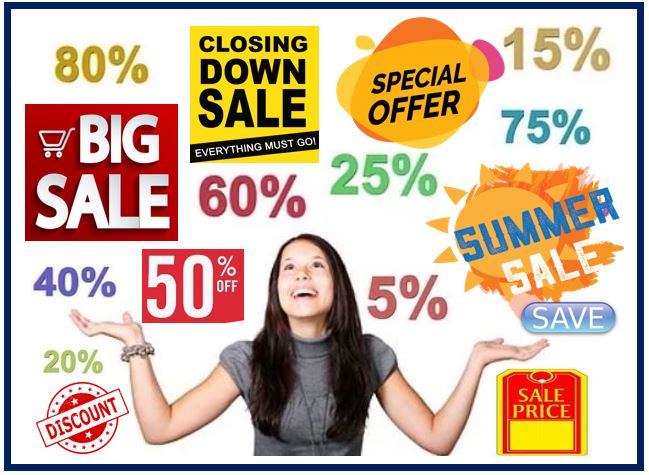 In this article, we will be discussing some of the benefits of offering discounts to your customers so that you can stay ahead of the competitions.
Here are some of the benefits of offering discounts:
Below you will find some of the top reasons why we believe offering discounts will be of value to your business. Many business owners tend to not give out discounts because they feel that it isn't beneficial to their business. This couldn't be further from the truth!
Assists in drawing in new customers.
The majority of people prefer to shop around for a bargain to save money. There is no better tool to attract new potential customers than offering them the chance to spend much less on a product.
To increase the impact of your discount, you can offer discounts on in-demand products for a particular holiday or event. For example, if it is Easter you can offer huge savings on easter eggs.
This simple yet effective tool will increase customer satisfaction. It is important to keep your deals fresh with new additions as frequently as possible. Most retailers like Target and Walmart do a good job of enticing customers with promotions.
In general, customers now have the world at their fingertips and countless discounts being offered in a variety of places, finding good deals can be a daunting task. The amount of time customers have is also limited therefore it's important to maximise the limited time. This is why Target's weekly ads seem to be doing well. Target offers fresh deals and discounts all in once place for a seamless customer journey.
Instantly increase the volume of sales.
It is simple economics that when you decrease the price of an in-demand product you increase sales. If you are looking to quickly increase the volume of sales of a particular product then offering discounts is your best bet.
For certain products, the sale of huge quantities is the way to go. This can be achieved by offering discounts, such as 2 for 1 special, on the products that you want to sell fast.
Make way for new inventory.
If your business deals in perishable items, such as food, then you need to get your products off the shelf before they expire. Expired food is an instant loss to your business's bottom line. To move these items off your shelf fast, you can offer a discount which will allow you to make way for fresher produce.
With electronic products, there is no use in having outdated tech on your shelf, especially when people are only looking for the most up to date tech products. By giving a discount on older models you can give your customers a bit of incentive to buy.
Can be a great marketing tool.
When it comes to the holiday season people are usually more than willing to splurge on their favorite items or to buy gifts for loved ones. During Christmas, customers are always looking for the best discounts on their favorite products.
Offering discounts is a great way to market your brand, particularly during these "high seasons" and can see your business greatly improving your overall revenue.
What kind of discounts can you offer?
The discount that you offer will be dependent on what exactly it is that you are trying to achieve. The types of discounts that you can make available to your customers are only limited to how creative and innovative you are as a business person.
Let's take a look at some of the most common types of discounts that you can offer:
Coupons
According to Statista around 60% of online buyers searched for coupons while looking at an online store where they had never been before making a purchase.
As a business, you will be silly not to offer the most popular thing that new customers look for when shopping at an unfamiliar online store.
Two for the price of one
Also known as buy one get one free, this deal is an extremely popular discount offer. This involves giving your customer two of the same product whilst they only pay for one. If you need clearing your shelves of a product then this is a good option for you.
Free delivery/shipping
Online stores will often use free delivery as a discount offer on their purchases. It is already very attractive for people to make their purchases online. Offering free delivery makes this decision a no-brainer!
If you are operating a business in 2020 you should be making use of discounts. The best way to go about your discount offering is to do thorough market research so that you fully understand your target market. Once you know your target audience and understand their spending habits the use of discounts will create huge profits for you in the long run!
---
Interesting Related Article: "What is a Discount Pricing Strategy?"